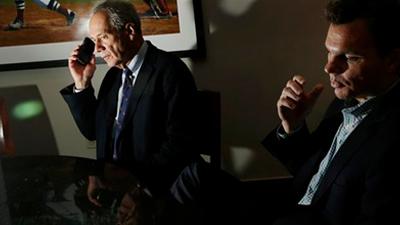 What's hidden in snow comes forth in the thaw. This is an old Swedish proverb that David Fincher used as the tag line for his American version of The Girl with the Dragon Tattoo based on Stieg Larsson's international best-seller of the same name. Now in Larsson's story, the titular character, Lisbeth Salander, overcomes years of mistreatment and abuse by those in power to rise up as a power-house, unstoppable force. I hope the same can someday be said about the Red Sox.
The Red Sox have been getting mistreated and abused by those in power for years now. Yes, they won in 2004 and yes, they won in 2007, but the seeds of corruption were planted by John Henry, Tom Werner, and Larry Lucchino many cold October nights ago. They wanted to create "a brand." Market the team to increase its value. It was all about the money. They raised ticket prices; pumped out pink merchandise to appeal to a female audience; shamelessly cashed in on the franchise's first championship in 86 years with the unwatchable Fever Pitch; insisted on turning Fenway Park into a family-friendly, VIP night-club where bandwagon jumpers could sing along with "Sweet Caroline" until their kid pukes up the $8 bag of cotton candy; carried on a mythical, fraudulent sell-out streak that's as real and prestigious as a pair of fake knockers; and made personnel and staff moves that were flashy and expensive with the only motivation being to create splashes and headlines, not a team. It blew up in their face last year and the mushroom cloud hung over Fenway's 100th birthday party all year. So, what will the fallout look like? This has been coming for awhile, but Red Sox fans better bundle up. It's going to be a long, cold, nuclear winter.
So, how do the Red Sox recover from the apocalypse1?
1.   Trust Ben Cherington
He's the General Manager. You appointed him to this position of power. Let him do his job. He inherited a team with no depth in starting pitching, a bullpen that was left barren, a bloated pay role he didn't spend a cent on, zero flexibility, and started the year getting undercut on every decision he made, second guessed, and badgered by Lucchino every step he took. It's like a kid who just got his driver's license. He can't drive if the overbearing parent keeps grabbing the wheel and touching the pedals. He has proven he can drive, he has been learning from professional drivers for year, he has his license, and he's ready to drive. If you didn't think he was capable or ready then you shouldn't have taken him to the DMV.
Yes, a couple trades backfired on him. I honestly liked the trades for Mark Melancon and Andrew Bailey. Jed Lowrie could never stay on the field and he proved that again this year. He's not someone I think can be a starting shortstop. On a contender, he's a utility player. If anyone tells you they knew Josh Reddick was going to 32 HRs is lying. In 2011, he was on pace for 14 HRs over 162 games. They picked up two hard throwers for a bullpen left depleted by the departure of Jonathan Papelbon and the stupid decision to convert Daniel Bard into a starter, another gaffe, but one where the blame should be shared equally by Cherington and ownership. Melancon imploded and Bailey got hurt and both their seasons were lost. Cherington was forced to put together a bullpen with duct tape and failed starters. The lineup was depleted by injuries, but Cherington made great bargain moves with the signing of Cody Ross and picking up Ryan Sweeney in the Bailey trade, and threw in a great waiver move by picking up Scott Podsednick2.
Cherington then seemed to pull a move Red Sox fans only joked around about, and only would have been better if he had found a way to get the Dodgers to take John Lackey, Henry, Lucchino, Werner, and the Liverpool soccer team. Not only did Cherington free up so much money after getting rid of the contracts of Adrian Gonzalez, Carl Crawford, and Josh Beckett, but he got back two top pitching prospects, Ruby De La Rosa and Allen Webster.
Cherington schooled under Theo Epstein, and he is cut from the same cloth as the "wonder kid." It's time to give him the keys to the car. Bobby Valentine wasn't his guy. The players weren't his guys. He took a terrible, hopeless situation and turned it into something positive. Red Sox fans were wondering if they could take 5 more years of Carl Crawford swinging at pitches in the dirt or 6 more years Adrian Gonzalez tweeting about God everyday and complaining about the schedule. He took that and was able to wipe the slate clean and hit the restart button. He gave the Red Sox fans something they didn't have: hope.
2.   Hire the right manager
John Farrell is the name on everyone's tongue. Forget John Farrell. They need to separate themselves from the Terry Francona regime. Not that it wasn't a capable and successful staff; I just believe that taking a step back here would be the wrong move. They would also have to give something back to the Blue Jays as compensation for letting Farrell out of his contract. Besides, do we even know if Farrell is good? The Blu Jays had a player write a homophobic slur on his eye black. What this says about Farrell, I don't know. What I do know is that the Blue Jays were 72-89 this season. People say that it's because the Jays don't have the resources, players, or money the Red Sox do. Well, neither does the Orioles, Rays, Nationals, Pirates, Athletics, Seattle, or Brewers, and they all finished with better records than both the Jays and Red Sox last year.
So, if not Farrell, who? I think they need to bring in someone fresh, young, and ready to prove himself. He doesn't need to have managerial experience; Robin Ventura and Mike Matheny proved that. They already have Brad Ausmus is already pegged for an interview. He caught for 18 years and managed Israel in the World Baseball Classic. He is very much in the same mold as Jason Vartiek, having been pegged by former teammates as a future manager. He has been in the Padres' organization, after retiring from baseball in 2010, as a special assistant, the same role Varitek is now playing for the Red Sox front office. Dave Martinez has been Joe Maddon's bench coach since 2007, and he been under one of the best manager's in the game, and fits both young and ready to prove himself. Both these guys would be fit the bill, and I think both would be a step in the right direction.
3.   Stay away from Josh Hamilton and Zack Greinke
Hamilton is the top hitter and Greinke the top pitcher in this year's free agent crop. Both are going to take deals in upwards of $100 million and 7 years to get these deals done. The same type of contracts that Red Sox got tied up in.
Hamilton is on the wrong side of 30, a recovering alcoholic, recovering drug addict, injury-prone, and cooled off in a big way the second half of the season. All those things are not what the Red Sox need. Greinke suffered from anxiety issues in Kansas City, and upon his return to the American League this year his ERA skyrocketed. His age makes him a safer investment, but if I'm Cherington I'm not touching either of these guys. Both guys have issues and both are going to take huge money to sign. Stay away.
4.   Resign Ross, Ortiz
Both had good years, Ross was an absolute bargain at his price tag, and Ortiz was having a great year until he got hurt. Ross and Ortiz are great clubhouse guys, and Ross' swing really is built for Fenway. Neither is going to take an outrageous big money deal to sign, and both moves just make sense.
5.   Go After Quality, Affordable Starting Pitching
The names that jump out are Jake Peavy, Kyle Lohse, Shawn Marcum, Ervin Santana, and Edwin Jackson. Peavy is coming off a recovery year and a big contract. He could be signed for a low price after coming off a big contract with disappointing results. Kyle Lohse is  a quality starter and had a good year filling the shoes of Cardinals' ace Chris Carpenter. He is up there in age, like Peavy, but he shouldn't take a lot of years to sign either. Shawn Marcum is injury prone, so teams might stay away. The Red Sox could gamble on him and might get lucky. Ervin Santana and Edwin Jackson have failed to live up to lofty expectation and both could find redemption in Boston. They won't be expensive and both have the talent; they just haven't figured out how to put it together. All these pitchers are low risk and high reward options. None will be expensive or take more than 2-3 years to sign.
6.   Sign Mike Napoli
He kills it at Fenway. He's another right-handed bat, and he isn't going to be too expensive. There is a opening at first base, and Napoli just makes sense.
7.   Patience
This isn't going to be fixed next year. It's going to take another year to compete in an extremely hard division, but with the second wild card, they have a better chance to compete earlier. They have invested in their farm system, and they need to give their new prospects time to grow. It's going to take time, but they need to grow their own stars and invest in the right players. Only hand out big money to young stars they can control through their prime. They won in 2007 with a mix of their homegrown prospects and investing in the right mix of big names and role players. The first step is building the organization back to contending.
It's going to be a long, cold winter for New England baseball. All we can do is sit back and hope, but at least we can do that. It's something we didn't have in early August. The snow will set in, and the Red Sox will bundle up, regroup, and plan their return under the frost and snow of this long nuclear winter. When they return in the spring, rise from their fallout shelter, we'll see what they are made of. What's hidden in snow comes forth in the thaw.
Besides having a new ownership group buy the team. Well at least one not run by Magic Johnson.
All you need to know about the Red Sox season: Scott Podsednick was our 3-hitter in September.