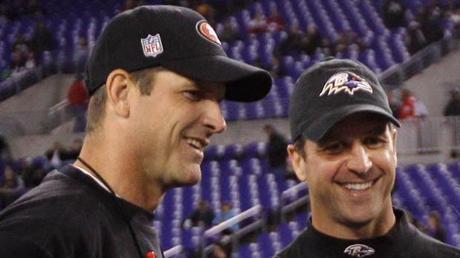 These teams just don't hate each other. I hear "no love lost" all the time. I have no clue what it means, but I always associate it with two teams that really don't like each other[1]. I feel like games where there is no love lost are the best. When you can tell that two teams really don't like each other, it's fun[2]. When two coaches hate each other, the game almost becomes a secondary story to the post-game handshake[3]. So, with this Sunday almost here, I feel like it's a little anticlimactic. Could we have love lost in a Super Bowl?
The "two brothers" storyline is fascinating when you consider the odds. I mean how rare is it for a coach to get to the Super Bowl? Let alone two brothers both be NFL head coaches and both make the Super Bowl. Moreover, they both made it to the Super Bowl in the same year and are going to be coaching against one another. When you think about it, it's incredible. Now, with that being said, it's boring. I have gotten sick of these recorded phone calls of John asking his parents if it's true they liked Jim better, and I am going to be sick when the CBS broadcast cuts for the 84th time to Jack and Jackie Harbaugh. I know it's coming, and I hate it.
This whole week leading up to the Super Bowl has been pretty vanilla. The two coaches having news conferences together and sharing a practice field, scheduling around dinner with Mom and Dad. Give me a break[4]. The most controversy or ill feelings we are getting are on one team, Alex Smith is betrayed by his coach and pissed he has to go through media day asked all the same questions about sitting on the bench in the biggest game of the year. This is the best for no love lost the Super Bowl can offer?
Thank God for Ray Lewis[5]. I had a bad feeling about this whole "announcing your retirement before the playoffs." I knew he was doing it to motivate his team and try and squeeze every ounce out of his teammates, and in the back of my head, I was scared it was going to work. Well, I knew it would work for at least one game, but little did I know that this Ray Lewis retirement party was going to last almost a month. Don't get me wrong I love all the deer antler stories, but for every "Ray Lewis being saved by deer antler story" there is a "Ray Lewis being saved by God story." I can only take so many of those.
There are just no bad feelings in this game of hate in this game, and I think that's what the problem is. These two teams didn't meet at all this season, not even in the preseason. The Patriots and Giants hated each other last year, the fans hated each other, they had a history, and it made for a great game because it made a great story. We have been treated to a more than a decade of great Super Bowls. Starting with Super Bowl 34[6] with the Rams and Titans and almost every game has been close or come down to the final minutes before an outcome was determined. The last two that didn't were the Tampa Bay Buccaneers vs. the Oakland Raiders and the Baltimore Ravens vs. the New York Giants. I wouldn't be surprised if this game was as anticlimactic as the week leading into it.
It really is a shame, this entire football season has been one of the best I have seen, and to see it go end like this is sad. This game will come down to which team makes the most plays and the fewest mistakes, and I just think the 49ers are a better team in every facet of the game. I don't think this one will be close, but they will probably hug at the end and Jack and Jackie Harbaugh get to cheer no matter what. The problem is these two teams just don't hate each other.
Pick: 49ers
---
[1] I looked it up, and it's "no feelings of respect, admiration, or affection" so I was right.
[2] Like when the Celtics and Heat played in the Eastern Conference Finals last year.
[3] Like Bill Belichick and Eric Mangini
[4] Okay! You caught me, I'm still bitter the Ravens handed it to the Patriots. Sue me.
[5] Don't worry, Ray Lewis does it all the time.
[6] We've been over this, I don't like Roman Numerals.