Here's something I didn't know until yesterday:
 In 1989, Batman saved Warner Bros. At the time, the studio was owned by the company First National. Warner Bros. put everything it had into making "Batman" and made enough profit to buy back the studio. Had the film failed at the box office, there's a good chance Warner Bros. would not exist as we know it today.
That comes from ComicBookResources' list of 21 things they learned from the new Dark Knight tour at Warner Bros.' Burbank, California studios.  Today, Warner Bros. is again a subsidiary of a corporate overlord, Time Warners, and though it is not trying to buy out of that situation it is again looking to Batman to save the day.  Kind of.
The 7 DC Films WB Is Reportedly Making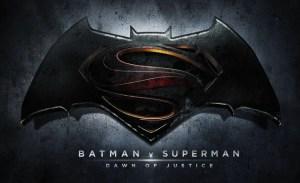 This one we know for sure is actually happening. Heck, it's filming at this very minute.
It all depends on how much you really believe former Deadline boss Nikki Finke's recent report that Warner Bros. plans to use this year's Comic-Con to formerly announce 5 new DC comic book movies and their release dates in addition to the previously confirmed Batman Vs. Superman: Dawn of Justice andJustice League:
May 2016 – Batman Vs. Superman
July 2016 – Shazam
Christmas 2016 – Sandman
May 2017 – Justice League
July 2017 – Wonder Woman
Xmas 2017 – Untitled Green Lantern/The Flash Team-Up
May 2018 – Man of Steel 2
It was at last year's Comic-Con that Batman Vs. Superman was first announced, and we've known about Sandman, to be directed by Joseph Gordon-Levitt, being in development since last December.  WB's president of worldwide production gave the Wall Street Journal the scoop about Justice League in a short article that went up on a late Sunday evening this past April.  Everything else had been mere rumors, e.g., Dwayne Johnson's reported attachment to a Shazam project, Gal Gadot's contract to play Wonder Woman in Batman Vs. Superman apparently including an option for a solo film, etc.
The Reasons to Doubt That This is Actually Happening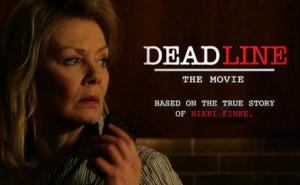 From a Funny or Die video
Finke just went through a very messy divorce with the online film-TV news site she started, Deadline.com, and a report this juicy was a nice way to drive traffic to her brand new, competing website NikkiFinke.com.  Sheer practicality tell us that if a Shazam movie truly is due out almost exactly 2 years from now we would have started hearing rumblings about directors, writers, and casting at this point.  Plus, even if they do, as rumored, shoot Batman Vs. Superman back-to-back with Justice League, both of which will star Gal Gadot as Wonder Woman, how on Earth are they going to also have Gadot fronting her own Wonder Woman solo movie a mere 2 months after the Justice League?  That would be like Iron Man 3 coming out just a couple of months after The Avengers instead of coming out almost 1 full year later.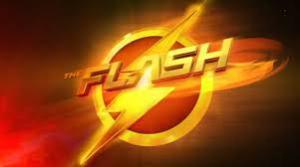 This will be halfway through its fourth season, should it last that long, by the time the alleged Flash/Green Lantern film arrives
However, now it's not just Nikki Finke saying all of this.  Kevin Smith just backed her up, albeit in a particularly vague fashion.  In conversation with host Ralph Garman on the Hollywood Babble-On podcast, Smith claimed he too had the inside track on this thing, "I looked at [Finke's] list and I was like, yeah, that's what I heard, that's what I was told."  Smith, who has a comic book-centric reality show on AMC (Comic Book Men), is famously best buds with Ben Affleck, having directed him in 6 films and serving as a key contact in getting the Good Will Hunting script in the door at Miramax so many years ago.  He's also apparently good friends with Zack Snyder, and since his early reports about the new Batman Vs. Superman batsuit turned out to be spot-on he's an oddly trusted source at this point.  Of course, he didn't actually say anything about Finke's release dates being accurate.
If It Is Happening, Is It a Good Idea?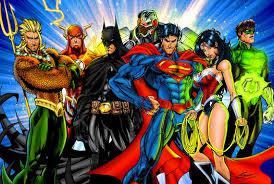 The characters likely to appear in Justice League: Aquaman, Flash, Batman, Cyborg, Superman, Wonder Woman & Green Lantern
This particular list of films?  Yes.  Those release dates?  No.  DC fans have been waiting for WB to actually seriously try and catch up with Marvel Studios, and now that may be finally happening.  However, if Finke is right then WB is leaving itself no room for error.  To this point, not even Marvel Studios has reached the point of releasing 3 comic book movies a year, and they've been at this since 2008, scoring two films (Avengers, Iron Man 3) which grossed more than $1 billion worldwide.  Warner Bros., on the other hand, is keying all of this off of Man of Steel, which did the type of business that is good enough ($291 million domestic/$668 million worldwide against an "official" production budget of $225 million) to warrant a sequel, not an entire series of new films.  This isn't Batman Begins territory where you make a fantastic film which does fairly well financially but becomes so loved through home video afterward that the sequel is catapulted into ginormous biz.  To do that, the movie you made has to actually have been liked by most everyone, which is not the case for Man of Steel, which remains one of the most divisive blockbusters of the past couple of years.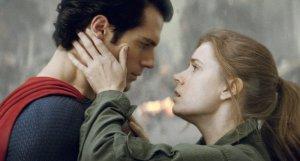 Gee, Lois, this is awkward.  There's this girl, Diana.  She's pretty kinky, really into bondage (and tiaras and lassos), but I'm going to make a go of it with her.
It's probably for that exact same reason that they chose not to make a straight Man of Steel sequel but instead a team-up movie with Batman Vs. Superman, much like Fox choosing to follow X-Men: First Class up with X-Men: Days of Future Past.  It's the post-Avengers afterglow in which everyone other than Marvel Studios now seems to think the secret to comic book success is simply throw in as many characters as possible.
If It Is Happening, Why Would They Go This Big With It? 
Short answer: WB is desperate for new film franchises.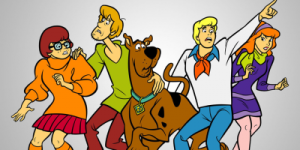 Come on, they're apparently relaunching the Scooby Doo film franchise.  They're desperate.
Long answer: According to THR, "WB has come in No. 1 or 2 in global market share for nine of the past 10 years."  That's a stretch that roughly started after the third Harry Potter film arrived and Batman Begins kicked off the Dark Knight trilogy.  As KCRW's Kim Masters put in her Hollywood Breakdown podcast, "Those are all movies that were huge hits for them, and the television equivalent would be like American Idol, just reliable hits that you know are going to come out and forgive other movies that don't do so well.  They just generated so much money that all the boats rise, and now those are gone."
These 3 racked up $7.7 billion in worldwide gross from 2001-2011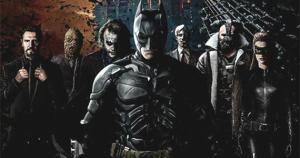 Good for a combined $2.459 billion across 3 films released between 2005 and 2012
Also gone is Jeff Robinov, who had been with the studio since 1997, promoted to studio chief in 2007 and immediately charged with creating new, big tentpole releases to replace the outgoing Harry Potter films.  He hit big with the Christopher Nolan Batman Begins sequels as well as Inception, The Hangover, Argo, Magic Mike, and Man of Steel.  However, he also missed big on Dark Shadows, Gangster Squad, Zack Snyder's Watchmen and Sucker Punch, and Pacific Rim.  Robinov's feuding with the studio's long-time production partner Legendary Pictures over Pacific Rim caused them to walk, landing at Universal, and WB's exclusive relationship with Christopher Nolan is no longer so exclusive, forced to share distribution duties for his forthcoming Interstellar with Paramount.  
Ever since Robinov was fired last June, most of the studio's projects which have come out since then were all ones he greenlit, meaning he should get some of the credit for Gravity and The Conjuring as well as the blame for Edge of Tomorrow and presumptive failure of Jupiter Ascending, which is pretty much a box office bomb walking after being pushed from next month to next February.
In Robinov's absence, the studio is now being run by Greg Silverman (WB's president), Sue Kroll (president of worldwide marketing/international distribution), and Toby Emmerich (New Line's president).  They all answer to CEO Kevin Tsujihara, and this studio-by-committee approach did manage to coax J.K. Rowling back for the forthcoming Harry Potter spin-off Fantastic Beasts and Where to Find Them trilogy.  Plus, they still have the claim to 2014′s biggest domestic hit of the year so far, The Lego Movie, and though remarkably front-loaded Godzilla is likely exactly the kind of franchise-starting, tentpole release they hoped for.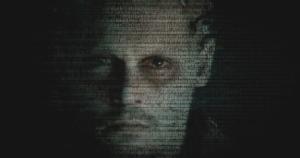 Johnny Depp's Transcendence only managed $78 million worldwide after costing $100 million to produce
The problem is pretty much everything else, i.e., the financial failures of Winter's Tale and Transcendence earlier this year, the on-going poor business for Edge of Tomorrow and Blended, and the meager business expected from Jersey Boys.  When you look at their future releases, other than The Hobbit: The Battle of Five Armies, another franchise coming to an end, there are no guaranteed big hits except for maybe Melissa McCarthy's Tammy next month, which is technically a New Line release (WB owns New Line).  Their 2015 release slate is not much better, with plenty of possibilities for solid business (Magic Mike 2, The Conjuring 2) and several big question marks (mostly in the summer, like Dwayne Johnson's San Andreas, the Hugh Jackman Peter Pan project, and Tom Hardy/Charlize Theron's Mad Max: Fury Road).  That type of uncertainty is probably true for most studios, but unlike most studios Warner Bros. always had a Harry Potter/Batman/Lord of the Rings/Hobbit film in their back pocket, which previously allowed them to weather big losses on films like Cloud Atlas (2012), Speed Racer (2008), and Green Lantern (2011).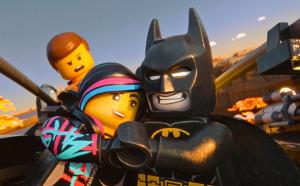 Lego Movie won't return with its Ninjago spin-off until 2016 and a direct sequel in 2017.  Worse yet, it's still not clear if WB will actually have anything to do with the still-undated Godzilla sequel since they were only ever involved with this year's Godzilla because of their old deal with Legendary Pictures.  And J.K. Rowling's Harry Potter spin-off films won't arrive until 2017.
If you think that it's still a bit silly for WB to be considered a studio on the downturn after a decade of extended dominance just look at what has become of Sony Pictures, once so high off of Sam Raimi's Spider-Man films.
WB swings for the fences, and it's very possible that come 2016 their current slump will have become prolonged (just as it's perfectly possible something like next January's Man from U.N.C.L.E. will have gifted them a new hit franchise).  So, while it still remains highly dubious that WB is seriously going to release that many DC films across a 3-year span it seems perfectly obvious that they would want to finally go all in on leveraging their DC properties because, basically, it worked so well for them with The Dark Knight trilogy.  Sure, Christopher Nolan is barely involved in the new films, and only 2 of Zack Snyder's films have been big hits (300, Man of Steel), but WB president Greg Silverman clearly believes in him, telling THR, ""I have done really well in my career betting on Zack Snyder. If I can bet on him once or twice a year, I'd love it."
How about betting on DC comic book movies 3 times a year?  They'd probably love that, but this is still the same studio that made Green Lantern and Superman Returns.  As The Amazing Spider-Man 2 has proven, a studio's big franchise plans ultimately come down to making sure the early installments in that plan don't suck. Your move, Batman Vs. Superman.  Please don't suck.  Then again, if Nikki Finke is right it won't really matter in the short-term because Shazam and Justice League will be on the way no matter what.  Still, please don't suck.
Sources: ScreenRant, THR