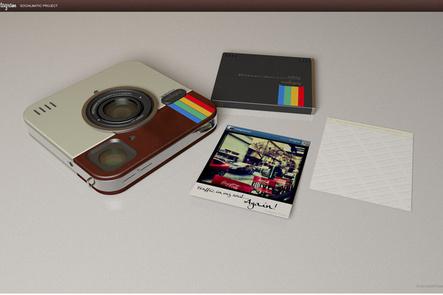 Icon of Instagram application to be recognized very well known, but surely it would be awesome if you have a camera that has a physical form such as the application icon Instagram. Someone named Antonio De Rosa also think like that, and he asks you who disagree with him to help realize that dream.
He started campaigning on the site of Indiegogo with the ultimate goal of getting funding for $ 50,000 to produce a real digital camera and can be used to form Instagram icon. The camera is called Socialmatic, which has a touch screen 4:3, operated by Instagram applications, and even a printer with Polaroid style. Sounds wonderful does not it? The results of the photo will also have your name, the QR code, and some notes on the back for easy viewing.
The negative side of the concept is the camera (as seen in the picture) looks ergonomic.
If you want to have a digital camera device, you have 47 days time to give De Rosa donations so that he reached $ 50,000. De Rosa has so far only secured $ 1.215, but if indeed this concept favored by many people we believe the achievement of these funds is not impossible, one more thing of you who donate will get a discount if the camera is to be produced.
source
regards,
hpmurah2u