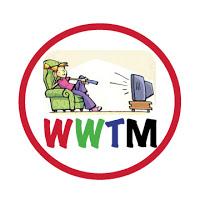 THE ANSWER TO WEDNESDAY'S TRIVIA QUESTION: Here's the answer to yesterday's Easy Trivia Question: https://www.youtube.com/watch?v=iunYmHH0UNI
FIRST FIVES: Mike O'Dea, Elke Raskob, Crystal Kyler, Ed Ziskind & Karen Feldman HONORABLE MENTION: Bill McLaughlin
THE NUMBERS 
Tuesdays Broadcast Top 5 America's Got Talent-NBC 2.8/11.1 The Night Shift-NBC 1.5/7.1 Celebrity Wife Swap-ABC 1.4/4.0 Extreme Weight Loss-ABC 1.1/3.8 NCIS-CBS 1.0/8.5 Tuesday's Cable Top 5 Deadliest Catch-Discovery 1.2/3.0
19 Kids and Counting-TLC 1.0/3.0
Big Bang Theory-TBS .9/2.3
Have and Have Nots-OWN .9/2.6
Little Couple-TLC .9/2.8
Tuesday's Twitter Top 5 Primetime Ratings  Bad Girls Club: Chicago-Oxygen 98,000 Tweets
America's Got Talent -NBC 40,000 Tweets
Awkward-MTV 19,000 Tweets
Tonight Show with Jimmy Fallon-NBC 12,000 Tweets
Anderson Cooper-CNN 7,000 Tweets
THE SHOWS 
I admit it, I did watch some Rangers. I couldn't help it, the screaming coming from my family room was contagious, I had to be a part of it, so in between the CMT's and then when it was over, I watched the game. Considering the outcome maybe I shouldn't watch, the second I did…the Rangers lost. 
CMT Awards
ZZ Top opened the show. Scary thing is that they look EXACTLY the same as they did 30 years ago with those beards. Actually, how do we know it was really them? 

The ZZ guys were joined by Jason Derulo, Luke Bryan, and Florida Georgia Line who did "This is How We Roll" and "Talk Dirty to Me" (Name another band that sings a song with that title for some bonus points)

Funny seeing the country crowd and the country stars all singing and dancing to "Talk Dirty to Me"

Kristen Bell's quest for a co-host opening number was cute, loved Dax Shephard's cameo (That's Kristen's hubby-name the show he's in on NBC…bonus, bonus, bonus)

Hee Hee Hee, Kristen said "sausage fest" and then sang a funny tune about buckles and moose knuckles...

Brooklyn Decker's dress was disappointing. Jason Aldean's jeans looked a little too worn. Once the knee pops out those jeans are for home use only.

Group Video of the Year-The Band Perry. They really need a new stylist

Danielle Bradbery performed. Wasn't she from The Voice?

Cast of Party Down South rolled in on a peddle cart thing that looked kinda fun

Bobby Bones from IHeartRadio and  Lindsay Sterling a fiddle player with some odd moves whose videos have been generated 690 million YouTube views introduced one of my faves…Hunter Hayes

Hate to say it, but Hunter wasn't that great. 

Justin Moore had a great gig…back stage in the Crown Royal lodge having a cocktails with VIP's.  I bet that was more fun the show.

Breakthrough Video of the Year-Cassadee Pope another one from The Voice. I hated the tattoo on her arm. 

Carrie Underwood is just stunning regardless of what she wears. 

Lee Ann Womack and Kasey Musgraves paid tribute to Alan Jackson. I didn't think they were that good. I'm betting Alan Jackson was a bit unimpressed also. Kristen came out dressed like Alan…hilarious mustache!!

Kate Walsh looked like she was wearing curtains or something

Male Video of the Year: Blake Shelton who beat out and then kissed, Luke Bryan (on the cheek)

Keith Urban faked us out…he wasn't in The Bluebird Cafe for his song…good one CMT'ers. The Bluebird's still on my bucket list though. 

Jessie James and Eric Decker were outside for the Jake Owens Summer beach party tune that I need to download. Doesn't Jake look like a cross between Tom Cruise and Matthew McConaghey but with dirty feet?

Eric Church was up next. I'm not a huge Eric fan 

The backwards cap wasn't working for Thomas Rhett 

Tom Arnold pretending to be a Jason Aldean hologram was lame

Kasey Musgraves' lace at the bottom of the her dress was really weird. Use your imagination, it looked like she hadn't seen a waxer in a while.

CMT Performance of the Year: Luke Bryan and Lionel Richie for "Oh No/All Night Long" I wish I had seen it,  need to find it on YouTube or something. It sounded great when they played it on the show.

Jennifer Nettles, John Legend and Hunter Hayes sang an awesome version "All of Me"   I love every version of that song. 

Note to anyone taking photos/videos with an iPad…it's annoying! 

Kristen Bell's thing with the swag bag was sorta funny, but the Florida Georgia Line guy got up and left during her shtick, I'm guessing he reallllllly had to to use the men's room and just couldn't hold it any longer. Did seem rude though.

Dierks Bentley's super cute. "Drunk on a Plane" complete with hot stewardesses and singing about the mile high club seemed a little much for the country audience? I don't know, The Band Perry, Luke Bryan and Hunter Hayes didn't look like they were enjoying the song at all.

Vince Neil? Not sure of the connection at all, but man he looked awful

Collaborative Video of the Year: Florida Georgia Line and Luke Bryan for "This is How We Roll 

Brantley Gilbert scares me. I can only imagine what goes on at his house. He sang "Bottoms Up" 

Dan & Shay were good but Luke Bryan singing "Play it Again" as he walked through the audience was amazing. 

Do the guys in Lady Antebellum tell Hillary she looks good in all these outfits where she actually looks terrible? They should.

Dawson…sorry James Van Der Beek, but you'll always be Dawson to me

Female Video of the Year: Miranda Lambert who looks incredible. 

Little Big Town's color explosion was fun and nasty…hope there was a shower somewhere for all of them to get that stuff off them

Blake Shelton sang "The Boys Round Here" which is the only song of his I don't like. I'm not a big fan of spitting, even if you're just singing about it.

Didn't anyone tell the Rascal Flatts dude that it's not cool to present an award with a big wad of gum in your mouth?

Duo Video of the Year: Florida Georgia Line

Dax was back with Kristen to introduce Miranda and Carrie who were looking Hoooooot and singing that song I love "Something Bad's About to Happen"

Video of the Year: Carrie Underwood for "See You Again" and then show...over.
THE OTHER STUFF
-TV Everywhere is one of my favorite things. All of the network apps that allow you to watch their programming on any device is great for a TVholic like me. Apparently I'm not the only one who feels this way. TV Everywhere viewership has increased 246% year over year. 21% of US Households are now using this technology which has actually helped slow the cord cutting we keep hearing about. The only way we can all access the app is by authenticating through our cable provider. 


-Penny Dreadful on Showtime has been renewed for a 2nd season...anyone watch it?


Thursday's Easy Trivia Question

: Who played Liz Lemon on 30 Rock?

WWTM-Kristy

Like me on Facebook at Watching Way Too Much

Follow me on Twitter at [email protected]

http://watchingwaytoomuch.com

[email protected]