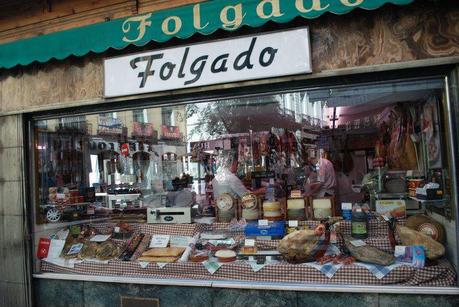 While in Spain, we may have inadvertently performed one of the biggest travel no-no's that exists today.  We didn't offend any locals or screw up the local language too bad, but we did forget to pack what could be one of the very most important items to bring to a wine drinking European country, a corkscrew.  It was apparent very quickly that being faced with a near endless supply of 3-4 Euro bottles of wine and already being in possession of a few of these bottles, we needed to go on a quest.  A quest for the great sacacorchos!
The Biggest Mistake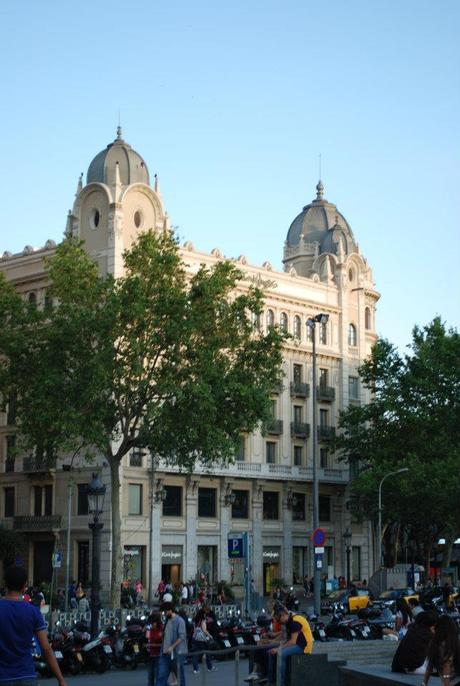 Normally my trusty Swiss Army Knife is the first thing that goes in my bag when packing.  In fact, we even included it on our must pack list in The Long-Term Traveler's Guide.  But on the first day as we were getting settled in we made the shocking discovery that there was no knife in the bag which was unfortunately left at home.  Wine bottles in hand and no way to open them, we were initially not worried.  Any good hotel has to have a corkscrew on hand, or as they call it in Spanish, sacacorchos, right?  Wrong!  Not only did it take several employees at our hotel to figure out what the Spanish word for corkscrew was (as we had not Googled it at this time), we came to find out that their corkscrew had magically disappeared.
At this point we had two options, take our bottle to a business down the street to open for us or go on a quest to find the single most important item of our trip.  Off we went, and we quickly found out that Madrid is not the best place in the world to find a corkscrew, and our adventure began!
The Sacacorchos Quest
The first logical choice would be to hit up the ubiquitous grocery store.  In Spain there is nothing better than El Corte Ingles which is what we consider to be a super-mega-department store.  These stores have it all.  Typically 8-10 floors, each level is a different department ranging from electronics to clothing and everything in between.  The basement is almost always reserved for the grocery store and almost always lacking in signs directing customers on how to actually get there.   Once you reach the grocery store, the beauty of it presents itself.  Twenty percent dedicated to cheap wines and liquors, a back wall of fresh meats, fish, ham, and cheeses at amazing prices, and just about everything else you need.  What do they not have?  A sacachorchos.  Go figure.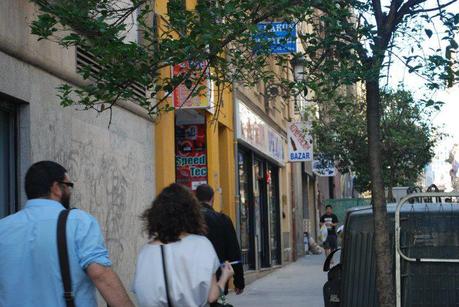 At this point we were pretty lost on what store would actually have a corkscrew.  If the store that has everything doesn't have a corkscrew, then what store would?  We decided to just wander the streets of Madrid for the evening and entered every type of store that could possibly have a sacacorchos.  At this point we were pretty well fluent in the hard to pronounce word ("saka core chos") and walked into all shops from electronic stores to mini-marts and jack-of-all trades shops.  The latter is the most surprising as these stores are nothing more than a large warehouse of housewares at discount prices.  Loaded in bins and completely unorganized, the employees were adamant that they did not have a sacacorchos.  When we almost bought a screwdriver or other blunt object to push the cork through, we knew we had a problem.  The quest continued.
One Last Stop - Success!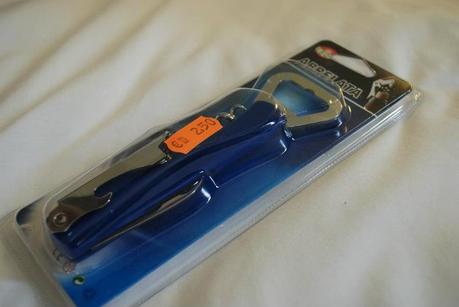 In the end and about 90 minutes later, it was the Asian grocery store combination knick-knack shop, aptly called a "bazar," that sold our beloved sacacorchos.  Not only did they have the standard Swiss Army Knife variety but several others for everyone's own particular style.  At this point I would have paid whatever they asked.  The damage?  2.5 Euro. Almost as much as the bottle of wine we were trying to open.  In the grand scheme of things, that is a small price to pay in order to enjoy some great Spanish Rioja and cheap Sherry. 
Let this be a lesson to everyone out there that is heading to a European country that is a major wine producer.  Your number one packing list item?  A corkscrew.  Do not leave home without it!