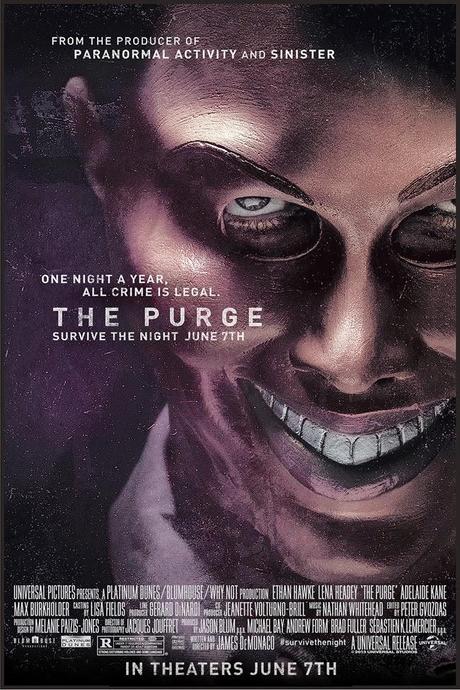 Home invasion movies have come a long way over the last decade. It's a genre that has been explored in many different formats and has featured both the extremely commercial films and the more indie-types. Although with The Purge, it is not only the makers who are taking a risk, but also the audience when they give another home invasion film a chance, surprisingly, and much to the my amazement, it comes across as fresh and because of its relatively short running time is more than just acceptable.
Working on the notion that if humans are given one day a year to let go of their inner demons without any repercussions then they will remain within bounds for the rest of the year, The Purge explores the human psyche in its rawest form. There is obviously money to be made with this as we see Ethan Hawke's James Sandin being the biggest seller in the region of home protection units to safeguard the residents of his gated colony, while his children, Charlie and Zoey, struggle to still understand the reason behind this day of unashamed mass-murder.
As expected everything goes wrong when Charlie lets in an individual running away for his life from a group of young delinquents who in turn gang up on the Sandin family for harboring their victim.
While the premise of the film makes it interesting, director James DeMonaco is unable to capitalize on the horror or shock factor that could have taken the film one step further to cult status. Furthermore the tension in the characters is just not up to the mark and be this because of some overacting or the characters are just not etched out well, we do not really feel any sincere compassion towards anyone. The "action" is very subtle and most of the surprises, including the final climax, do seem expected. Still, the events happen at a fast pace and keep the film moving from one scenario to another and as a result enjoyable.
I'm am as yet to find a home invasion movie that will shock me like Funny Games, but The Purge stands out for making the principle idea of the story interesting and then playing on it brilliantly. It might seem clichéd at times, but in the end it, without a doubt, entertains and makes for a quick and fun watch.
Rating 3.5/5