I've noticed that when I meet women, they invariably at some point ask questions about my hair. Please don't think that I'm boasting but the fact is that I do have shiny and silky hair (Touch wood Touch wood!!) and I've had that since I was a kid. I also used to have pretty thick hair which by now has thinned considerably but the glossiness thankfully has remained. Many of my friends and acquaintances have asked me about my haircare regime so that's what I'm going to do talk about in this post. Will share with you the products I'm using currently and what extra I do to take care of my mane.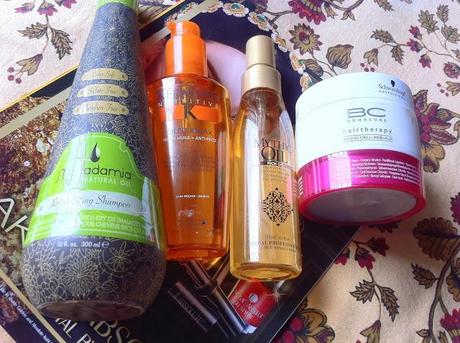 When I talk of a hair care regime, it's actually pretty basic. I've never believed in using a ton of products and my mantra in life has always been to keep it simple. I have normal - dry hair so all these products are for that hair type. These have given me good results and that's why I'm sharing with you. If you have the same hair type as I do, you can definitely give these a try but remember hair and skin care products react differently on different individuals. So don't come and catch me if for some reason they don't work for you :D.
Here are the products :
1. Macadamia Natural Oil Rejuvenating Shampoo for Dry or Damaged Hair - I bought this shampoo from strawberrynet after hearing a lot of good things about the Macadamia range of products. The shampoo is sulfate and paraben free and is safe for my color treated hair. Usually shampoos without sulfates and parabens tend to make hair dry and I also dislike the fact that they don't lather much. This one lathers very well and is excellent for my dry hair. Even if I skip conditioner, my hair does not feel dry at all.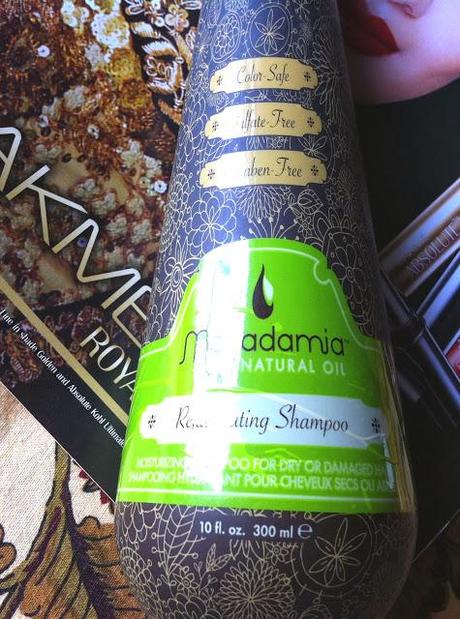 2. Schwarzkopf Color Save Treatment - This hair mask protects color from fading and it also deep conditions to give healthy and shiny hair. This is quite a rich mask and I use it as a conditioner pretty much everytime I shampoo. I love how soft and smooth it makes my hair and the glossiness is partly due to this product.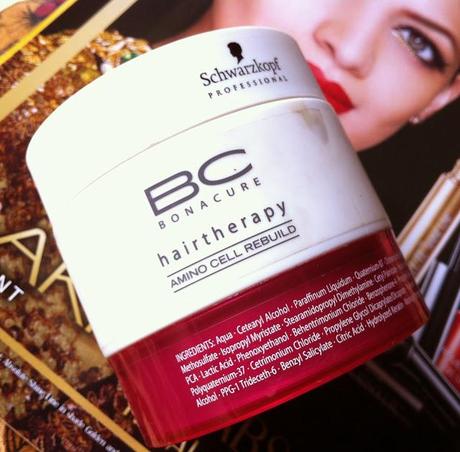 3. Kerastase Oleo Relax Anti Frizz Serum - We all know how super Kerastase products are and this one is no exception. I use this serum everyday and I feel as if something's missing if I don't. It's lightweight, absorbs in a jiffy, excellent in controlling frizz, smells wonderful and instantly gives shiny and manageable hair. Love it!
4. L'oreal Mythic Oil - I think I have the world's weirdest hair when it comes to rinsing off oil. It just does not let go of the oil no matter how light it is.Rinsing off is pure torture and unless I shampoo at least 6-7 times, the oil refuses to come off. That's why I've stopped using natural oils and switched to L'oreal 's Mythic oil. This one is perfect for me as it is very light and does not cling on to the strands. It washes off easily and leaves me with silky, smooth hair.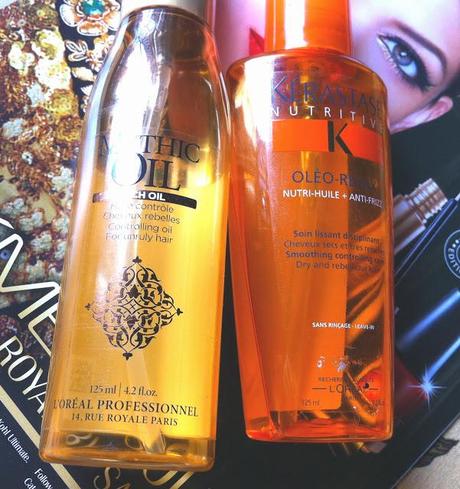 That's really it. Apart from the above products, I just get a hair spa once a month but even that's not a regular to do item in my calendar. It's only when I remember that I go book an appointment. What I do however is eat a lot of protein and drink milk or have yoghurt everyday and those are super foods for the hair. Nourishment from within is as important, if not more as nourishment from outside so do up your intake of protein and calcium if you want healthy hair. And refrain from regular blow drying or straightening and curling hair. Heat makes hair brittle and dry and it does nothing good. Keep it simple. Keep it natural. Your hair will thank you for it :)
What's your favorite hair care products? Do share in the comments below.