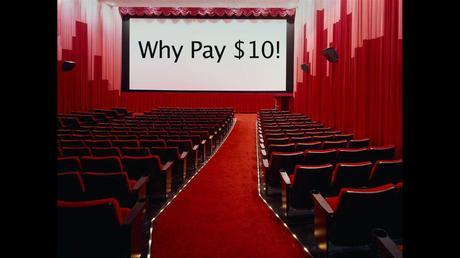 It has been a long time since I went to the theaters, which is quite surprising because I used to fully enjoy spending a couple of hours every other week catching up on the current film.The main reason's for this is the lack of unique ideas and more importantly the price of watching the ones I am interested in.I know I am not the only one who feels this way because the box office has been suffering big declines nationwide for the past few years.The saddest part about this is the theaters have no desire to reduce the cost of their prices, because the raised ticket prices and 3-D and IMAX tickets have actually given the industry a record financial year in 2010.
The thing with their business model of increasing the price as attendance declines is that theaters are further pushing away attendance by raising prices, and this will start a snowball effect where eventually the numbers will be so low that unless things change we could be watching the slow elimination of theaters all together.Hopefully this doesn't happen but the current price of two hours of entertainment by me alone, not including when I go with my fiancé is just too much to justify.
I recently stumbled upon a unique idea that won't fix this problem completely but it is one way to start, and that is a dollar movie theater.The way this works is that this theater shows films that are not newly released, but have been out long enough where they don't have to pay the production company that made the film 90% of the profit from the ticket sales.This way they can charge only a dollar for a ticket, and make their majority of profits truly off concessions that stay at the same price as other theaters.This means instead of paying ten dollars on a ticket and fifteen on popcorn and a drink you have a total bill of sixteen dollars instead of twenty-five.
How can this idea help most theaters?They can give the audience something that's lacking, a choice.What if the theaters continued to offer the newly released film at the high ticket price, and when they have been out a while drop the prices depending on how the attendance has been recently and how its projected to do.Now you have the best of both worlds, you can wait a while to see a movie and only pay a minimum price or if you really can't wait to see something you can pay the higher price.The concessions can stay the same because people already have a choice whether to buy them or not.I personally know this would bring me back to theaters and it wouldn't hurt the industry but would help, by keeping individual movies more consistent in attendance for longer.
Sources
http://screencrave.frsucrave.netdna-cdn.com/wp-content/uploads/2010/07/freemovieDAS072010.jpg
http://www.isuppli.com/media-research/news/pages/north-american-3-d-movie-box-office-revenue-nearly-doubles-in-2010.aspx