One of my favorite trends in the Twin Cities is a somewhat newer one: begun in 2009 in Hudson, Wisconsin, the small lending libraries in front yards has become a regional and global movement. As a strong believer in all things recycled and reused, I marvel at the selection often found in these boxes, as well as the sheer number of them in my neighborhood alone—I easily have access to more than 20 within a one-mile radius of my Longfellow home.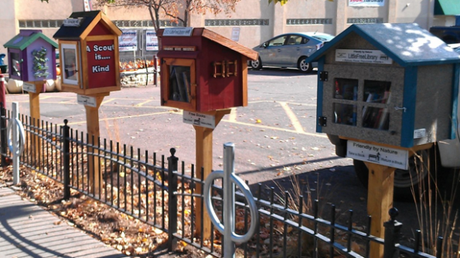 In one of these boxes, I recently found a copy of Jack Canfield's The Power of Focus and, as I am always on the lookout for ways to better understand myself and those I work with, and being something of a connoisseur of personal development content, I snatched it up immediately! Though I've not had the time to read the book cover to cover, skimming the contents and previewing the material has brought to mind several clients the HomesMSP Team has worked with over the summer, and some of the issues they've faced. 
While the book deals primarily in improving one's personal situation, in this post, I'd like to share some of the author's insights as they relate to addressing the common issues we see homebuyers dealing with:
 1.   Do you See the Big Picture?
In this section, the author suggests ways to design a crystal-clear future image, as well as creating a Top-Ten Goals Checklist.  Much of this translates to the process of either choosing to buy your first home, or preparing your home to sell and buying another home that better suits your needs. Many potential clients inquire about selling their home because they see that the market is improving, despite not being prepared to move. Regardless of the state of the market, if you're not prepared to either buy a home, or sell your home and buy a new home, chances are good the process will stagnate until your objective is clear. Make sure you're ready to engage in this process! Your intuition will tell you when the time is right, as will your goals: a decision to leave a specific neighborhood may not be as inspirational as finding a home to raise a family in, for instance. And develop a list of realistic must-haves for your next home (it doesn't need to be ten, just however many items you feel are important).
2.   Building Excellent Relationships
This idea of encompasses more than just the client-Realtor relationship, it's also about the relationship—however fleeting—you will have with your home's buyer or seller.  There are many styles of communication in the world: aggressive or passive, demure or abrasive, and all can be effective, depending on the situation. In real estate, because the decisions being made can be extremely emotional in nature, the most effective attitude is often one of teamwork, with everyone working toward a mutually beneficial outcome. After all, at closing, you'll be sitting across the table from this person or persons, and having a good rapport always makes the process more pleasant!
3.   The Confidence Factor
As someone who's been self-employed for a number of years, this chapter is especially engaging, and includes the consideration of resolving unfinished business, maintaining a winning attitude, as well as what to do if you hit a slump. If you consider the process of buying or selling a home, you can easily imagine how all of these come into play. If you're selling your home, unfinished business may include incomplete projects, outstanding assessments, or ordering inspections; for buyers, it may mean learning about your credit score, sorting out debt, and gathering a suitable down payment. Having a winning attitude is essential throughout the process—which can take days, weeks, or months, depending upon a variety of factors and circumstances. Should you hit a slump, mentally return to step #1, seeing the big picture. Perhaps circumstances have changed, or your motivation is different. If you hit a slump, it's possible that you simply need to revamp your frame of mind to reinvigorate the buying or selling process.
4.   Ask for what you want
There's a phrase sometimes muttered in real estate that "Buyers are Liars;" this idea stems not from a client's desire to intentionally mislead their agent, but rather that what people think they want and what they actually desire are heads and tales apart. When you sit down and decide on the kind of house that will fit your needs and how you live, you may find that a smallish story-and-a-half would be more suitable than the rambling Cape Cod you'd thought you wanted.
5.   Taking Decisive Action
Finally, taking timely and appropriate steps to advance the process is essential. If your home is for sale and an offer is made, discuss it with your Realtor, and make a decision based on fact and reason, rather than ego and emotion. When making an offer to purchase a home, consider the market you're working within and make a respectable, reasonable offer on the home.  
Keeping all of these factors in mind, and maintaining FOCUS on the end goal can make the process of buying or selling a home infinitely easier.
Angela Anderson, Realtor, Results Support Services: EMAIL--BIO
Working with HomesMSP Team and RE/MAX Results in the Twin Cities--Sharlene, John, Angela
RELATED POSTS: 
What Baby Boomers and first-time homebuyers have in common
Minnehaha... great first-time homebuyer Minneapolis neighborhood on the LRT that once was the home of a zoo
Selling a Home