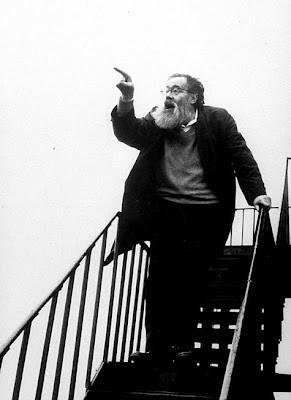 John Berryman in the Penal Colony
 "Will power is nothing. Morals is nothing. Lord, this is illness."
—John Berryman, 1971
A year before he committed suicide by jumping off a Minneapolis bridge in 1972, Pulitzer Prize-winning poet John Berryman had been in alcohol rehab three times, and had published a rambling, curious, unfinished book about his treatment experiences.
Recovery
is a time capsule. If you think we have little to offer addicts by way of treatment these days, consider the picture in the 60s and 70s. In
Recovery
, treatment consists almost entirely of Freudian group analysis, and while there is regular talk of alcoholism as a disease, AA style, there is no evidence that it was actually dealt with in this way, after detoxification.
Best known for "Dream Songs," Berryman taught at the University of Minnesota, and was known as a dedicated if irascible professor. Scientist Alan Severence, Berryman's stand-in persona in the book, comes into rehab hard and recalcitrant, despite his previous failures: "Screw all these humorless bastards sitting around congratulating themselves on being sober, what's so wonderful about being sober? Great Christ, most of the world is sober, and look at it!"
And he is suffering from "the even deeper delusion that my science and art depended on my drinking, or at least were connected with it, could not be attacked directly. Too far down."
Berryman was a difficult man, and knew it. He quotes F. Scott Fitzgerald: "When drunk, I make them pay and pay and pay and pay."
Alcoholics, writes Berryman, are "rigid, childish, intolerant, programmatic. They
have
to live furtive lives. Your only chance is to come out in the open." Berryman catches the flavor of group interaction after too many hours, too much frustration, and too much craving. One inpatient lashes out: "You're
lying
when you say you do not do anything about your anger. You get bombed. It is called medicating the feelings, pal. Every inappropriate drinker does it. Cause and effect. Visible to a child. Not visible to you."
Berryman was a shrewd observer, a singular writer, and, after all, a poet. He is extraordinary on the subject of alcoholic dissociation:
"I found myself wondering whether I would turn off right towards the University and the bus home or whether I would just continue
right on
to the Circle and up right one block to the main bar I use there, and have a few.
Wondering
. My whole fate depending on pure chance…. as if one were not even one's own actor but only a spectator."
Berryman puts it all together in a horrific capsule description of the "irresistible descent, for the person incomprehensibly determined."
Relief drinking occasional then constant, increase in alcohol tolerance, first blackouts, surreptitious drinking, growing dependence, urgency of FIRST drinks, guilt spreading, unable to bear discussion of the problem, blackout crescendo, failure of ability to stop along with others (the evening really begins after you leave the party)… grandiose and aggressive behavior, remorse without respite, controls fail, resolutions fail, decline of other interests, avoidance of wife and friends and colleagues, work troubles, irrational resentments, inability to eat, erosion of the ordinary will, tremor and sweating… injuries, moral deterioration, impaired and delusional thinking, low bars and witless cronies….
Berryman had no illusions about his failed attempt to hide behind the mask of a social drinker: "It seems to be
loss of control
. Unpredictability. That's all. A social drinker knows when he can stop. Also, in a general way, his life-style does not arrange itself around the chemical, as ours does. For instance, he does not go on the wagon…"
In the end, he was "pleading the universal case of hope for abnormal drinkers, for all despairing and deluded sufferers fighting for their sanity in a world not much less insane itself and similarly half-bent on self-destruction…"
As the head nurse in the facility tells the group: "You are all suffering from the lack of self-confidence… often so powerful that it leads to consideration of suicide, a plan which if adopted will leave you
really
invulnerable, quite safe at last."
And as Saul Bellow wrote in the introduction to
Recovery
: "At last there was no more. Reinforcements failed to arrive. Forces were not joined. The cycle of resolution, reform and relapse had become a bad joke which could not continue." Berryman agreed. Toward the end, he wrote: "I certainly don't think I'll last much longer."
"There's hope until you're dead," a woman tells him during his final stay in rehab. Sadly, that hope ended a few months later.
[First published July 21, 2012]