If you build it, I will come...evidently...like a child following the pied piper.
EXAMPLE #1
The Kauffman Center for the Performing Arts will be opening soon!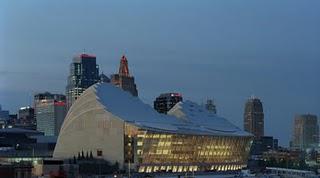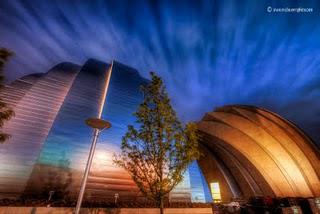 As you may know, I auditioned for next year's Lyric Opera season and was not hired, however I have been in touch with them recently and they are very interested in having me with their company in the future.   I was sad that I could not perform in their new opera house this, their first season.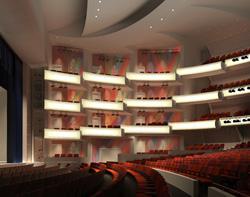 However, I did not give up and have talked to the Kansas City Symphony at least six times about their program with the Symphony Chorus.  Unfortunately their auditions are held at the same time that I am in Chicago in an opera production.   Well, thankfully, they are allowing me to make a special audition on the day that I return to Kansas City from Chicago - which also happens to be my 2nd wedding anniversary to my wonderful wife, Dusti.  Hopefully, the audition will go really well, and hopefully I will be able to sing on their season this coming year in the immaculate new symphony hall.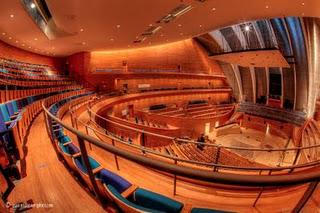 From all accounts, it is expected to be one of the greatest halls, acoustically that is - and that's all that matters, in the entire world.  Unfortunately, I do not expect that I will be able to witness the Grand Opening Events for each of the halls.  The events will feature Placido Domingo, one of the greatest tenors in all of history (whom I had the great honor of seeing live, with my dad - by the way, Happy Fathers' Day dad - notice the correct placement of the apostrophe), and Itzhak Perlman, the violin virtuoso.  I can't go because to attend the Grand Opening of the Opera House, tickets range from $1,000 to $50,000!!! Comparably, with a little luck from under your couch cushions, you can attend the much more affordable Grand Opening of the Symphony Hall with tickets ranging from $500 to $30,000 - what a bargain!  You can attend both for 70,000 bucks a pop.  Interested? Here's the order form.
SIDENOTE
Nonetheless, I got an audition for the Symphony Chorus.  And, this week I also had an audition to do some solo work for Village Presbyterian Church, the fifth largest Presbyterian Church in the world.  They do almost exclusively major works by the greatest composers (Bach, Beethoven, Brahms, Mozart, etc.) as well as other chamber music of legitimate classical music traditions - which means to me that their congregation must be very well educated and cultured...just my kind of people.
I mention this because (college music students listen up!) as soon as I started the audition, they asked me first to sing a solo.  So, I did.  Then they asked me to sight sing - just like a college proficiency test.  For example: Sing the following example below - you don't get to use an instrument or piano - this is the first time you've seen the music, and you must sing it correctly a capella (alone, solo, without help)


Kind of hard isn't it?  Well, that is what I had to do.  Then I did a rhythmic dictation test - it is similar to the example above only if I clapped the notes in rhythm. Lastly, they gave me a German paragraph and Latin paragraph to read, read correctly, with correct diction, and with the correct accents (Americans are horrible at this).  Then we talked for a while about the program.  Well, I just found out hours ago that I got the job.
It should be a great thing.  I feel that they are very anxious to have me on board.  It's nice to feel wanted and needed instead of used, but I haven't felt that way in a long time; the last church I was at, UUMC in Salina, KS was a amazing place for me.  I am lucky to be treated as a professional musician.
SIDENOTE OF THE SIDENOTE
Also, I am excited that the job doesn't involve Praise and Worship music!!!  Some I suppose will never understand why most musicians don't enjoy this.  The reason is that we spend years, passionately learning and perfecting music, and then we are required to perform the simplest, and sometimes the most abusive forms of it.  Wouldn't that make you crazy?  To me, art music is an education; popular music is a drug.  It is great to rapturously enjoy music (the drug), I certainly do, but in music we can also experience our mind, character, and stretch the bounds of our natural abilities (the education).
EXAMPLE #2
This last week I visited the new Livestrong Sporting Park to see the US vs. Guadeloupe Soccer match.  Like most things in life, I am wildly passionate about soccer.  And this was my first game in the brand new stadium in Kansas City and my first game seeing the US National Team...my favorite national team of course.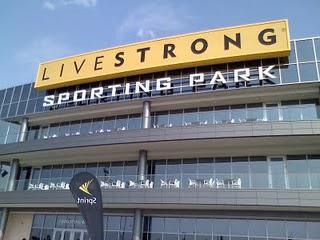 The US National Team won 1-0 and advanced to play Jamaica in our Continental Championship, the Gold Cup - the "World Cup" of North America, Central America, and the Caribbean.  But that's not all, I will also be singing at the Sporting KC game at Livestrong Sporting Park this weekend when they play Vancouver.  And since they are playing a Canadian Team, I will be singing O Canada as well as The Star-spangled Banner.  I hope to see you at the game if you can make it - 7:30 on Saturday, June 25.  That's THIS COMING SATURDAY!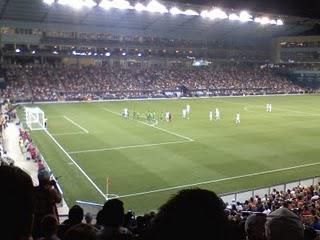 And for some special fun for any geeks like myself out there, click here to visit the virtual venue where you can view the stadium from any location.  Can you find out where I was sitting from my picture above?
EXAMPLE #3
My love of sport has begotten my love for sports architecture.  And what is the pinnacle of sports and architecture?  THE OLYMPICS of course.  Now, I have a special place in my heart for the Olympics...better yet, I have a special heart for the Olympics.  It is one of the most exciting times in my life...it is all consuming - be that good or bad - I love it.  And, many don't know this, but I was so captivated by the 1996 Opening Ceremonies in Atlanta, because it was staged almost entirely as an opera depicting the history of the South, that it inspired me to become a musician.  It is just one of those unique events, where money is almost no object, and the imagination and creativity of the world comes together to create a piece of art unmatched in scale and appreciated by everyone on earth.  How often does art effect so many, so effectively?
Anyway, one of my friends from college happens to be an architect at Populous, an architecture firm here in Kansas City.  They used to be called HOK, but they are significantly one of the world's most prestigious sports architecture firms - click here to see a list of their past projects.  And, if you notice, they have designed sports venues including Livestrong Sporting Park and stadiums for every Olympic Games since 1996.
Well, my friend offered to let me take a tour of their work on Thursday.  I am not sure what I will be seeing but I am incredibly excited.  I know that they have been recently working on the Olympic Stadium for the 2014 Winter Olympics in Sochi, Russia.  They may be working on a different project now, but I will find it all fascinating!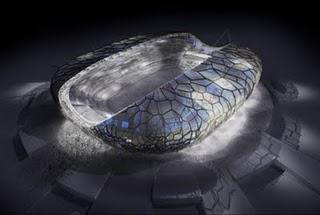 EXAMPLE #4
Dusti and I went to Shakespeare in the Park, in Kansas City and saw Macbeth last night.  It is packed with people and runs for 18 straight days, until July 3.  I am loving the culture of our metro area.  It is so energetic compared to many other places in the US.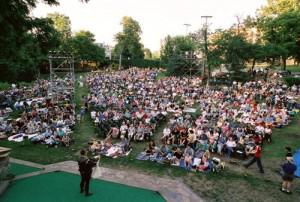 And, lastly, next week we'll take a look at the Art of Singing for tenors.  Here's an example of the glory to come...
UPCOMING PERFORMANCE SCHEDULE
June 25 - National Anthem - Sporting KC vs. Vancouver - Livestrong Sporting Park - 7:30pm
July 21-August 7 - Sugar Creek Opera - Daughter of the Regiment - August 4, 5, 7 - Watseka, IL (near Chicago)
August 8 - Audition - Kansas City Symphony Chorus
much, much more to come!...