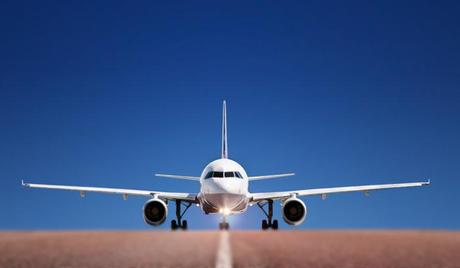 Summer is coming!
And if you're anything like me, that means lots of sun, hanging out with friends and family, outdoorsy activities, and travel. The husband and I are going to be traveling quite a bit over the next few months, which we already started by our trip to Vancouver.
So before you head out – for a vacation, business trip, spring break, or weekend getaway – read up on these healthy tips for eating smart while you're on the go!
Healthy Travel Tip #1: Pack Mini-Meals for Your Main Travel Days
I always like to pack food and take it with me to the airport – that way I'm not searching for something healthy amongst the random fast food options, and I'm never hungry and stranded on an airplane either (oh and for the budget conscious, this is a much cheaper option).
It takes a bit of prep work before you leave, but it's so worth it when the guy next to you is eating a greasy overcooked burger and fries and you have your healthy mini-meals to keep yourself going!
Here are some of my favorite travel snacks/mini-meals that I always pack for my trips:
Peanut or Almond Butter Sandwiches on Sprouted Wheat Bread with Blueberry Preserves: This is a great one-dish meal that doesn't spoil, travels well and is super easy/fast to make.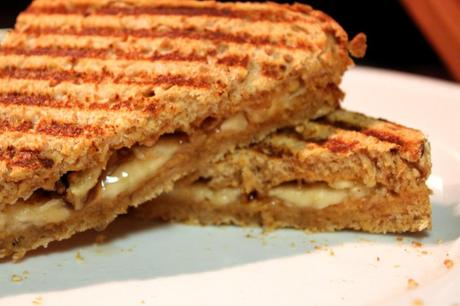 Sandwich on sprouted grain bread made from 2 Laughing Cow Light Cheese Wedges (or 1 slice of your favorite cheese), 1 roma tomato (sliced), salt & pepper: another great go-to sandwich – slightly more perishable than the PBJ, but a good option for a shorter flight or if you know you'll be eating the sandwich within a few hours of boarding the plane.
Steamed Mixed Vegetables, seasoned with salt, curry powder and other Indian spices, or salt & freshly ground black pepper: This is a great snack and a way to make sure you're eating veggies when you travel! I like to steam the veggies in the microwave, season them, and pack them in a disposable plastic container to take on the plane. You can also cook them on the stove and then pack them, it just takes a bit more time in the morning or the night before.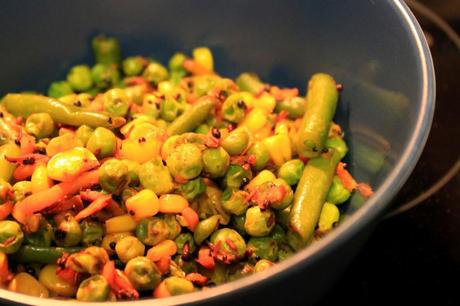 Healthy Travel Tip #2: Keep a Stash of Snacks with You
You have two options here:
Pack a healthy snack bag – I fill my carry-on purse with non-perishable items (nuts, healthy bars) and fruits that don't spoil easily (like apples, bananas, etc.)
Get it once you're there – this only works if you're staying somewhere with a grocery store near you and a fridge in your hotel, but if you are – you can get a bunch of items like ready-to-eat fruits and veggies (e.g. celery/carrot sticks & hummus), milk, 0% greek yogurt, light string cheese snacks – all of which are great options if you're in need of a quick breakfast or a snack in between vacation activities.
Here are some of my go-to healthy snacks:
Fresh fruit: apples, bananas, berries: Any fruits that are easy to eat, not too messy and don't get squished easily are perfect options. I usually stick to Fuji Apples because they're high in fiber and filling as a snack, and they're pretty durable too.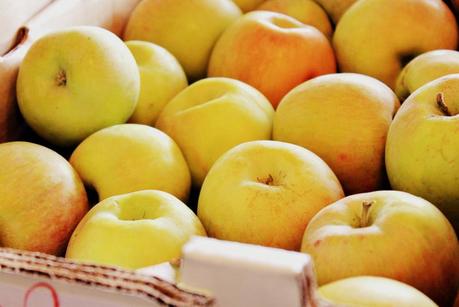 Packets of instant oatmeal (plain), or your favorite healthy cereals (I like Kashi Heart to Heart and Barbara's Puffins Original) in a ziploc bag: This can be a great snack or breakfast – you should be able to find boiling water in any airport (or even on an airplane) to cook the oatmeal, or low fat milk to eat the cereal with.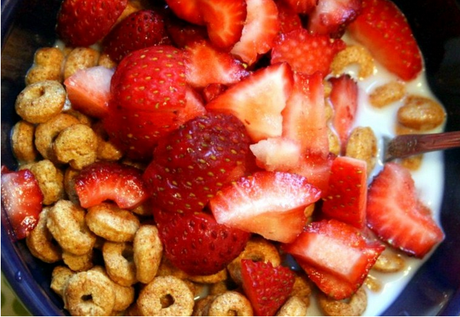 All-natural, low glycemic protein bars (like dried fruit/nut bars): Get one with no more than 200 calories, and at least 4g fiber and 6g protein. Lara Bars are a good choice, as are Odwalla High Fiber bars, CORE Foods bars, Awesome Bars, etc.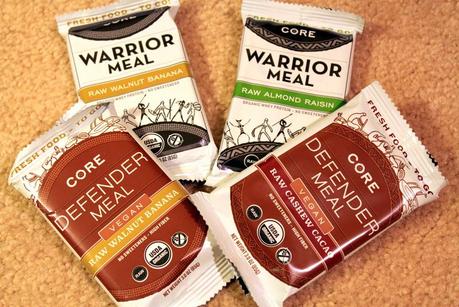 Trail Mix: Make sure you get the kind without any added oils or sugar (I like a combination of raw cashews, raw walnuts, raw almonds and raisins in the "Go Raw" Trex Mix from Trader Joe's). And I like to separate them out into mini portion sizes (1/4 cup each).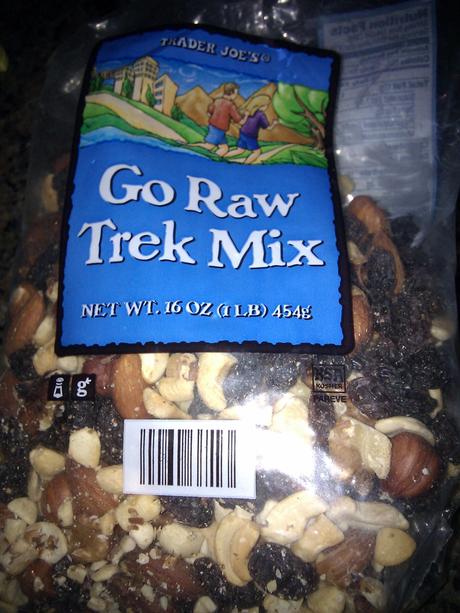 Dark Chocolate Covered Almonds: Great for satisfying your sweet tooth, with a bit of protein, fiber and an anti-oxidant punch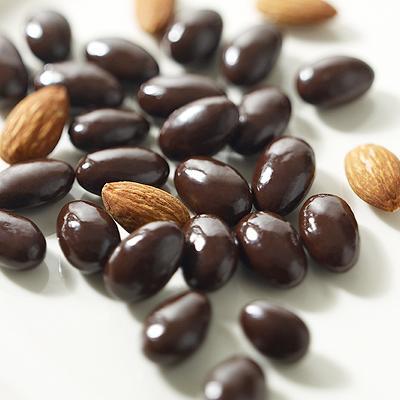 Healthy Travel Tip #3: Scope out Healthy Options While You're Out!
"What would The Picky Eater eat?"
If you aren't able to pack food and have to rely on the maze of airport options – here is my list of healthy on-the-go picks (at most airports and definitely in most cities)
For Breakfast
Starbucks is always a good option, especially for a healthy breakfast. A non-fat tall latte has only 90 calories and tons of protein, and you can also get  oatmeal (get it without the sugar or dried fruit), whole grain wraps (their spinach and feta wrap is high fiber and under 300 calories), and fresh fruit. Their fat free multigrain bagel has 300 calories, 6g fiber (without the cream cheese). 
Au Bon Pain can be found at many airports, and they also have healthy breakfast options similar to Starbucks
McDonald's has oatmeal (get it without all of the sugary add-ins though), and apple slices and low fat milk as well.
Dunkin Donuts has an egg white veggie flatbread that has 280 calories, 3g fiber and 16g protein – not bad!
For Lunch/Dinner
Subway is a great pick (choose wheat bread, tons of veggies on your sandwich, no mayo or oil – choose mustard, salt & pepper instead)
Au Bon Pain has customizeable sandwiches (think the Subway strategy here) or great salads / soups too (their garden vegetable soup has only 80 calories for a small)
Starbucks also has a line of pre-packaged meals that are all under 500 calories – they come in fresh daily so it's great especially if you really need a grab-and-go option
Delis that allow you to customize your sandwiches work well – think of them as a good alternative to Subway
Taco Bell – opt for the bean burrito or anything on the "Fresco" menu
Mexican Restaurants like La Salsa, Andale, or Baja Fresh have great options – look for soft corn tacos, or the "bowl" option filled with black beans, veggies, salsa for a satisfying treat (omit the sour cream & guac, avoid anything fried, and go light on the cheese)
Even McDonald's and Burger King have been offering a few healthy options – you can get salads (order the dressing on the side and use it very sparingly – dip your fork in it and eat your salad, don't pour it on your salad). McDonald's has apple slices and smoothies that you can order without the frozen yogurt as well.  
Some airports have all natural frozen yogurt – like Red Mango or Pinkberry. The small size with fruit mix-ins is a great option for a healthy snack or dessert.
Healthy Travel Tip #4: Know Your Healthy Food Rules
A few simple things to remember when you're ordering out:
Avoid anything fried, or breaded and fried. Opt for baked or sauteed lightly in oil (stir fried often has too much oil)

Get the dressing on the side! Raw salads are awesome, but if you pour the dressing all over it you're adding tons of fat and up to 400 calories

Fresh is always best: fresh fruits, fresh veggies – anything without added sauces, etc. are good

Stick to water vs. soda, juice, smoothies, or sugary drinks

Try to substitute as much as possible: wheat bread instead of white, egg whites instead of regular eggs, half the usual amount of cheese, etc.
But the most important rule is: have fun and don't stress out about eating healthy too much. If you indulge a few days, it's not a big deal – just get back on track the next day. The point of vacation is to relax, so make sure you do! Happy travels everyone!