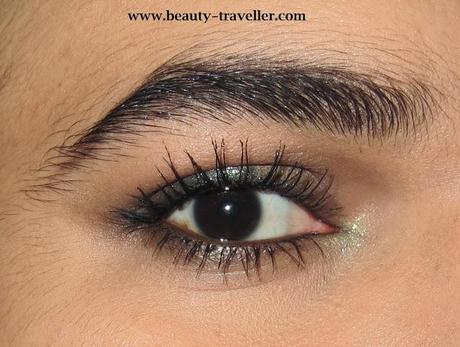 This is not an article that will feature a tutorial. This is an article which will inspire you to get a perfect looking eye makeup and help you master over the most sought after smokey eye in a couple of steps, of course from my point of view as a makeup artist. Makeup artists have talked about smokey eyes for infinite years and each have their own way and sometime unique ways to create the most bedazzling smokey eyes. As you all know that I really trust and follow the major 10 makeup artists in the world, I know what knowledge comes from them is foolproof and vouched upon. And then adding my own stuff, I think I have started creating some decent smokey eyes in my recent works.
In this article, I want to share all the little things that could give you that perfect smokey eye.......especially for the Holidays and the festive season.......
What is a smokey eye?
This was inspired from the way smoke created from a burning object blends with the surrounding air. There are no lines of demarcation and everything looks blending into something. Also imagine an ink drop in a glass of water, the way it goes into a homogenous mixture. Such examples actually depict a smokey eye.
What colors?
Conventionally any dark color would help creating smokey eye. But NO!! Smoke is a concept and not based on color (Always)...I think Smokey eye is more of a technique than a color choice. Of course that doesn't altogether mean that you can create a smokey eye with white eyeshadow (actually you can).
My smokey eyes are a blend of colors that seamlessly blend into each other creating a sort of transition OR something that accentuates certain eye features yet it all looks blended and beautified. (too scientific)...
Any color would help creating a smokey eye.
Any Variants?
Now a days, with such uniquely beautiful products and technology, creating a smokey eye is almost as easy as making an omelet (everyone may not succeed making the BEST omelette, though). One could create the simplest smokey eye by smearing and blending an Elizabeth Arden Smokey Eye pencil or those lovely crayons like Rimmel Scandaleyes Eyeshadow pencils or Clinique Chubby Tints for Eyes help in creating. With some cream or powder eyeshadow added to it, adds in some texture and improves the smokiness and longevity of wear. Sometimes one would just love to create a 'completed smokey eye' which has all the complimenting colors spaced rightly and sometimes people like me love to create very deconstructed smokey eyes (where you can feel the existence of all eyeshadow colors that were used and a seamless merging of them). I also love creating smokey eyes with colors especially purples and blues. So its not the mundane blacks and browns any more.
The Perfect SMOKEY eye.....
Ironically, smokey eye is not about perfection. Its just a haze and halo and interplay of light and dark colors around the eyes, that may enhance the eye shape and the color of the irises. The more you blend, the smokier you get, the more you add, the intense it becomes..............this is the thumb rule....
Step 1
Prime the lid. It should be primarily done as primer allows better blendability of the eyeshadow along with the longevity of its wear. An eyeshadow primer will enhance and deepen the hue of the color used and yet have the ability to help the color glide and blend better. The creamier the primer, the better the eyeshadow adheres and glides. But I believe in letting the primer set before adding the eyeshadow.
Step 2
Line the lash lines thoroughly and literally smear the pencil. The lines need not be fine and defined, a crude line is better as it will be blended soon. The trick to remember is to stain the lash line with black so that it creates an illusion of darker and longer looking lashes. Quickly blend the eye pencil. Especially if its a waterproof one. Every eye pencil has a play time of 60 seconds after which is sets and does not budge and make flake on the skin.
Step 3
Highlight the brow bone. This is the third step literally. I believe its better to highlight first as that makes you gauge on how Smokey you want to go. Eventually the darkness if the smoke would disappear and desaturate as you reach the brow bone. You can also highlight the inner corners if you want.
Step 4
Line the lash line. Preferably use a powder based black pencil like Elizabeth Arden or Bourjois. I love other colors and they can be customised according to the look but black is quintessential. Line the lash lines haphazardly and however thick you want to go and blend them with the speed of lightning. I believe in lining both the eyes and then doing the blending part as I do it at a super fast speed.
Step 5
I start my Smokey eye with a black eyeshadow in the outer corners of the eyes first. Then slowly blend it towards the outer crease of the upper lid and diffuse upwards and outwards in the direction of the line drawn with the pencil. Any dark color would do for that matters, I use a quintessential black.
Step 6
On the center of lid, apply the mid tone color. Mid tone colors have a wider range of colors than the smokey eyeshadows. I use a classic medium brown with a little bit of shimmer than going for a flat matte eyeshadow. Apply it with fingers or a flat brush to get the maximum deposit of color and then blend it all with a crease brush. It should look like a continuity of color from light to dark and not two separate ones.
Step 7
Highlight the center of the lid and the inner corners to create a 3 Dimensional effect. Highlighting does magic.
Step 8
Retrace the lash line with the eye pencil and then darken it further with a black gel liner, quickly running your pencil brush over it to maintain the smokiness.
Step 9
Curl lashes and apply lashings of your favorite volumizing mascara and voila!! you have a smokey eye..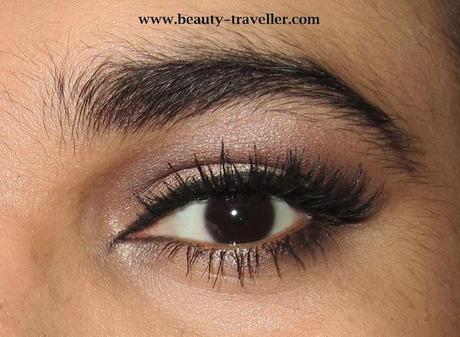 A classic Hollywood Smokey eye would look something like this.
To sum, Smokey eye has no rules.....Its not about the perfection. Its beautiful trend though....
Hope you liked the article. Do let me know in the comments.
Till then,
Ciao



Please do not copy any pictures or content of Beauty Traveller without prior permission. Thanks for reading my blog. I don't give 100% on the authenticity of the content here and it is subject to change without prior notice. Please read the disclaimer for any questions.Thanks a lot for reading my blog. Do subscribe, follow and support. Thanks.