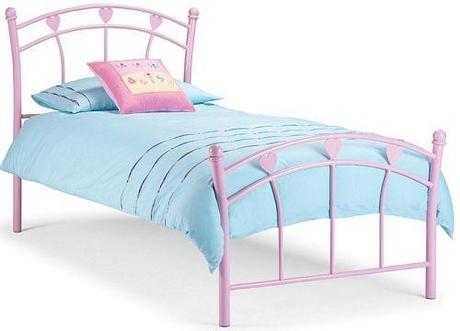 We recently ventured out in the hunt for a big girl bed for Abbie, as you know we have been decorating her room (although it has taken a slight setback), the painting is all done, we have wall art and other accessories ready to go, but we have been struggling with what kind of bed to get for her, obviously if you saw my previous post you will know we co-sleep with her and we are happy with that at the moment, but we want to be prepared for when she decides she wants to have her own room and own bed! We visited a couple of local bed stores and were immediately greeted by very pushy salesmen all wanting to push us towards buying the most expensive bed..we did have an idea of what we wanted but were immediately put off by the pressure and so called "deals", so we ended up leaving and decided our best bet was to look online and find a website instead!
We were recommended Bed Sale Online, which is a fantastic website where you can buy any bed imaginable, under a range of different styles and designs, including metal, wood, leather and gorgeous kids beds too, as well as many different mattress types too such as memory foam, pocket sprung and even special orthopedic types too! Pretty much everything you could ever need all in one place, perfect! So we begun our search for Abbie's first big girl bed and were not disappointed!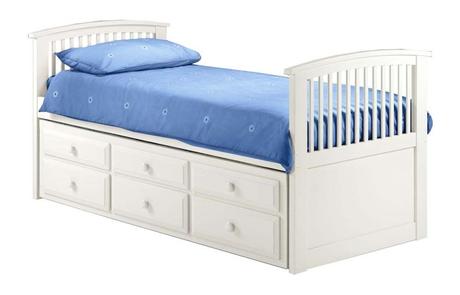 We were particularly looking at the Julian Bowen range, they have the exact style we were looking for with amazing prices too! The first one we LOVE is the Hornblower Wooden Bed, it comes in 2 different colours, stone white & pine and is perfect for her now right up until she is big enough for a double bed too! The design is solid wood and has a false drawer below which is actually a guest bed, this would be perfect for when Abbie is starting to sleep in her room and needs one of us to stay with her for the first few times, it would mean we are just next to her as we always have been and she can see us, but she is set up slightly from us and gets used to having her own space! It would also be perfect for when she starts having friends round and there is somewhere else they can sleep too! It's currently on sale reduced from £679-£299! So definitely worth checking out if you like the sound of it! :)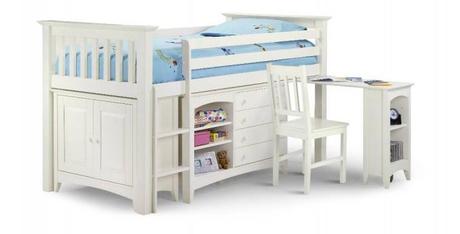 Our second favorite is the Sleepstation bed, again by Julian Bowen, it has EVERYTHING needed for your little ones first room, including a desk, storage drawers and even little cupboards! It's definitely something we would buy for Abbie once she is a bit bigger, it gives her somewhere to draw or paint on, plus she will have fun going up and down the ladder too, I had a high sleeper bed when I was about 10 and I loved it! Not only are they great for storage but perfect for the smaller sized rooms with not much space too! This bed is also on sale from £1,179 - £519, what a bargain!
I cannot recommend the Bed Sale Online enough, not only do they have a huge range of beds, but the prices are incredible, plus there is even the option of FREE next day delivery!! I don't know many places (if any) that offer such fast service! The website is laid out simply and neatly, so no confusing keywords or searching through thousands of beds before you even get to the style you want, you can simply choose 'Wooden beds' or 'Childrens Beds' and straight away you are where you want to be! 
Ordering is super easy too, just choose your bed, size, quantity then add to cart and you are all set to pay, just sit back and wait for your gorgeous bed to arrive! :).
Visit the Bed Sale Online website today for amazing deals and gorgeous beds! :)
Click here for the Children's range too!