Last year, my Mother and Franklyn were visiting for Easter making it an ideal time to host an Easter Brunch at my apartment.  I spent time perfecting the menu and the table decoration!  My favorite colors are pink and orange, these bold colors are present throughout my apartment so it made for a great complementary background.  Along with my custom-made floral tablecloth, I found orange and pink tablecloths and napkins to match.
My usual red and white dinnerware didn't match the decor so I found these plates at Target that were perfect!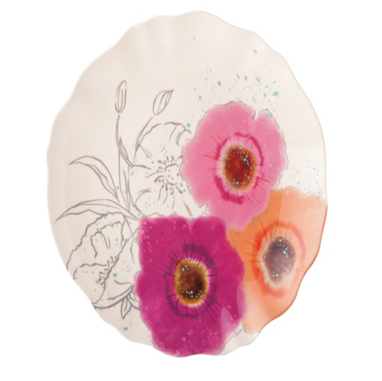 Poppy Dinner Plate from Target
I saw this bow napkin and just HAD to have it as part of the table decor. When I tell you, I played with these napkins for so long trying to perfect this bow but alas, the napkins were a little too soft and I couldn't get the bow exactly how I wanted it.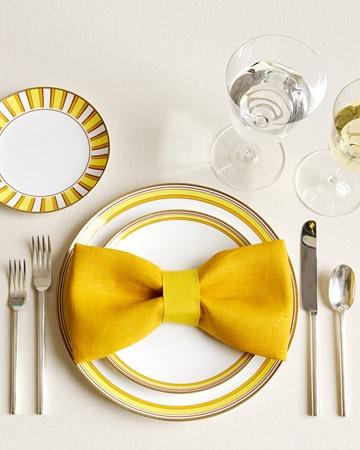 Napkin Bow
A perfect bow on each plate is a fun way to spiff up a plain-Jane napkin. Spread a dinner napkin out, lying flat. Fold opposite sides in so they meet at the center. Then fold again at the center to form a narrow, ribbonlike shape. Next, fold short ends in so they meet at the center. Cinch in the middle with a ribbon in a coordinating color, and glue at back. Picture and description courtesy of Martha Stewart Weddings.
The napkin change actually worked out because I bought little silver buckets and filled them with Easter treats for everyone.  I ended up wrapping the little buckets with the napkins and tying a bow to close it and put them on each plate.  My vintage orange and purple glassware  combined with spring flowers completed the look splendidly.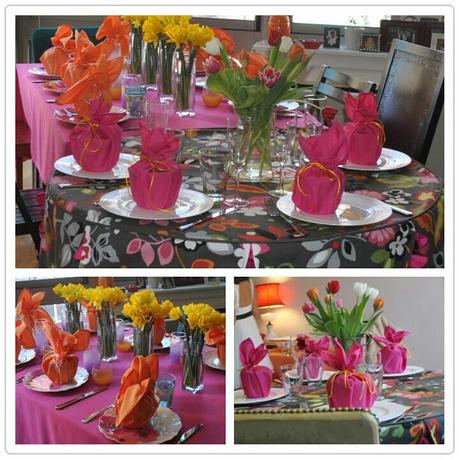 We had an awesome spread!  My Mother and I created a great menu!  Before we sat down for brunch, we had an Easter Egg hunt in the front lawn of my apartment building.  We had to entertain the little one!  It was pretty funny to have a group of ladies and one 7-year-old running around hunting eggs!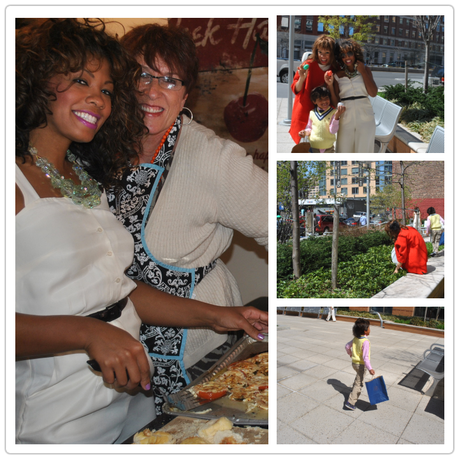 Overall, it was a great day spent celebrating with family and friends. xoxo-Kellie