Peplums was probably one of the most consistent trends in Spring/Summer 2012 runway shows, a majority of designers featured at least one peplum top, dress, skirt or jacket.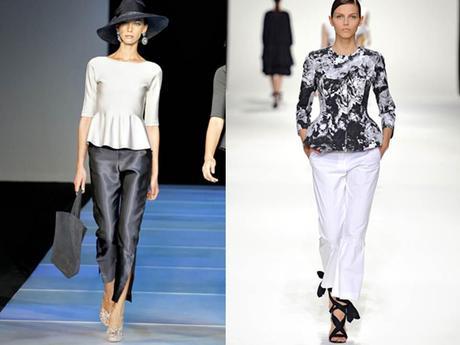 Giorgia Armani and Dries Van Notten SS 12 (source style.com)
Peplum describes a ruffle/frill around the waist, and to be honest with you, I didn't know this word until very recently. For the french-speaking readers, the french translation seems to be "péplum", but as I am not a native french speaker please help me out if you have a better translation.
The peplum top seems to me the most versatile and easy-to-wear piece as it can look casual or chic depending of how you pair it with. The peplum skirts, dresses and jackets seem more difficult to dress down and as far as I have seen them, they cannot look other than chic.
I have made a selection of my favorite peplum tops, will you find your favorite here ?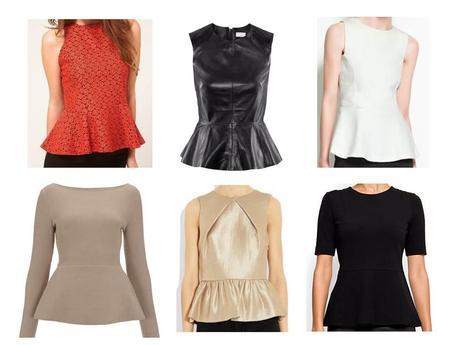 From top left: lace (
asos
), leather (H&M), white (
zara
), knitted (ACNE at Liberty), gold (Mulberry at net-a-porter), black (mango)
My favorite peplum top is the leather version from H&M. In fact, peplum was not a trend that appealed to me in the beginning and I was honestly thinking of skipping it until I saw this leather top… I love the combination of the edgy leather with the romantic and girly silhouette of the design. The problem is that I'm not sure I will be able to get a hold of it. This is one of those great H&M designs which are only available in some shops and immediately sold out. H&M Belgium just confirmed to me that this top will only be available in Belgium in one shop Antwerp (damn you fashion capital !), and with my full-time job and my 100% kids weekends I will probably not manage to go there anytime soon. And as H&M online shopping is still not available in Belgium I don't have high hopes of getting this top... Enough about me, how about you, are you falling for the peplum top ? What is your favorite ?
Happy weekend - Bon weekend ! xx
ps: If you manage to find the H&M top in a shop or online and you are so kind to get one for me I promise I will love you forever ♥♥
pps: And of course, I will pay you back too...