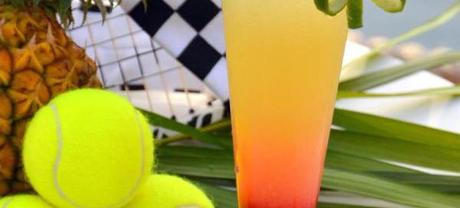 With Wimbledon in full swing, it's only appropriate that we post our recipe for the Buccament Bay Resort's famous Grand Slam cocktail, as created by Wimbledon legend Pat Cash.
Granted, it won't be quite the same as sipping it from a chaise lounge by the resort's infinity pools as you watch the sun set over the Caribbean, but hey... this recipe will keep you going until you can have the real thing!
Ingredients
3/4 oz White rum Sunset light
3/4 oz "Captain Bligh" rum (or similar Caribbean rum)
1 oz "Malibu" or similar coconut rum
1 oz orange juice
1 oz Pineapple juice
1/4 oz Grenadine syrup
1/4 oz Lime juice
1/4 oz Simple syrup
Dash of Angostura
Directions
Add all ingredients to an ice-filled cocktail shaker. Put the top on and give it 5 or 6 vigorous shakes. Strain into an ice-filled highball glass. Decorate with lime and mint, and enjoy!