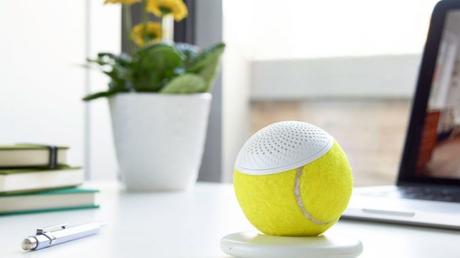 Like many tennis players and enthusiasts, I love tennis memorabilia. I have all sorts of things in my own little collection, including ticket stubs to the US Open, BNP Paribas Open, and the Men's Clay Court Championships (conveniently held here in Houston,) a cap with the bill autographed by Tommy Haas, and several commemorative US Open glasses that came with a few signature cocktails ;-)
I keep my ticket stubs in a box in my closet because I don't want anything to happen to them. Other than that day, I haven't worn my hat, also keeping it in the closet because I don't want the autograph to fade. And I store the glasses in a cupboard, never using them to ensure the integrity of the design. And while all of it gives me amazingly good feels, very few people know I even have them. I mean, other than the glasses, they really serve no purpose.
Well now, the creators of hearO are making collectible sports history into something useful that ALL tennis fans can appreciate, use and enjoy - the hearO Tennis Ball Speaker.
This badass bit of tennis tech is made from upcycled tennis balls used in the 2018 Australian Open matches, in a limited quantity...only 150 worldwide.
Hidden inside each authentic tennis ball is a high-performance speaker that really delivers. With a touch of a button, this 3W speaker will power up and pair with any Blue-tooth device in any location and play all your favorite jams. Each speaker also comes with a custom designed charging cradle equipped with a 360-degree magnetic connector, so no matter how you set it down, it will charge. The volume is controlled by your device.
The hearO speaker is the perfect gift for any tennis fan (or yourself!) and even for those who simply admire innovative and creative designs. You can purchase these limited edition hearO speakers for $199, either on Wilson.com or on hearO.com, and a percentage of sales will be gifted to RecycleBalls.org - a United States based organization focused on recycling hundreds of thousands of tennis balls annually.
So...are you ready to serve up some serious audio? I know I am!