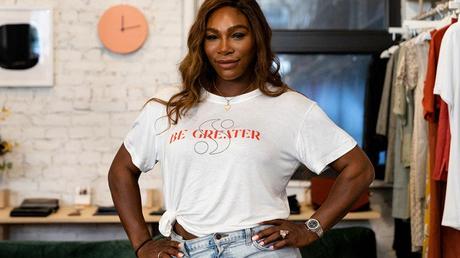 OK seriously...is there anything Serena Williams can't do? She's already a tennis champion, mother of one adorable daughter, generous philanthropist, and documentary star, and now, she can officially add fashion designer to that ever-growing list. The 36-year-old launched her own independent fashion line in May, called Serena, of course, and it's making us want to spend our entire paycheck all at once.
"I've learned to embrace and celebrate this process of individual growth and dedicate this collection to all women who want to join me in showing the world our true selves."
Her trendy fashion line includes curve-hugging dresses and skirts, denim jeans and jackets, jumpers, blazers, signature tees, underwear and more, with prices ranging from just $15 to $250. Intended for "confident women of all ages," the affordable collection is Serena's way of encouraging women everywhere to flaunt their uniqueness through their style choices.
"My designs are inspired by strong, sexy, sophisticated, sassy, sure, smart, stylish, silly, and spontaneous women who are living their best lives, or making it up as they go - kinda like me."
Serena will continue adding pieces to her collection throughout the Fall, all of which can be found online at SerenaWilliams.com. Below, check out (and shop!) some of her fab designs (all made in the USA!)