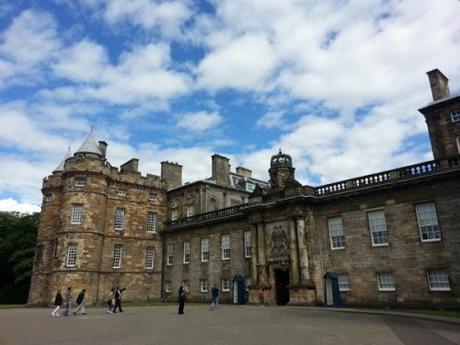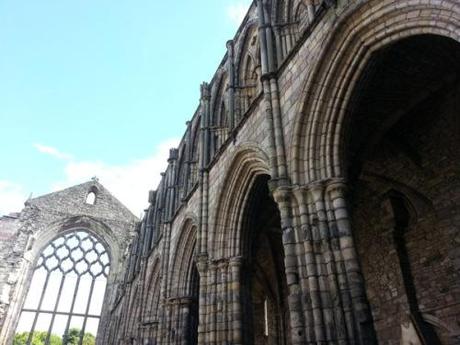 One of the high points of our holiday was finally getting to see the palace of Holyroodhouse for myself as it was somewhere that I have wanted to visit for a really long time, mainly because of its dramatic associations with the story of Mary Queen of Scots.
Of course, these days Holyroodhouse is still technically a royal residence as it is the Queen's official Scottish home where she and other members of the royal family stay when in Edinburgh and hold all the usual investitures and garden parties. However, unlike Buckingham Palace there has been a long tradition of public visits to the palace, originally focussed on the rooms associated with Mary Queen of Scots but later encompassing the rest of the state apartments, all of which can still be visited today.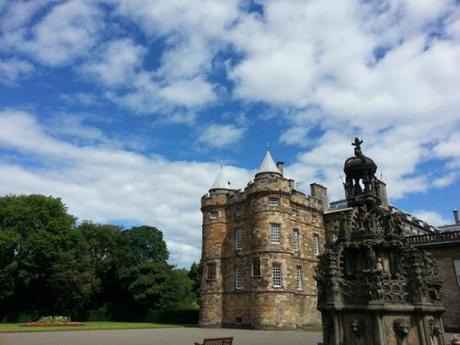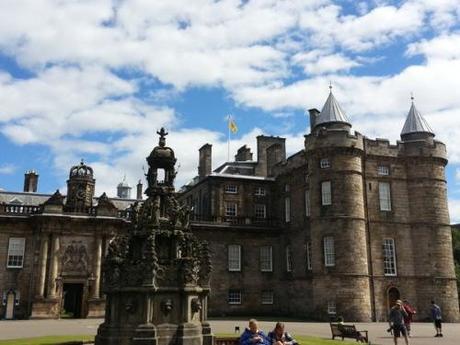 As long term readers may recall, I paid my first visit to Buckingham Palace last summer and was completely blown away by the magnificence and sense of history that imbues the state rooms. I'd have to say that Holyrood evokes much the same feeling but on a much deeper and more profound level – the surroundings are rather less opulently and ostentatiously splendid perhaps but there's no denying the atmosphere of history, both dramatic and tragic that hangs over the palace, particularly in the older rooms where Mary Queen of Scots once lived and poor old Rizzio met his end.
Holyroodhouse itself was first conceived of as a royal residence at the very start of the sixteenth century when James IV got into a bit of a flap about providing his prospective bride Princess Margaret Tudor with a suitable home after their marriage. In the end he decided to expand the royal lodgings attached to the abbey of Holyrood into a small but very comfortable palace in their own right and it was there, in August 1503 that he married his English bride and she celebrated her coronation as Queen of Scotland. Their son, James V continued their work in enlarging and embellishing Holyroodhouse again in anticipation of a forthcoming wedding – this time his ill fated but nonetheless rather romantic match with the frail but exquisite Princess Madeleine de Valois, who was to die at Holyroodhouse just forty days after her arrival in France in 1537 and was buried in the neighbouring abbey.
Of course it is with James' daughter and sole heir, Mary Queen of Scots that Holyroodhouse is primarily associated in most minds but its story didn't end with her flight to England in 1568. Her son James VI eventually took up residence himself in the palace in 1579 and his Queen, Anne of Denmark was crowned there in 1590. After the Stuart inheritance of the English throne in 1603 however the palace was somewhat neglected with only occasional visits from royalty including one by Charles I who was crowned there as King of Scotland in 1633. It was not until 1679 that a member of the Stuart family would again take up residence, when Charles II's brother, James, Duke of York took up residence there with his wife, Mary of Modena.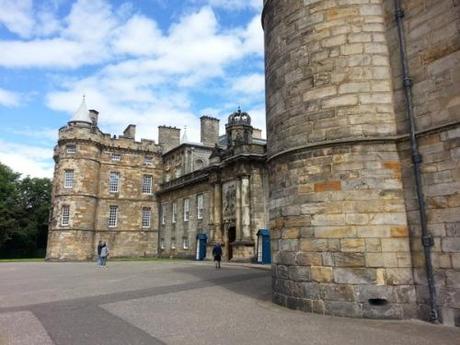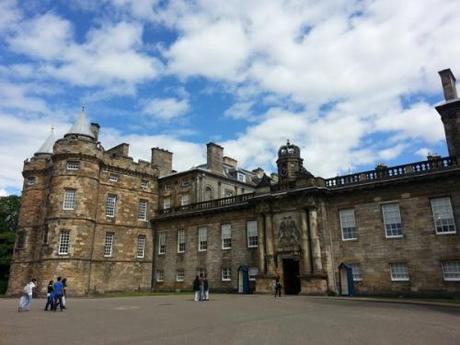 After James' succession to the throne, the palace was once again abandoned by the Stuarts and lived in by loyal retainers until James' grandson, Bonnie Prince Charlie took up residence in 1745 after his triumphal entry into Edinburgh and made it the headquarters of his attempt to regain what he saw as his birth right, probably taking great comfort and strength from living in what had been the palace of his ancestors – a Stuart prince in a Stuart palace.
Later on, Holyroodhouse would also provide a home for another pretender prince, this time the Comte d'Artois, youngest brother of Louis XVI who took up residence in 1796 and remained there until 1803 along with much of his family and several of loyal followers, fellow emigrés like himself. Poor Artois, probably thought his days of exile were behind him when he succeeded to the throne of France in 1824 as Charles X but as we all know he didn't last long on the throne before being booted out again and forced to abdicate and ended up back in Holyroodhouse in 1830.
After this the palace began to slide into decay until its fortunes were dramatically reversed by a sudden change in sensibilities and taste, due in part to the work of the Scottish writer Sir Walter Scott, whose novels had caused a sensation and stirred up an almost unprecedented passion for the romance and drama of Scottish history, in particular anything pertaining to the tragic Mary Queen of Scots. George IV himself took an interest in the palace as the first reigning monarch to set foot in Scotland since Charles went up to be crowned in 1633 but it was his niece, Queen Victoria, whose passion for Scotland was all consuming who really took matters in hand and made Holyroodhouse the elegant and beautiful residence that it is today.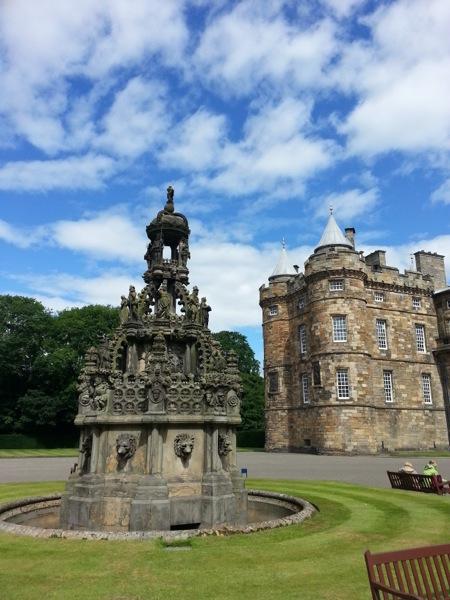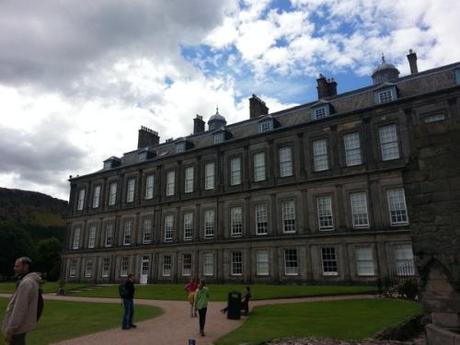 I really enjoyed my visit, which encompassed the state rooms in the wing added to the palace by Charles II (who did much to enlarge and beautify Holyrood with apartments for himself and his Queen, Catherine of Braganza before never actually staying there) and now used for official occasions during the Queen's one week residence at the start of every summer. These include the great stair with its wonderfully florid paintings of scenes from Ovid's Metamorphosis (which reminded my young son of the staircase at Hogwarts in the Harry Potter films); the royal dining room, with its portrait of Bonnie Prince Charlie, whom I've always felt an intense dislike for; the throne room, dominated by a rather sombre portrait of James VI and I and others of his descendants, all given their Scottish titles here so that James II is listed as James VII and so on.
I personally always love seeing bedchambers best when I visit palaces and stately homes and although there are none on show at Buckingham Palace, at Holyroodhouse, you can see the King's Bedchamber, which was originally decorated for Charles II as part of his overhaul of the palace but is rather more elegantly comfortable than the rooms conceived for his cousin Louis at Versailles. I wonder if Louis XVI's younger brother, the Comte d'Artois slept here during his times at Holyroodhouse. There is also the Queen's Bedchamber, which contains the crimson damask hung state bed, which for a long time was erroneously described as 'Queen Mary's Bed' and kept in her former chambers in a suitably romantic tattered and dusty state so that visitors could gleefully imagine that it had barely been touched since the sixteenth century. However, it was actually commissioned for the Duke of Hamilton in 1682.
Another high point is the great gallery, which is lined with 110 portraits by the Dutch artist Jacob de Wet depicting all the rulers of Scotland both proven and imaginary – a rather weird looking, boss eyed lot it must be said but it was interesting nonetheless. The portraits were commissioned by Charles II in 1684 as a means of underlining the long Stuart right to the throne although it wasn't until the period of Bonnie Prince Charlie's residence at the palace that the gallery was used for its intended purpose as a ballroom – the portraits of his regal ancestors serving as the perfect foil for the pretender prince's posturings.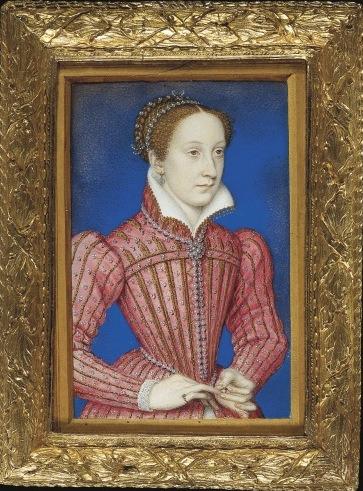 Mary, Queen of Scots, Clouet. Photo: The Royal Collection.
The main high point though were the rooms once inhabited by Mary Queen of Scots during the brief period between her arrival back in Scotland in 1561 and her forced abdication in 1567. It's reached via a winding stone staircase, which in itself gives the visitor a sense that they are leaving the relative opulence of the state apartments for the older part of the palace, from the Queen's Bedchamber to the chamber used as a bedroom by Mary, which has been restored to an approximation of how it would have looked during the mid sixteenth century, although I think it's much less opulent than it would have been in Mary's day, considering that she brought all manner of French furnishings and luxuries back with her. It still manages to evoke a certain dusty sense of the doomed Queen's life and times though and it's hard not to be moved by the small supper room off the main bedchamber, where Rizzio was attacked in front of her.
I was much less keen on the presentation of the outer chamber of Mary's rooms, which have had a small exhibition space installed with some peculiarly shaped display cabinets holding all manner of curiosities related to Mary and her Stuart descendants. It makes for an interesting display but I think I would have preferred to see the room as it was back then without the cases in the way and for the collection to be shown elsewhere and in a less confusing way. I suppose I felt that it was so moving to see with my own eyes the room that Mary had slept in that it was a bit of a let down to go next door to another room so intimately connected with her, where she received visitors and weepily sat through Knox's rantings and there lose all sense of her again.
That's probably just me though.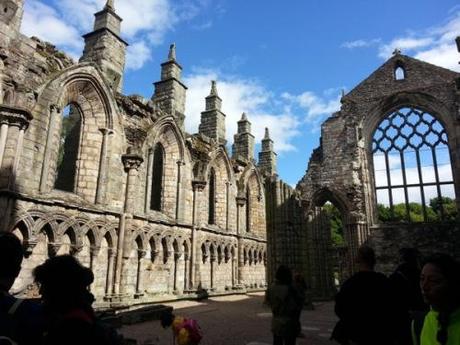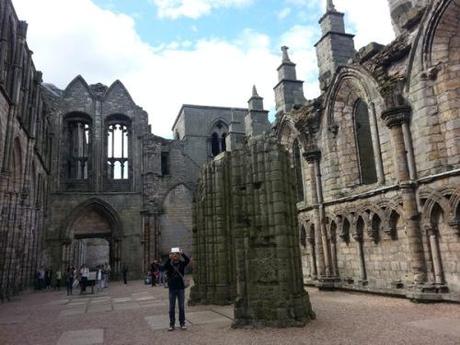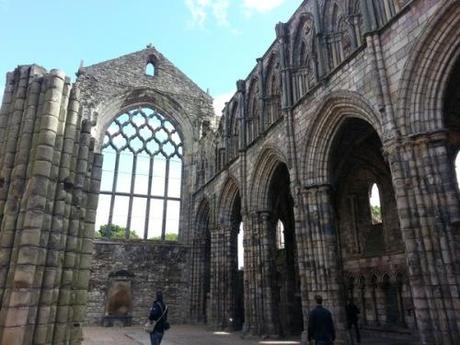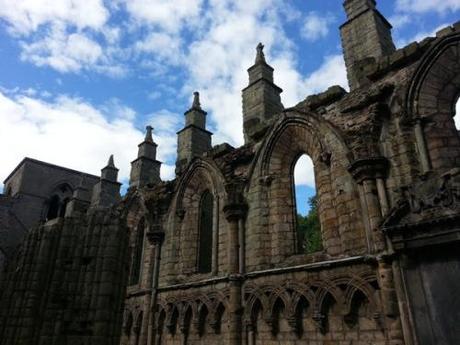 After this, we went outside to look at the picturesque ruins of Holyrood Abbey, which was first founded in 1128 and predates the palace by several centuries. It's quite a small space but packed with history as several royal weddings and even coronations took place here, including those of Margaret Tudor, Anne of Denmark, Marie de Guise and Charles I. It is also the last resting place of various members of the Stuart family including poor little Madeleine de Valois (the first wife of James V) and Henry Lord Darnley, whose remains have been moved to a locked vault in the far corner of the ruin. It really is a special place though, really beautiful and inspiring like all of the rest of Holyrood – no wonder so many people from Mary Stuart to Queen Victoria to Bonnie Prince Charlie managed to lose their hearts to it.
******
'Frothy, light hearted, gorgeous. The perfect summer read.' Minette, my novel of 17th century posh doom and intrigue is now £2.02 from Amazon UK and $2.99 from Amazon US.
Blood Sisters, my novel of posh doom and iniquity during the French Revolution is just a fiver (offer is UK only sorry!) if you order before the end of August! Just use the clicky box on my blog sidebar to order your copy!
Follow me on Instagram.

Copyright secured by Digiprove © 2013 Melanie Clegg