To celebrate this year's Brit Week, a 10-day celebration of British businesses in Los Angeles, The Organic Pharmacy in Beverly Hills is throwing a British Beauty Drops Tea Party from April 21st to May 3rd. Customers will be treated to complimentary makeovers and lessons using the Organic Glam makeup line .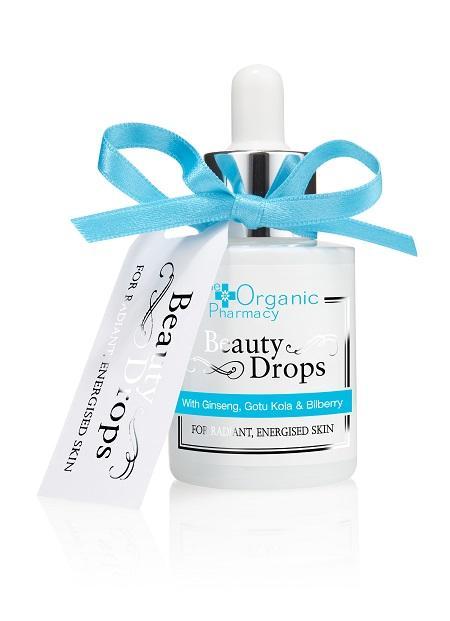 The Organic Pharmacy celebrates British Beauty Drops Tea Party
Specially, on April 23rd, from 9AM – 6PM, free makeovers, delicious champagne, tea and finger sandwiches, scones with strawberries and cream, a sneak spring beauty preview—April 23rd will be a decadent day of glamour and British delights at The Organic Pharmacy in Beverly Hills. During Brit Week, The Organic Pharmacy will also unveil its newest beauty elixir, Beauty Drops. These versatile drops can either be mixed in with your favorite skincare formulas (creams, serums, or masks) to boost their antioxidant powers or added to your tea (or other favorite drink) to improve cell energy and skin hydration. Free of artificial preservatives, petrochemicals, colorants, and fragrances, Beauty Drops contain the following organic and fair trade ingredients:
The Organic Pharmacy celebrates British Beauty Drops Tea Party
Ginseng: Stimulant, diuretic and energy booster. Known to have anti- inflammatory and antioxidant properties.
Gotu Kola: Supports brain function and nervous system. Increases blood supply to cells while aiding oxygenation.
Bilberry: Stabilizes cell membranes and strengthens capillaries. Reduces redness and rejuvenates the skin.
British pharmacist Margo Marrone opened The Organic Pharmacy 13 years ago in London, and her 100% organic beauty and wellness products became a smash hit. Today The Organic Pharmacy's award-winning skincare and supplements lines are global best sellers. It was no surprise that when The Organic Pharmacy opened in Beverly Hills, it became a go-to for health-conscious Hollywood celebrities like Lily Collins, Jessica Alba, Jourdan Dunn and Cat Deeley to name only a few. The Organic Pharmacy has always proudly participated in Brit Week in Los Angeles and is thrilled to be offering their customers a taste of the British way of life as well as their new Beauty Drops, which are the perfect boost to get your skin ready for spring, from the inside out! Beauty Drops are $99 and can be purchased in The Organic Pharmacy locations or on www.theorganicpharmacy.com.