As the weather well and truly warmed up and we were treated to a relative scorcher of a weekend, I decided to bite the bullet and get my spuds in.
Like a woman on a mission, I set to work and six varieties were soon planted in the new raised beds – with any luck I'll be having some kind of potato to harvest right through the season. When it's time to earth up the spuds, I'll use that opportunity to put more soil into the raised beds – in trenches over the top of the potatoes.
Looking across at the peas that went out a few weeks ago, I was delighted to discover that these now look well established and have begun to romp away. So much so, that they looked in desperate need of some kind of support. A quick rummage behind the greenhouse produced some sticks I'd saved for this very occasion, and I poked four in the ground around the plants. Around this I wrapped some string to make a wigwam-type structure, and then gently separated the plants and arranged them up the new support. I've spotted some flowers already, so am hoping for good results.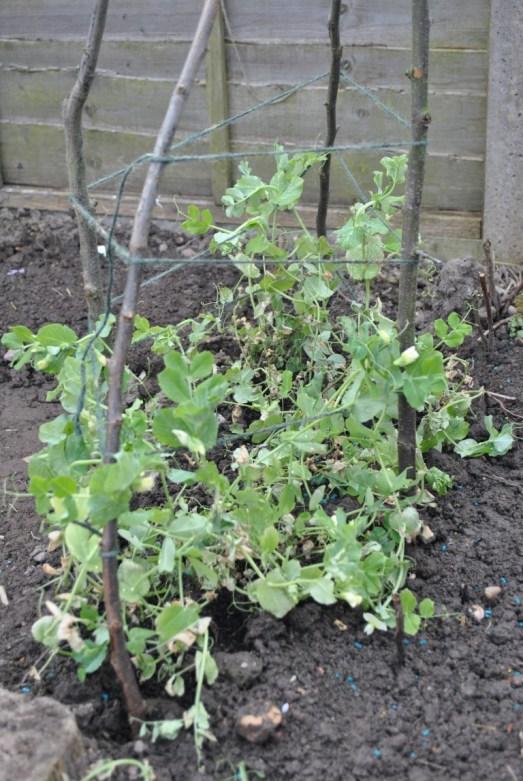 Douce Provence peas
Cheered on by this early success story, I planted two more varieties of peas in the bed. One should be a good all round garden pea, and the other should be picked young as mange tout.
Pleased with my handiwork, I stood back and smugly perused the patch. Then it dawned on me. The legumes bed is now fairly well stocked: I seemed to have overlooked the three varieties of runner beans growing in the greenhouse. These should be ready to go out when there's no more risk of frost, but space is now premium. So I decided to use the space in the air…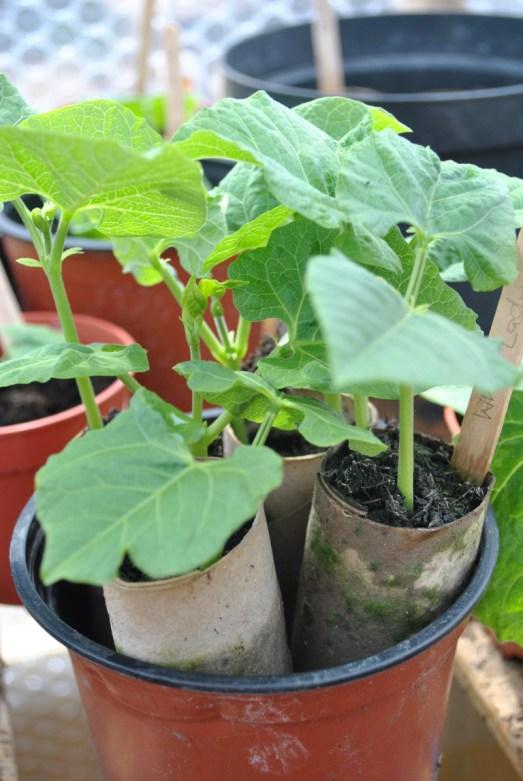 Runner beans… coming on nicely
I dashed off into town, and whipped three do-it-yourself arches off the shelf of our local bargain store. Assembling them wasn't a massive task, and that done, me and the youngest dragged them off down to the vegetable plot. We positioned them so that they straddled the plots, and I think they will look great when they are full of flowers and beans. Hopefully harvesting will be easier too: no more scrabbling into the middle of a wigwam; the beans should just dangle in and around the arch.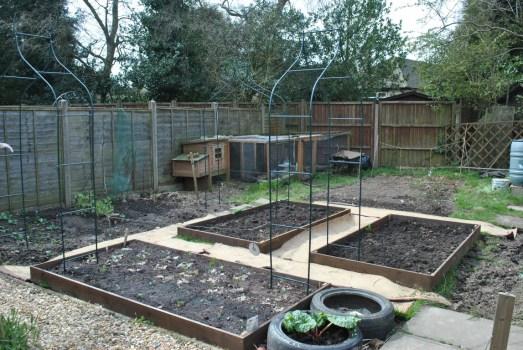 Three new garden arches
Elsewhere in the garden, I've also sown turnips, beetroot, carrots, lettuce and a row of radish.
I also used the burst of good weather to have a quick clear up in the flower borders. All the dead foliage has now gone, and some of the weeds have been plucked out. I haven't gone too mad though – I don't want to miss any self-seeded plants that may pop up – so I'll wait until things get a little bit bigger to be sure it's weeds I'm pulling out, and not potential flowers.
I'm great fan of the word "free".
This appeared in The Hinckley Times on 25 April 2013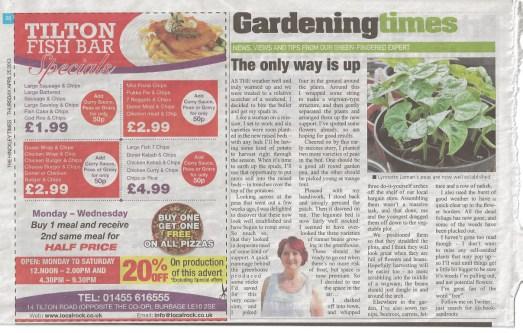 The Hinckley Times 25 April 2013