Last year, we were lucky to whiz off to France to visit an old friend of mine. Well, she's not old exactly… just we've known each other for ages.
A good few years back, she made the leap and had a house built in the Dordogne region – and has never looked back. When we arrived, we could totally see why. The region is stunning – Chateuxs  and vineyards galore, and totally unspoilt countryside.
Anyway, enough about that (though I could wax lyrical for a good while more). This post is about tomatoes.
During a barbeque at my friend's partner's house, he served us a tomato salad. Just a simple dish of tomatoes, onions and a dressing – but I tell you now – it was TO DIE for! Complimenting him on the dish, he replied that he'd grown the tomatoes himself, and ushered us out in the garden to have a look.
There in the vegetable plot were rows of tomato plants, and they had to be one of the ugliest things I'd ever seen. Big, knarly and knobbly, hanging on the vines; if you came across them you wouldn't give them a second glance. But, my word they were tasty!
Thierry explained that his family had saved the seeds of this particular variety for over 100 years, and asked if we would like some. Of course the answer to this was a resounding "Yes please!"
Back in the house, he took one of the tomatoes and sliced it in half. He then scooped out the seeds, washed and drained them and sealed them between two sheets of kitchen towel. We had strict instructions to keep them like this, then dampen the kitchen towel to release them at planting time.
This, we duly did, and I'm delighted to report that the plants are thriving and growing well. I've even gifted a few to friends, so we can share in the beauty of these age-old fruits. I can't wait until we're tasting them again!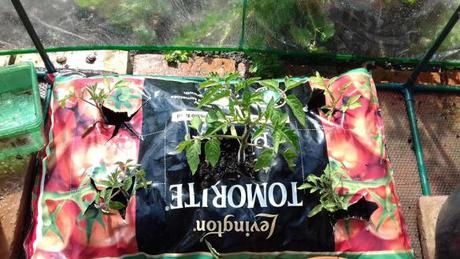 Heritage tomato plants
" data-orig-size="960,540" sizes="(max-width: 584px) 100vw, 584px" data-image-title="Thierry's tomatoes" data-orig-file="https://chooksandroots.files.wordpress.com/2018/05/thierrys-tomatoes.jpg" data-image-meta="{"aperture":"0","credit":"","camera":"","caption":"","created_timestamp":"0","copyright":"","focal_length":"0","iso":"0","shutter_speed":"0","title":"","orientation":"0"}" width="584" data-medium-file="https://chooksandroots.files.wordpress.com/2018/05/thierrys-tomatoes.jpg?w=300" data-permalink="https://chooksandroots.wordpress.com/2018/05/23/heritage-tomatoes/thierrys-tomatoes/" alt="Heritage tomato plants" height="329" srcset="https://chooksandroots.files.wordpress.com/2018/05/thierrys-tomatoes.jpg?w=584&h;=329 584w, https://chooksandroots.files.wordpress.com/2018/05/thierrys-tomatoes.jpg?w=150&h;=84 150w, https://chooksandroots.files.wordpress.com/2018/05/thierrys-tomatoes.jpg?w=300&h;=169 300w, https://chooksandroots.files.wordpress.com/2018/05/thierrys-tomatoes.jpg?w=768&h;=432 768w, https://chooksandroots.files.wordpress.com/2018/05/thierrys-tomatoes.jpg 960w" class="wp-image-2266 size-large" data-large-file="https://chooksandroots.files.wordpress.com/2018/05/thierrys-tomatoes.jpg?w=584&h;=329" />
Heritage tomato plants
Advertisements