After the rhubarb and sugar mixture had chance to stew for a couple of days in the fermenting bucket, it was time to work some magic on it, and start the process of turning it into wine. I whizzed the rhubarb and sugar with the hand blender until it was nice and pulpy. This then needed to be strained to separate the syrupy liquid.
Rummaging around in the pantry, I located the muslin straining cloth (aka an old net curtain, if we're being specific), and poured the mixture in, to strain into a new container.
The liquid was then poured into a sterilised demijohn, to which I added 220ml white wine concentrate, one yeast sachet and a teaspoon of yeast nutrient. I then topped up the demijohn with warm (not hot) water, and fitted an airlock.
Surprised at how simple the whole process had been, and looking forward to sampling the results later in the year, I watched with anticipation. Within minutes, the airlock started to blob, meaning that the yeast was becoming active and the fermenting process had begun. It doesn't look very tasty at the moment, but this should improve as the fermentation progresses.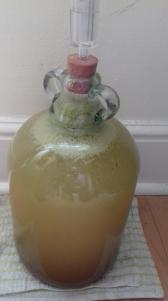 Rhubarb wine

" data-orig-size="1824,3264" sizes="(max-width: 168px) 100vw, 168px" data-image-title="Rhubarb wine" data-orig-file="https://chooksandroots.files.wordpress.com/2018/05/20180516_102018.jpg" data-image-meta="{"aperture":"0","credit":"","camera":"","caption":"","created_timestamp":"0","copyright":"","focal_length":"0","iso":"0","shutter_speed":"0","title":"","orientation":"1"}" width="168" data-medium-file="https://chooksandroots.files.wordpress.com/2018/05/20180516_102018.jpg?w=168&h;=300" data-permalink="https://chooksandroots.wordpress.com/2018/05/17/rhubarb-wine-part-2/20180516_102018/" alt="Rhubarb wine" height="300" srcset="https://chooksandroots.files.wordpress.com/2018/05/20180516_102018.jpg?w=168&h;=300 168w, https://chooksandroots.files.wordpress.com/2018/05/20180516_102018.jpg?w=336&h;=600 336w, https://chooksandroots.files.wordpress.com/2018/05/20180516_102018.jpg?w=84&h;=150 84w" class="wp-image-2263 size-medium" data-large-file="https://chooksandroots.files.wordpress.com/2018/05/20180516_102018.jpg?w=572" />
Rhubarb wine
Happy with that 🙂
Advertisements