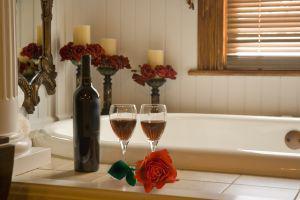 Picking a honeymoon destination is hard.  So incredibly hard that 6 months after our first look at the topic we are still no further in to choosing a destination then when we first started.  It could be possible that we are boxing ourselves in to a small window of places to go, making this decision even more difficult, but for some reason we just can't find the perfect spot, and we still need help.  (Photo "Days of Wine and Roses" by theswedish)
Dream Destination Not So Dreamy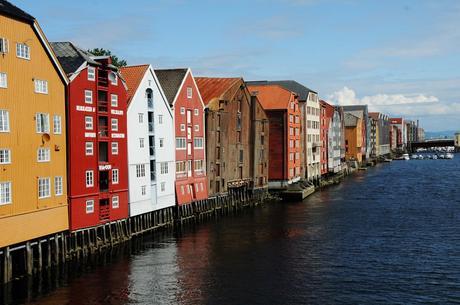 Our dream honeymoon destination above all others is Norway.  There are several limiting factors to this that makes Norway less appealing to us.  The first is obvious; Norway is one of the most expensive countries in the world to travel and even more so when doing it with relative style.  The second is a little less clear, as airfare to Norway from the USA has been sky high recently, so high that the 8 hour flight costs as much as 24 hours in the air to South East Asia or almost as much as the South Pacific.  When this is the case, it begs the question why not go somewhere further away for the money? (Photo "Trondheim" by vicbuster)
We have no problem staying in cheaper accommodations and skimping in normal travel scenarios, but we really do not want to be staying in budget hotels or hostels on our honeymoon.  So unfortunately the more we plan, the more we are realizing that Norway may not happen for our budget.
Previous Destination Choices
The last time we looked at this topic we mentioned that other honeymoon destinations that caught our eyes were safari in Africa, Greece, and Alaska.  We've cut out safari in Africa as we cannot picture ourselves going on a tour on the honeymoon, which is likely how we'd approach a 2 week safari, and it would probably end up being similar cost.
Greece has only been recently removed due to the social concerns that are going on right now.  The cheap prices are tempting, but the fear of being stuck during a mass transit strike during our honeymoon, and only time off work for the year, is something we do not want to tempt.  Fine for a long-term trip, but not for this.
Alaska has not been ruled out entirely yet, but we are looking for an international destination, and have not researched it much further.

New Contenders - Iceland and Sicily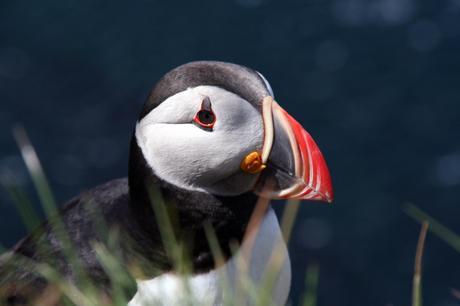 To find other similar destinations, we've begun expanding our search.  As the clock is ticking down on airfare prices (we anticipate them being at their lowest between now and the next 3-4 months), our window is closing significantly to make a decision.  Do we stick to our ideal of finding a great nature destination for hiking and scenery or do we break our criteria and opt for a beach scene that honestly has more options?  (Photo "Puffin" by klaus_le)
Two new contenders to the cause that popped up are Iceland and Sicily.  Iceland is the obvious analog to Norway with slighty cheaper airfare and all around cheaper traveling expenses.  With several great suggestions from other travel bloggers, Iceland has a great backing.  Much like Norway, Iceland in May will be cold, and I'll possibly be spending a lot of time in Northern Canada for work this winter, so I may not be into it so much by the time I get there.
Sicily came about for one reason and one reason only, the food.  What is one of our favorite cuisines in the world outside of Asia? Italian.  Where is some of the best Italian food? Sicily.  The idea of roaming between vineyards and cooking classes with the beautiful scenery of Sicily seems to be the best of all worlds.  But much like Iceland, the cost of airfare to get there is significant, and hotel costs are not the most budget friendly we've seen, but a good alternative for the wallet than Norway.  Swinging in Venice for a few days would be an added perk as well!
Help Us - The Criteria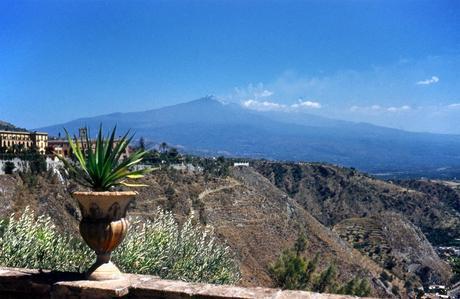 As most of these things go, once we discover a new place that is interesting, it almost instantly moves to our top spot only until we begin thinking about one of the previous places we've researched, so we may need a bit of help.  (Photo "Taormina on Sicily" by hisks)
Our criteria is simple.  We will be flying out of the United States in the midwest and do not want to be on a plane for more than 15 hours total with layovers.  That would put us mostly in South America, Europe, or Central America during the second half of May for 2 weeks.   We are hoping that airfare does not exceed $1000 per person and we are not flying out of a major hub city.  Scenery is getting points over the beach right now, but we are open to all options.  More over, good cuisine and culture could be the ultimate deciding factor with the way we are leaning.
Keep in mind we've traveled the beach environment quite significantly and are planning to go to most of Western Europe, India, Middle East, and South America in the coming years.  For this trip, we are most definitely looking for something off the beaten track, as we are willing to spend a bit extra for the special occassion.  Paris just wont cut it this time!