Most diecast car collectors have a little bit of personal history in their cabinets, and I'm no exception. One car that ended up being quite hard to find and expensive to buy was a model of the family car that was sitting in our driveway well before I was born, and then was part of my life until I was about 12 or 13 years old. It's a Jaguar Mark V, and as I still have the original owner's manual, plus a lovely 1:43 model of it made by the Dutch model-maker Neo, I thought I'd show you a few photos and tell one or two little stories.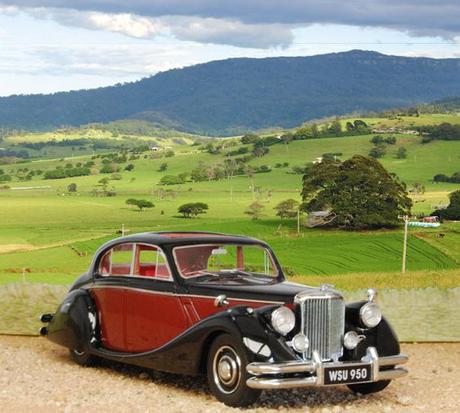 We used to go down the New South Wales South Coast for holidays, and as the South Coast
has its fair share of stone walls and pretty scenery, I thought I'd set up a little diorama of the
Jag on holidays. It's funny how I can'tremember the registration numbers of cars I owned
10 or 20 years ago, but I remember that ours was AJJ 168.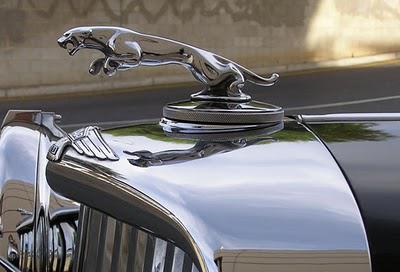 One of the most memorable things about our old Jag was that deadly leaping
Jaguar mascot that formed part of the radiator cap. Much later on in its life,
the mascot was stolen by a punk in a car park one day, and it was replaced
with a much more sensible and very boring flat filler cap.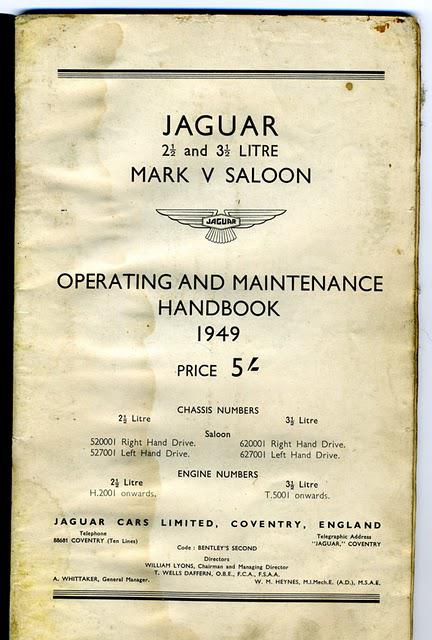 As the front cover of the owner's handbook is the worse for wear, here is the
first page. Dad, being Dad, even wrote in the Chassis Number (621703)
and the engine number (T7291) which places our car as a right-hand drive
model with the 3.5 litre straight six engine. When the Mark Five was
launched at the London Motor Show in 1948 it had to share the stand with
the sensational new XK120 Jag Sports Car, and of course the flash Jag
took all the limelight. Nevertheless, the Mark Five outsold the XK 120
easily, selling 5000 Mark Fives each year, from 1948-1951, compared to
the XK's 2000 annual sales. The Mark Five had the less sporty pushrod
engine, while the XK120 had the overhead cam engine. Nevertheless,
the Mark Five produced 125hp @ 4250rpm and in road tests at the
time made it up to 90 mph. The Mark Five was the first Jag with the
front suspension set-up of double-wishbones with a torsion bar, a fine
design that did Jag great service for many years to come.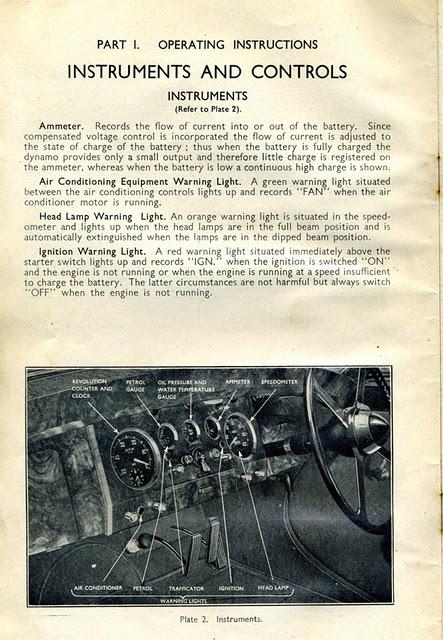 I remember that our walnut dashboard was pretty flash, like this one, with lots of
gauges, but I don't think we had air-con. However, we did have the sun-roof,
which slid back only rarely with sensible old Dad at the helm.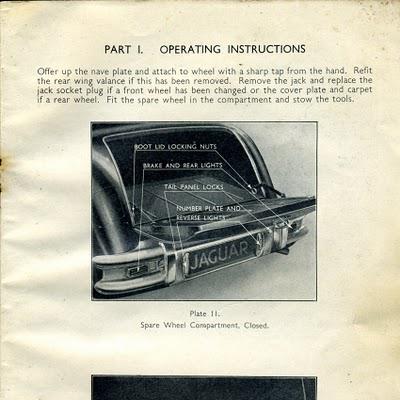 One feature I remember fondly was the boot. Though it wasn't a true rumble
seat, it could occasionally improvise as one. Like most Australian families of
the time, our family was mad about sport, and Dad was involved heavily in
the local cricket club. He used to take our kids teams on Saturday mornings
to the cricket, where he was coach, umpire and not all that happy with
my irresponsible approach to batting. Usually there were a couple of cars to
ferry the 11 kids in the team to the cricket, but on a couple of famous
occasions the other car broke down, and so the whole team went in the
Jag. That meant four or five of us would get to ride to the cricket with
the boot lid down, with us sitting on the big old cricket kit bag. The
Nanny State wouldn't allow that these days. Imagine the"Shock! Horror!
Irresponsible Father Endangers Kids!" news headlines that would be
used if that happened today. We loved it.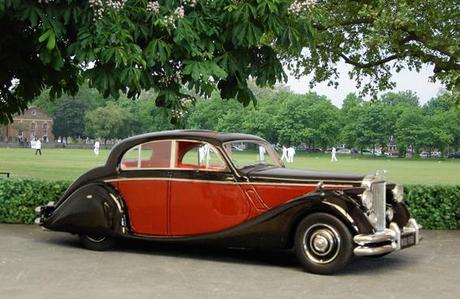 And so, in honour of dangerous Dads and cricket lovers everywhere, plus old Jaguar
enthusiasts, I made up this little diorama of a Jaguar Mk V at the cricket.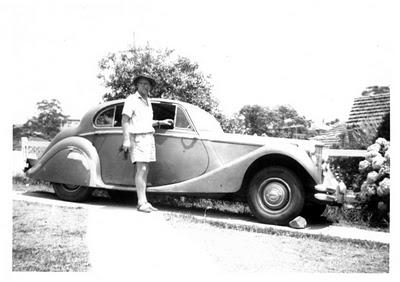 As I am indulging in a little personal history, here's Dad with the Jag in 1960. The car
would have been 11 years old by then, and Dad had polished all the duco off the car, and his
dodgy semi-professional attempts (see my brother's postscript memories below) at rust
repairs are in evidence on the rear wheel arch.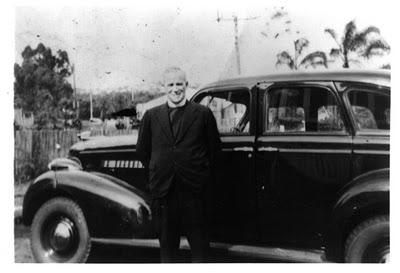 Finally, I think this car-loving thing is genetic. While digging around for that old photo
of Dad with the Jag at home, I came across this one of Grandpa standing very proudly in
front of his new Buick, sometime in the 1930s. Judging by those palm trees in the
background, this one was probably taken while Grandpa served a long stint as minister
in the Presbyterian Church in Grafton, on the New South Wales North Coast.
So this blog posting starts on our South Coast, ends on the North Coast, and spans three generations while doing so. The other thing I discovered about both Grandpa and Dad was, apart from liking nice cars, they had another thing in common. Both were extravagant. Reverend Grandpa was notorious (amongst the women-folk) for coming down to Sydney and buying lots of what he couldn't afford on shopping trips in the Big Smoke. I wonder if he really could have afforded that nice Buick? What did Grandma do without so he could have his Buick? We'll never know.
Same with Dad. He really couldn't afford the Jag. That's an upper class car. Lots of the kids in opposing cricket teams thought we had a Rolls Royce. Eventually, economics caught up with Dad and he was forced to sell the Jag because it was just becoming too expensive to run. He bought a Holden, and while it was a good, reliable middle class car that served us well, it wasn't a patch on a Jag.
And so my little outlay of paying about $80 for my Neo diecast model Jaguar probably is a bit extravagant, but it pales into insignificance when I think of what Dad went out and splurged on!
Postscript:

my older brother got in contact with me after reading this blog, and his memories of the Jag are well worth including. Why is it some of the best memories are also the most dangerous? I guess that's a boy thing. Here's what he had to say.
"Great stuff, it brings back a lot of memories. Your notes and observations about the old Jag are spot on. Only a couple of other things that I remember
• The trafficators that would (on most occasions) slide out in a  saluting fashion to indicate a left or right hand lane change or turn was about to be undertaken
• Of course, the running boards were a hit and we would ride on them as dad drove into the driveway
• In the photo you have of dad and the Jag, note the piece of sandstone under the front tyre in case the handbrake failed. I remember it was smaller and worn smooth by the time the Jag was sold
• You mentioned the rust repairs that dad attempted. I remember that he did a tech course (or equivalent) in panel beating so his efforts could be described as semi-professional!
• While we were on holidays I can remember sitting on dad's knee as he drove up the coast, with me steering and the car doing 60mph (100 kph). Would probably be frowned upon today. No seat belts of course. I would have been about 11 or 12 years old at the time.
• One of my fondest recollections is of Dad lying under the car in the driveway at home doing some running repairs. I ran outside  to ask him a question and instinctively he attempted to sit up and  answer me but all he succeeded in doing was bashing his forehead on the underside of the car, quickly followed by "Jesus bloody christ ..." to which I remember asking "is that the same one as the one we learn about at Sunday School dad?" I received no reply.
• I can also recall the occasional use of the crank handle to get the  car started - but that may have been on the previous vehicle, a Morris Minor."