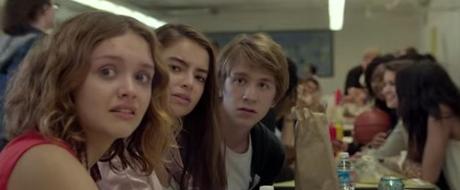 The official trailer for the upcoming drama film 'Me And Earl And The Dying Girl' has gone online. The project is directed by Alfonso Gomez – Rejon and written by Jesse Andrews. It is produced by Dan Fogelman and Jeremy Dawson.
The film is based on Jesse Andrews's book of the same name.
The movie, which premiered at the 2015 Sundance Film Festival, was highly appreciated. It won the Grand Jury Prize and The Audience Award.
The film stars Thomas Mann, Olivia Cooke, Gavin Dietz, Ronald Cyler II, Chelsea T. Zhang, Jon Bernthal, Nick Offerman, Katherine C. Hughes and Connie Britton.
Fox Searchlight will release the film on 12th of June.
Hit the video to watch the trailer:

Plot:
Winner of the Grand Jury Prize and the Audience Award at the 2015 Sundance Film Festival, ME AND EARL AND THE DYING GIRL is the uniquely funny, moving story of Greg (Thomas Mann), a high school senior who is trying to blend in anonymously, avoiding deeper relationships as a survival strategy for navigating the social minefield that is teenage life.  He even describes his constant companion Earl (RJ Cyler), with whom he makes short film parodies of classic movies, as more of a 'co-worker' than a best friend. But when Greg's mom (Connie Britton) insists he spend time with Rachel (Olivia Cooke) – a girl in his class who has just been diagnosed with cancer – he slowly discovers how worthwhile the true bonds of friendship can be.