From White Light to Black Friday, the November schedule has a spiritual bent.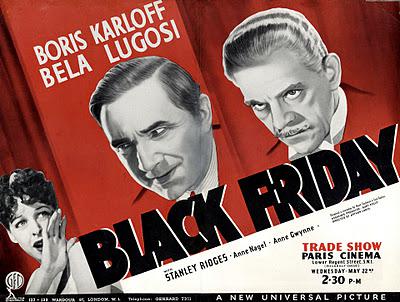 Béla and Boris want more Hungarian music on the schedule. Well, Béla does, anyway.
© 1940 Universal Pictures. Anyway it's a nice poster.
It's almost Thanksgiving! The shopping season approaches. Eight jillion choral groups are rehearsing Handel's Messiah! But first, we've got music! Despite the materialism of Black Sunday, November has a spiritual bent. The White Light Festival continues, and other offerings around town range from the minimalist musings of Philip Glass to Arthur Honegger's sweeping, fiery vision of Joan of Arc.

On Nov. 2 and 3, the New York Philharmonic will perform Philip Glass's complete score of Koyaanisqatsi, accompanying a screening of Godfrey Reggio's film. Nov. 4, the Met opens its revival of the composer's opera Satyagraha, starring tenor Richard Croft as Mahatma Gandhi. In a time of social turmoil and Occupy Wall Street, this opera's message of passive resistance is a timely one.
The newly reconstituted Brooklyn Philharmonic offers its second concert, a program of music from Russian cartoons made by the Soyuzmultfilm Studio. Fittingly, this concert (with accompanying footage) will be presented in Brighton Beach on Nov. 3.
Carnegie Hall's year-long celebration of its 120th anniversary continues with recitals by Finnish pianist Juha Pojonen (Nov. 3) and a Nov. 5 appearance by Garrick Ohlsson with the Atlanta Symphony Orchestra. Mr. Ohlsson will play that Everest of piano concertos, Rachmaninoff's Third. Robert Spano conducts.
The opera on everyone's lips is Nico Muhly's Dark Sisters, which will have its world premiere at the Lynch Theater at John Jay College on Nov. 9. Presented by Gotham Chamber Opera, Mr. Muhly's work examines the effect of the 1953 armed Federal raids on a Mormon compound in Arizona.
Octogenarian Dutch conductor Bernard Haitink returns to the New York Philharmonic on Nov. 10 with Beethoven's Sixth Symphony, (the Pastorale) paired with Richard Strauss' cello workout Don Quixote. The second (Nov. 17) pairs Haydn's Miracle Symphony with Anton Bruckner's miraculous Seventh.
This is a good month for Beethoven-lovers, as  John Eliot Gardiner brings his Orchestre Revolutionaire et Romantique to Carnegie Hall for two nights of symphonies. As always, Sir John's band will play on 18th century instruments.
On Nov. 14, the Met revives Handel's Rodelinda. Renée Fleming returns in the title role in this baroque opera. Other productions this month include the tourist-friendly Franco Zeffirelli La bohéme and the New York premiere of the Dez McAnuff (Jersey Boys) production of Faust. Red-hot tenor Jonas Kaufmann stars in an updated version of the opera, which has something to do with the invention of the atomic bomb.
At Carnegie Hall, the event of the month is a rare performance of Jeanne d'Arc au bûcher ("Joan of Arc at the Stake") by Arthur Honegger. The oratorio will be presented on Nov. 18 by the Baltimore Symphony Orchestra under the baton of Marin Alsop. Also coming up: a Nov. 30 performance of Rossini's rarely heard French Opera Moise et Phairon featuring baritone James Morris and soprano Angela Meade.
Finally, Nov. 30 at Carnegie Hall marks the New York return of Avanti. The Finnish chamber ensemble, which specializes in the performance of cutting-edge music, appears as part of composer Kaija Saariaho's year-long residency at the Hall that Music Built. Ms. Saariaho is the second major Finnish composer to have a New York residency: her countryman Magnus Lindberg is Composer-in-Residence at the New York Philharmonic.