Ingress – entrance, entry, influx, invasion, infiltration, the act or right of entering.
The Niantic Project and its Augmented Reality (AR) game, Ingress… Have you heard of it? Have you played it?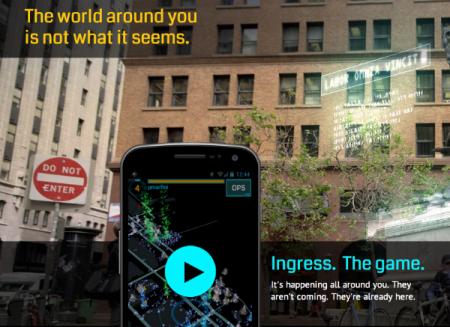 History Lesson
Many moons back in 2004 Google acquired Keyhole Inc and rather successfully turned it into Google Earth. Many of the team from Keyhole stayed on at Google, including one of its founders John Hanke.
Apparently a year ago Hanke went to Google CEO Larry Page to tell him he was leaving to start his own company… Larry convinced him to stay and work on his idea at Google, Niantic Labs was born.
The purpose of Niantic is to solve the problems created by our increase use of smartphones, our diverted attention and detachment from reality are examples of what its working on. Its obvious Hanke envisions us having more of a connection to the world around us as apposed to sat dribbling in a chair staring at a 4″ screen.
Niantic released its first product in September…. Field Trip, is a free android app which displays interesting snippets of information about your surroundings pulled from a variety of sources from across the web, currently only available in US, the app as received favourable reviews from those who can use it.
Niantic
That was just the start, on November 1st a web site called The Niantic Project suddenly appeared with all kinds of mysterious content, weird bits of information and subliminal messaging which raided my frontal cortex… I needed to be involved.
Around the same time a guy called Ben Jackland popped up on Google+ and posted this very strange video..
Ingress
Ingress was born, a sophisticated augmented reality game in which the user must choose to be part of the "resistance" or the "enlightened" then hack portals and collect exotic matter which are located in the world around us.
The resistance aim to remove the exotic matter and restore normality back to the human race whilst The enlightened work to embrace the new energy and believe it to be a new way forward for humankind..
available to download from the Google play store for free, Ingress features a high tech, matrix esq start screen, then…. oh wait I need an activation code… yep it's invite only…. which is driving people into a frenzy as the invites are like rocking horse shit…
Invite
Its currently in closed beta, The only way to receive an invite me is to submit your email on the website or from someone already playing the game who can send you an invite (I believe there are limits to the amount of invites a player can send).
The big question remains, what is Google up to with this… is it a huge viral marketing stunt, maybe to promote the Field Trip app once its released to the rest of the world.
Whatever the motive behind it, its clear Google has used clever psychology and viral marketing to whip the internet into a craze over Niantic.
I've forced my host to submit his email and I'm waiting impatiently for an invite….
If any kind brains out there would like to invite me, I would be most grateful…
Don't forget to follow my host on Twitter @Carl_ball for updates..
Share, Subscribe and comment if you have any thoughts…
zzzzzzzzzzzzzzzz