If you are a fan of football and live in the city of Montgomery,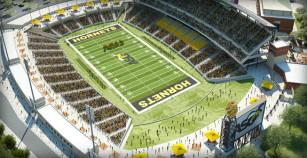 you can't loose the opportunity to visit the new Hornet stadium that is currently under construction.
Today on February 17th, it is mentioned in the ASU Stadium website [newasustadium.com] that the sports facility will be opening doors in 278 days. The website also showcases 2 architecture visualization views that produces many people to feel as if they already went to the installations.
This huge development project is part of a series of more than twelve constructions on the Alabama State University campus. There are some individuals that say this new stadium from the school campus will generate competition between A.S.U and the city of Montgomery with the remodeling of the Cramton Bowl. What are your thought's about it? Lets see some facts about each of the sport centers.
Architecture Visualization Renderings of The New Hornet Stadium
The Alabama S. University new sports facility will have space to host more than 3 times the amount of followers that usually go to watch the Hornet games. As a courtesy of the AL State University we can see 2 inspiring architecture visualization images of the stadium. While, one of them is a bird's eye view showing the inside of the development with its large field, the other rendering presents how the entrance from the street will look like.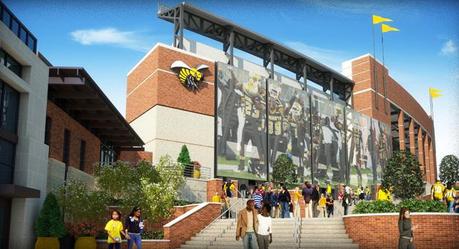 The school officials have their vision to the future, and they say the economy is favorable to construction. If you like to see numbers, you will be interested in this information. The projects from the last 5 years cost the university more than two hundred and fifty million dollars. The stadium price will reach the 62 million, with its capacity to accommodate 30,000 attendees, and it has expansion plans to host 25,000 additional fans.
Computer 3D Visualization Renders of the Remodeled Cramton Bowl
Before the new Hornet building started construction, the Hornets team played at the city of Montgomery's Cramton Bowl. The surprising thing, is that this sports facility is also under construction with a ten million dollar spending in renovations. The 2 aerial 3d visualization graphics that appear below are a generosity of the website [visitingmontgomery.com].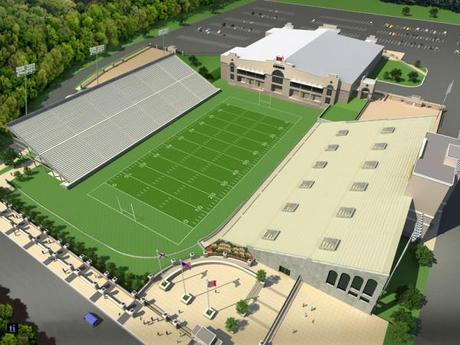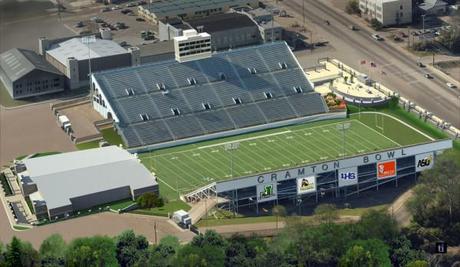 However, this changes did not make ASU to stay. With its new stadium that plans to be completed by November of this year, the university will be captivating other of the Cramton renters to its new large sports development.
We hope you enjoyed looking at this interesting architecture 3d visualization renders that in this post's purpose serve as a mean of comparison of the 2 football arenas.