The iconic ketchup brand Heinz introduces Heinz Tomato Ketchup Blended with Balsamic Vinegar  will be available in the USA on November 14 but not in supermarkets. The Ketchup product campaign sends consumers directly to the brand's Facebook page.
The Facebook custom panel will offer visitors to like the page and buy the new 14-ounce bottle for $2.49 (plus a $2 shipping charge on Facebook). In comparison, the original ketchup in a plastic bottle costs $1.89. In photographs, the new condiment will be paired with a more genteel class of food, such as 'Haute Dog' 'Hamburgeur' and 'French Frites'
According to Mintel, the market research firm, ketchup is used in 97 percent of American households, besting mustard, which is in 89 percent of homes and a households on average consume 1.3 bottles a month. Heinz ketchup has a 59 % share of the market.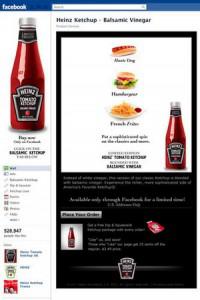 "We think households who already use Heinz ketchup will use this in addition. The company will promote it as a complement to center-of-the-plate proteins like chicken and pork," said Noel Geoffroy, the vice president for United States retail brands at H. J. Heinz."
Earlier this year, a 135-years old brand returned its classic glass bottles to to American retail stores as a limited time offer.