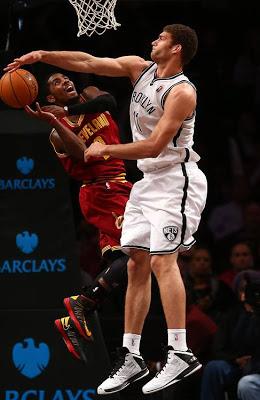 Some may think it's Deron Williams, others Joe Johnson. But the truth is that Brook Lopez is the true key to the Nets' success as a team.
The Nets front office spent much of this offseason trying to trade for Dwight Howard, someone who had never been on the Nets and probably never will be. General Manager Billy King made it very clear throughout last season and the summer that his team was in full pursuit of the Orlando Magic center, and at some points came ridiculously close to actually pulling a deal off. However, regardless of the close calls that occurred in the entire Dwightmare scenario, no trade was ever made. We know how that story ended up: Brook Lopez was extended, the Nets solidified their starting lineup with Joe Johnson, and Howard was dealt to the Lakers in a four-team trade that didn't give the Magic much value in return.
Heading into a new state, city, arena, and identity, the Nets had to rebound quickly from their failed pursuit of Howard in order to get ready for beginning of the NBA season a few months away. One player--even though he was the key part of the Nets' potential return for Howard--was nearly completely neglected by the team's front office and fans. That would, of course, be Brook Lopez. The entire summer, and much of last season, Lopez had to hear his name swirled in trade talks with the Magic, leaving him without much confidence in the franchise that was still signing his paychecks. At least I know I wouldn't have any faith in a team basically admitting that I wasn't good enough for them as they attempted to trade me for someone to directly fill my spot on the team.
Ironically, as much as Brook was talked about off-court in the trade discussions, his on-court abilities were forgotten. He may be an awful rebounder and shaky defender for a man of his size, but Brook is certainly a dynamite scorer who is almost impossible for any other defender to stop when the Stanford grad is at the top of his game. Sure, people agreed that he was important to the Nets but these same people also seemed to undervalue his importance to the success of this team. Basically all contending teams have a really good center (at the least, power forward), and Brook is that guy for the Nets.
That's why he's represents the Nets' ceiling and their floor as well as a collective basketball team. If he doesn't shape up and become the rebounder that most players his size are, there is no way this Brooklyn team can be a force to reckon with in the Eastern Conference. Against a team like the Heat, there is no way the Nets would be able to compete if they don't win the rebounding battle. Not even 20 rebounds by Kris Humphries would be able to completely make up for the four-to-six rebounds we have been accustomed to getting from Lopez.
If he is within that range against LeBron and co., expect a blowout (like the one the Nets suffered earlier this year) and if potentially in a playoff round, expect a sweep or five-game series. It may be overlooked at times as one of the most crucial stats in a game, but rebounding is utterly important for teams to control when they play more athletic, talented, and skilled players.
Long-winded paragraph aside, that's where Brook comes in. It's his imperative to make the leap from good scorer and terrible rebounder/defender to good all-around player who can control everything that going on in the paint. He clearly has the physical tools to make that transformation, so there's no good reason why he can't and finally truly live up to the 10th overall draft slot that the Nets picked him in the 2008 NBA Draft.
The potential path is very simple; either Brook fills into his massive frame, becomes the dominant and typical center the Nets need him to be (why they pursued Dwight), and leads Brooklyn deep into the playoffs or he continues to be a one-dimensional big man, doesn't improve his rebounding and defensive positioning, and losses in the first round of the postseason along with his teammates. The choice is really only in his massive hands, and what decision he ends up making will greatly affect the near-future of this franchise. No pressure.