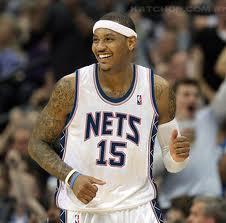 Before being traded to the Knicks, there was much speculation--and nearly a deal in place--stating that Carmelo Anthony was going to be a Net and open up the Barclays Center with the team. Like with Dwight Howard, it was nothing more than speculation.
When: 7:00 pm; Monday, November 26th, 2012
Where: Barclays Center; Brooklyn, NY
TV: TNT
Tonight's game may have been postponed nearly four weeks, but that doesn't mean it has lost any of its flair or any of the excitement that it's going to bring to both teams and the Barclays Center. The first-ever NBA regular season matchup of two New York City teams is momentous as a milestone for the league, the city, and these two teams, especially the Nets, in their maiden season as a NYC basketball team. The storylines are galore: Jason Kidd playing against the team he led to two Eastern Conference championships, Carmelo Anthony playing against the team he was almost traded to like three times, the fight for "Best Team in NYC" award, the fight for the Atlantic Division crown (Knicks are currently in 1st, Nets in 2nd), among many others. However, once it comes down to it, all the matters is the score when the clock hits 0:00 in the fourth quarter (or in the last overtime period they play, just in case).
As many of you know, the Knicks got off to a ridiculously hot start to the season, winning their first six games. Not even strength of schedule could be cited as the reason for the winning streak, as the Knicks beat the defending champion Heat and always-tough Spurs on the bookends of the six-game stretch, with wins over the 76ers (twice), Mavericks, and lowly Magic filling out the rest of the games. And this was all done without Amare' Stoudamire, who was, and still is, out with a knee injury. Contrary to preseason belief, the Knicks were unstoppable early on, draining tons of three-pointers per game at ridiculous clips, led by Carmelo, J.R. Smith, and even Raymond Felton. It defied logic, but won games.
Then, a loss to the Grizzlies (sitting at 9-2 right now) in Memphis shocked the Knicks right back to Earth and eliminated their chance at a perfect season. They rebounded well, taking care of the Pacers and Hornets but had a rough stretch through Dallas, giving up 122.5 points per game in back-to-back losses to Dallas and Houston and
Jeremy Lin
. Finally, an easy win over the hapless Pistons yesterday at the Garden brought them to their current record of 9-3. An up-and-down season to be sure, with more ups than downs so far for Mike Woodson's club.
As the Nets know all-too-well about the Knicks, they like to shoot the three-pointer a lot, sometimes solely relying on it to win games. That can be good or bad for the Nets. Good in that they don't really attack the rim much, which would keep Brook Lopez and Kris Humphries out of foul trouble in addition to not challenging them as much for offensive rebounds as teams like the Heat or Lakers would. It can be bad in that--as we know very well--the Nets are very inconsistent in perimeter defense;
some nights they allow the opponent to have shooting practice
from beyond the arc and
other nights, they contest outside shots beautifully
, holding their opponent to a low percentage. If the Nets that played Golden State show up tonight, expect the Knicks to score a lot of points fast, and a blowout would probably ensue. If not, expect the Nets to have a very good shot at winning this game.
Probable Lineups
NYK- Felton (PG), Kidd (SG), Brewer
(SF), Anthony
(PF), Chandler (C)
NETS- D-Will
(PG), Joe Johnson (SG), Wallace (SF), Humphries (PF), Lopez (C)
Final Thoughts
The Nets are only one game back of the Knicks in the Atlantic Division standings, and, obviously, a win would push them into a tie for the lead. In addition, beating a super-hot team like the Knicks would be even more of a boon to the confidence of the Nets, who are already 6-1 at home this season and would keep the good times rolling in Brooklyn if they improved that mark to 7-1 tonight. The Knicks are indeed old, but that clearly doesn't mean they should be a team to scoff at, as their three-point shooting and interior defense is top notch. It's going to take a full 48-minutes effort from the Nets--with no bad quarters (i.e. Third quarter)--to win this game, and it's going to have to be a pretty well-rounded effort too.