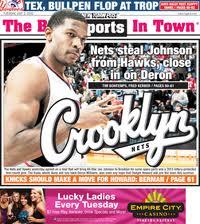 With every game he plays well in, Joe Johnson is looking more and more like a steal for the Nets
Winning their fifth-straight game at Barclays Center, the Nets rebounded (literally) from a bad first half effort to blow away the undermanned Portland Trail Blazers in the second half. Missing All-Star power forward LaMarcus Aldridge, Portland didn't have a key cog in their lineup, but that didn't stop them from jumping out to a four-point lead at half behind rookies Damian Lillard and Meyers Leonard in addition to J.J. Hickson and Wesley Matthews as well. Luckily for the Nets, those guys cooled down after the intermission
and Brooklyn's guys heated up. 
The third quarter woes that plagued the Nets during some of their earlier losses this season have been thankfully absent from the last two games, counting this afternoon's game of course. In the third quarter, D-Will came out with a vengeance, the vengeance that he expresses with intensity during close games in which he feels he has to take over. That's what he did right out of the break, driving at the rim fiercely on the undersized Lillard, first getting an easy layup, missing the next one, and then getting blocked. Maybe he didn't get the results he wanted from those drives, but the tone was set for the Nets, and that led them to even up the score by the end of that quarter just to run away with the game in the fourth.
D-Will's increased drive and tenacity he attacked the game with in the second half spread to his teammates, as the Nets held Portland to just 35 second-half points, compared to the 50 they allowed in the first. A similar thing happened on Friday night against the Clippers, which is a sign that the team is becoming more fluid and increasing chemistry on the defensive end, possibly catching up to its offense soon. Granted, not having Aldridge was a blow to the Trail Blazers but they still had scorers like Batum, Matthews, and Lillard in his stead who were shut down by the Nets in the last two quarters. If the Nets can consistently get the defensive production and efficiency they have had against the Clippers and Blazers, then they can be a true contender in the East who can hang with the conference's, and league's elite.
If I were to put a specific area of the game in which the Nets dominated the most, leading to their win, I would have to say rebounding. Besides outrebounding Portland by 14, Brooklyn just controlled the glass throughout, with Brook Lopez getting putbacks on offensive boards to pad a lead, Reggie Evans cleaning up the defensive glass to prevent second chances, Andray Blatche keeping a failed offensive possession alive to get another opportunity to score, or even just Kris Humphries' mixed bag of situational rebounds. In my opinion, rebound differential is one of the most important statistics one can look at from a normal box score because of how universal its significance is. Not giving an opponent as many chances to shoot--in other words, not letting them get as many rebounds--clearly gives a team a marked advantage in winning a game and when the differential is in one team's favor, it's much tougher for it to lose. The Nets dominate the rebound margin, not a coincidence they won going away.
Some other observations I had from the game
: Nets: 48 rebounds, Blazers: 34 rebounds. I mentioned this above but the wondrous job Brooklyn did cleaning up the boards earlier today was phenomenal, with four players grabbing at least eight (Hump-10, Brook-8, Blatche-8, Reggie-14). Evans was by far the most active on the glass and is continuing to show us how useful he can be when he gets a lot of minutes. Surprised at how little the Nets gave up to the Clippers to acquire him this summer.....Yep, Brook actually had eight rebounds, not a typo. His positioning down low was a direct cause of that stat, as he made more concerted efforts to box the members of the opposing team out to increase his chance of getting the rebound. Normally, he just uses his height to pick the ball out of the air instead of trying to get good position.....Hump, after a few off games, with another of his classic and quiet double-doubles (14 points, 10 rebounds). He filled the lane very nicely on offense too, helping the overall spacing of the team....Joe Johnson scored 17 points on 8-12 shooting in the first half and only scoring four in the second, for a nice total of 21 on the game. Not as many jumpshots from him today and more drives to the hoop for easy floaters over the smaller guards who played him. He's starting to fit into his role on this team.....D-Will's shot was still off (4-13 for 15 points) but he hit a big three in the fourth quarter to put Portland away. Also, his passing was amazing as he nabbed 12 assists by constantly getting his teammates open with his creative dishes. Looked like vintage Deron from the Jazz days, without the accurate shooting....MarShon Brooks finally got some playing time! Avery put him in second quarter and, per usual MarShon fashion, he made some sick paint drives to hit a few layups. He seemed timid from the perimeter, often passing up open shots, but looked good overall. He's probably going to stick in the rotation from now on, as he should.....No Jerry Stackhouse today. No injury, maybe Avery wants to give him a little extended rest.....Portland's bench scored nine points on 3-14 shooting. Related, Portland's bench is awful.....Damian Lillard didn't shoot that well with the taller D-Will on him (4-12 for 18 points) but he displayed splashes of greatness. He stuffed Deron a few times, hit some crazy threes, grabbed six rebounds, and showed some wonderful passing awareness and skill. Noone knows if the Nets would have drafted him with that 6th-pick, but for now, it looks like the Trail Blazers got a steal.
Looking Ahead
The Nets play at Barclays again tomorrow night as they make up their November 1st game with the Knicks. Both teams are a few games above .500 so there will be more on the line tomorrow than if the game was the first of the season for both teams when each was 0-0.