I follow many fashion blogs and I've seen this H&M jacket spread like a virus all over the blogosphere. I find it very cool and right on trend but I'm not really sure it is flattering. In any case all the bloggers I've seen look good in it and I always love to compare how different fashionistas wear the same piece.
Charlotte
paired it with silver jeans for London Fashion Week, I think it was a daring but spot on choice. 
Walinette
wore it with black skinny jeans and a relaxed top, the perfect simple outfit. (I already featured these two girls in the post neon yellow by Alexander Wang, check them out!)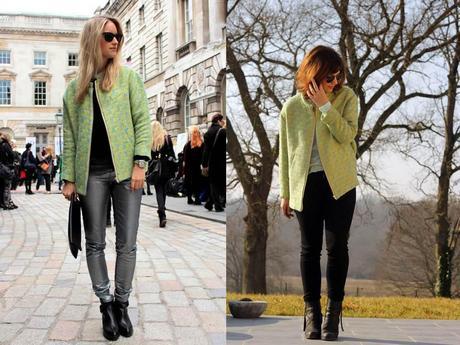 sources : thefashionguitar.com and thebeautyandthegeek.fr
 Iris and
Hedvig
wore the H&M jacket with ACNE's Alice shoes for a total fashionista's favorite look. Hedvig is also wearing ACNE's trashed skirt already seen here.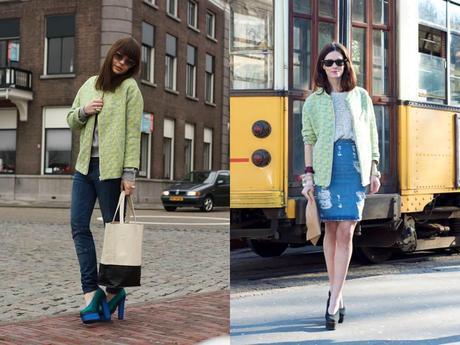 sources: fashionzen.blogspot.com/ and the-northernlight.com/
Columbine
and
Sandra
 wore the jacket with light blue wash jeans which is really a lovely color combination.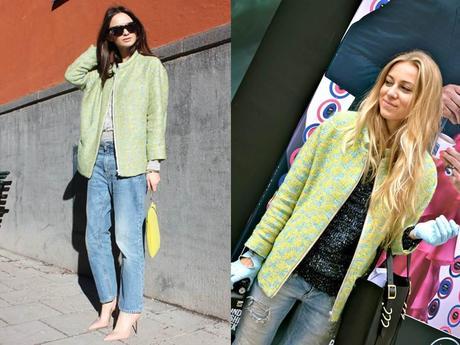 sources: columbine.freshnet.se and 5inchandup.blogspot.com
Do
is the only belgian blogger from this selection which makes me very proud ! Even though we cannot really see her complete outfit I love her blouse, necklace and bracelets.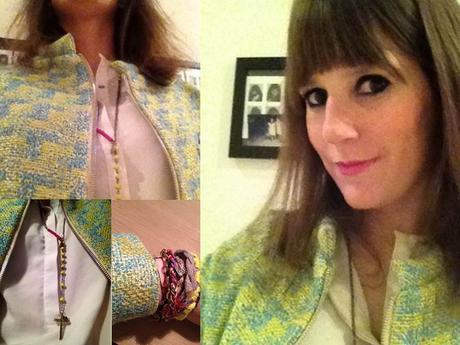 source: dorothydancing.be
If you love this H&M jacket you need to go for it because it so unique that you will not be able to find a similar alternative.
However, if you like the yellow tweed jacket trend but not necessarily the H&M one (because let's face it the fit is rather strange...) here are some options. Note that Sandro's jacket is neon yellow, you have to see it in real life as the color in the picture is not exact color.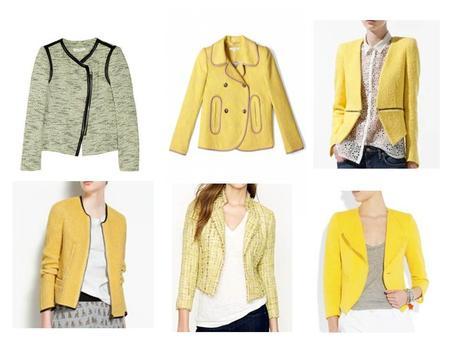 From top left: Sandro's Vertige jacket in neon yellow which you cannot really see from the picture
(netaporter), Carven tweed jacket (mywardrobe), Zara zip jacket (here) and piped jacket (here),
JCrew yellow jacket (here), Girl by Band of outsiders jacket (netaporter)

My favorite is Sandro's Vertige jacket but still need to see it live to make up my mind.
How about you, do you like H&M's jacket ? What do you think about this yellow tweed jacket selection ?
I would love to hear from you xx