Rooftop bars are a staple in the summers in New York City. When it starts to warm up, it's time to climb to the top of some of the most popular New York City hotels and buildings for some delicious liquid libations in a glamorous setting. While more and more rooftop bars in NYC are opening for longer each year, and some are even open year round, the summer and during several of the most popular holidays are the best times to head up for a drink at one of these bars. Enjoy a fabulous view of the Hudson or city skyline, fireworks on the 4th of July or just fancy cocktails to really feel glamorous in NYC.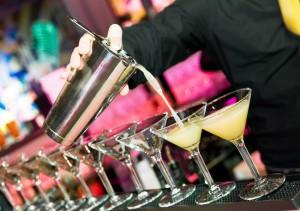 Perfect for a Girls Night Out
Upstairs at the Kimberly is a hoity-toity cocktail lounge that many New Yorkers flock to for a few post-work cocktails. Tourists are advised to indulge in the specialty drinks on the menu like "The Chrysler" and enjoy the views of The Chrysler building while you're sipping them. This rooftop bar is open year round, but in the summer the retractable roof opens up for a cool breeze. Watch out while you're here though, cocktails here are $16 a pop, so a sky-high bill can really sneak up on you before you know it!
Salon de Ning is a rooftop bar at Hotel Pennsylvania on 5th Avenue. After a long day of shopping, you can take the edge offer here and soak in the beautiful, panoramic views of Manhattan skyline.
Ava Lounge at The Dream Hotel has killer views of Times Square with an upscale and glamorous atmosphere that's perfect for a girl's night out. The drinks are pretty pricey, but there's usually a coupon, Groupon or gift certificate floating around somewhere for this bar, so do a little investigating. And also keep an eye out for the cool art murals to see on the way up to the roof.
The Most Famous Rooftop Bars in NYC
230 Fifth is located in the Flatiron District and many people come for the weekend brunch on Saturdays and Sundays, the view of the Chrysler and Empire State Building, and the beautiful rooftop garden.
Top of the Strand at The Strand Hotel is a rooftop bar in Chelsea that gets a lot of attention, so it gets very crowded. It's definitely a place to see and be seen in NYC, so if you're looking for a laid back and relaxing drink away from the hustle and bustle of NYC, you might want to go somewhere else on the weekends or after 5pm. Despite the crowds though, the atmosphere at the Top of the Strand is pretty glamorous and romantic, so it's a great place for you and your sweetie to go for drinks before heading out for a romantic dinner.
The Rooftop Bar at Empire Hotel is about at trendy as it gets in NYC. Located on the  Upper West Side, the drinks and food are pricey, and there's nothing really special about this place other than the celebrity DJs that mix here until 4am during the summer. It's a great place to go for a glamorous, celeb-spotting NYC experience after dinner. They have a strictly enforced dress-code, and it's great for all the twenty-somethings looking for an all night escape in the Big Apple.
Press Lounge at the Kimpton Hotel has one of those views you'd come to NYC for specifically. IF you want a breath-taking view of Manhattan, this is definitely your best bet. The pricey drinks seem totally worth it as you're soaking in these views.
Rooftop bars are popping up all over NYC, and they provide one of the best ways to see the city and mix with all the people that live here while you're doing it. The prices that most of them charge, dress code that they expect and people you expect to be at them are often reminiscent of a club, despite the fact that they are bars, but sometimes that's what being in New York City is all about!
This article was written by Lizz Riggs, editor of NYCTourist.com.