Everyone is posting their reviews of Governors Ball 2013, the (almost ill-fated) three day festival that took place on Randall's Island in New York City from June 7 through June 9. Plenty of reviewers are more than happy to tell you who was great, who didn't meet expectations, who surprised, and all of that.
I just want to make a playlist of the best songs I saw through the course of three days. Ultimately, the festival is about the music, so what better way to recap than through the definitive songs from each set?
1. "Crazy for You," Best Coast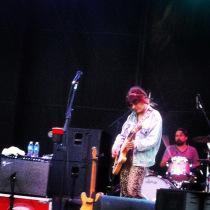 Best Coast
Best Coast had one of the unlucky Friday sets, made even worse by being right in the middle of the afternoon. Plenty of festival attendees had yet to arrive, while others were committed to staying in the Skyy Vodka tent for shelter. Best Coast played the stage farthest away from everything else, the You're Doing Great Stage, and did everything they could with what they had. While Bethany and Co. mostly stuck to songs off of their most recent effort, The Only Place, the songs that really shined – even in the rain – were older cuts off of Crazy for You. The title track off of that debut was the highlight of the whole set, as soaked, almost-freezing fans told Bethany they were crazy for her, and she sang it right back.
2. "Not in Love," Crystal Castles
Crystal Castles' version of hard-hitting electronica was relegated to the Skyy Vodka tent, where most festival-goers were choosing to hide on Friday evening. Starting right at 5:45, Alice Glass and Ethan Kass ripped through some of their most violent tracks to a crowd that happily moshed in the muddy mess. However, the track that converted all of those new to the CC side was "Not in Love" – even without Robert Smith's vocals (which are on the original track), the throbbing song was perfect in the dark, crowded tent. Within minutes, Glass had the whole crowd singing right with her.
3. "Lazuli," Beach House
Beach House were nearly doomed by the time Friday night rolled around; after hours of rain, the winds picked up, as if all of nature was conspiring against the festival. While waiting for Beach House, rumors quickly spread that Feist's set was cancelled because of weather. Anxiety grew as Beach House, scheduled for an 8:00 PM set, never came on stage. When they finally did, at 8:30, they were only able to play half an hour because of how bad the weather had turned. Yet when they did play, their music was probably most ideal for the pouring rain. As the kid in front of me said, "This really fits their whole aesthetic, if you think about it." "Lazuli" was one of the only songs they could make it through, and it was the most crowd-pleasing number in a set cut short.
4. "Paradise," Wild Nothing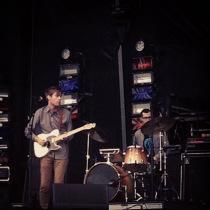 Wild Nothing
Wild Nothing was one of the first bands to take the main stage on Saturday – meaning those who arrived early had to work their way through a field of still-wet mud before getting to the cement island in front of the main stage. However, the effort was well worth it, despite the fact that Wild Nothing had to cut their set short to accommodate Kings of Leon being added to the main stage. "Paradise," off of critically-acclaimed sophomore album Nocturne, was an instant crowd pleaser – a light-hearted song that set the tone for a day with better weather expectations and a more optimistic crowd present.
5. "The House That Heaven Built," Japandroids
Japandroids were enthused to be on the main stage where Guns N' Roses would be playing hours later – and they reminded the crowd of this constantly, mostly by referring to themselves as Guns N' Roses throughout. But fans weren't fooled, and the cement island in front of the main stage was full of moshing punk kids for the 45 minute set. "The House That Heaven Built" was the obvious winner of the set, with all those in attendance hitting every "Oh oh oh oh!" right in time with the band. Would it have been better in a tiny, dark room? Yes, definitely. Was it nice to see it in the sunshine? Absolutely.
6. "Need You Now," Cut Copy
Cut Copy had one of the most surprising sets of the day, drawing in a large crowd and dominating for their hour-long set. The dance rock never stopped, with synths blaring and front man Dan Whitford constantly raising his arms to get the audience to dance with him. While new track "Explorers" was certainly a crowd pleaser, "Need You Now," off of 2011's Zonoscope, was the go-to track for the day. It was the perfect way for Cut Copy to remind everyone they're still doing their thing, as they've now announced more new music in the coming months.
7. "Knocked Up," Kings of Leon
Perhaps the greatest success story out of Governors Ball 2013 is the fact that Kings of Leon had a set at all. After cancelling their 2011 tour, the Kings seemed doomed to a similar fate with the rain on Friday night. However, the brothers Followill, with help from festival organizers, managed to get on the main stage Saturday and play a full set for thousands of dedicated (even rabid) fans. Obvious tracks stood out: The crowd ate up "Sex on Fire" and "Use Somebody," the Kings' two breakthrough tracks off of Only by the Night. But older tracks fared better as the sun began to set over Randall's Island. "Kick the Bucket" was one standout; "Knocked Up," off of Because of the Times, was easily the best. There's nothing quite like hearing Caleb Followill announce that "I don't care what nobody says/We're gonna have a baby" with the Manhattan skyline glowing in the background.
8. "Paradise City," Guns N' Roses
Guns N' Roses headlining Saturday night was actually Axl Rose and Friends headlining Saturday night – but that's almost an irrelevant fact given the performance that happened. It was exactly what you would expect from an Axl Rose show, and a crowd that had been deprived of a Friday night headlining set was more than willing to embrace every last piece of shtick. Fireworks went off during almost every song; flames erupted throughout the set. Four guitar players were on stage at any given time, one with a double-neck instrument. Clothing changes occurred, most notably with Axl rotating through a series of shirts featuring naked women. Axl played cuts off of 2008's generally underwhelming Chinese Democracy, but mostly stuck to the hits – which were exactly what everyone wanted. For a crowd composed of people mostly too young to have been alive when the songs were first released, they knew every damn word. "November Rain," "Welcome to the Jungle," "Knockin' On Heaven's Door," "Sweet Child O' Mine" – the list goes on, and the vast majority of Governors Ball attendees were eagerly ready to scream the words right back at Axl. The encore, though, was the ultimate testament to Axl as a purveyor of excess. "Paradise City" made the crowd go insane, and not just because it may be the group's most recognizable song for the millennial generation. Fireworks went off again, flames danced around the band, and confetti was thrown over the audience. After a night of disappointment only 24 hours before, Axl was there to show the crowd a good time in the only way he really knows how – and it was great.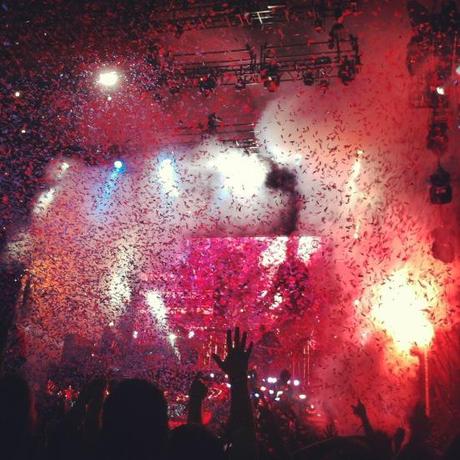 Guns N' Roses
9. "Post Break-Up Sex," The Vaccines
There are few better ways to recover from a Guns N' Roses hangover than to start the day off with the Vaccines. The London-based band is making their rounds through the United States throughout 2013, already touring once in February, now doing the festival circuit, and returning in October with Phoenix. They're busy supporting sophomore album Come of Age, which features sing-alongs like "No Hope" and "Teenage Icon." The majority of the crowd present for their 1:30 set in the blazing Sunday sun were dedicated fans, often calling out specific band members and generally knowing all of the words to all of the songs. While that had to be a highlight for the band, the crowd was most thrilled by "Post Break-Up Sex," off of debut album What Did You Expect from the Vaccines? A crowd of all ages, ethnicities, genders and so on, asked, at top volume and with lead singer Justin Young: "What did you expect/from post break-up sex?" It doesn't get much better, really.
10. "Desire Lines," Deerhunter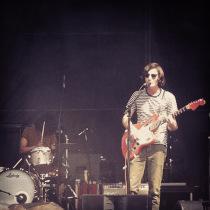 Deerhunter
In my opinion, Deerhunter had one of the most triumphant sets at Governors Ball 2013. Playing the You're Doing Great Stage in the middle of the afternoon and having to protect lead singer Bradford Cox from the sun, the band really could have been (maybe even should have been) doomed to a lackluster set. But Deerhunter's brand of ethereal-turned-punk rock was never hindered, and tracks off of this year's Monomania verged on perfect. While the first few songs of the set let Deerhunter warm up, "Desire Lines," off of Halcyon Digest, was the turning point. Lockett Pundt shone as he took over on vocals, and Bradford was more than willing to step back and dominate on guitar for the nearly six-minute song. I may be biased, but this song itself was one of the most perfect performances of Governors Ball 2013.
 11. "Two Weeks," Grizzly Bear
Grizzly Bear were put in an interesting position: They were either really lucky, as they were technically the openers for Kanye West, or they were really unlucky, because they were the openers for Kanye West. It's hard to say if they benefitted from this positioning or not. Their 6:45 set was scheduled to last until 8:00, and that hour and fifteen minutes was when the majority of people were spilling into the main stage area to get their places for Kanye. Some people were definitely there for Grizzly Bear; little hipsters maneuvered around crazed Kanye fans to get a decent view of the minimalist set the band had. But it's hard to say how much of the crowd was really paying attention to a set that featured mostly songs off of 2012's critically acclaimed Shields. Those of us who did pay attention got an excellent show, especially as the sun set behind the main stage. Hearkening back to Beach House, the timing of the set really fit with the Grizzly Bear aesthetic. "Two Weeks" is easily Grizzly Bear's most popular song; in this setting, it was given a better treatment than any recorded version of it could. Coming near the end of the set, "Two Weeks" was the one song that most of the crowd knew instantly, and it was the ideal song to get ready for Kanye – Grizzly Bear fan or not.
12. "All of the Lights," Kanye West
Kanye West's set was the best set of Governors Ball 2013, and it is a testimony to the festival's growth in just three years that Kanye headlined at all. He debuted new material like "On Site," and introduced the audience to two different versions of "Black Skinhead" by opening and closing with the track. He kept his chatter to a minimum, going on only one rant about how he doesn't care about radio play anymore. Kanye strung together songs old and new, giving songs off of College Dropout and Graduation a place right next to tracks from Cruel Summer and My Beautiful Dark Twisted Fantasy. It's hard to pick one song as a standout from this set; the crowd was in love with everything, and Kanye obliged by rapping his heart out with each and every song. "New Slaves" was as powerful as "All Falls Down," and for completely different reasons. "Clique" resonated with the audience just as much as "Stronger." Almost everything was a sing-along, most notably "Runaway" and "Good Life." To pick one moment from a set that went nearly two hours from the man who is the most prolific rapper right now is nearly impossible. However, for the sake of Spotify, "All of the Lights" may have been the one moment where the crowd and Kanye really transcended all typical festival expectations. The crowd throbbed with the intensity of the song, and Kanye reiterated lines from the track over and over again – all with the attendees eagerly joining him. Kanye had to know, at this point if not before, that he was surrounded by people who care about his music as much as he does – and in that moment, Kanye's set hit a note that no one else at Governors Ball could. He was incredible, and he gave his fans the most memorable set of a three-day music festival full of excellent moments.
And really, what else would you expect from Kanye West?