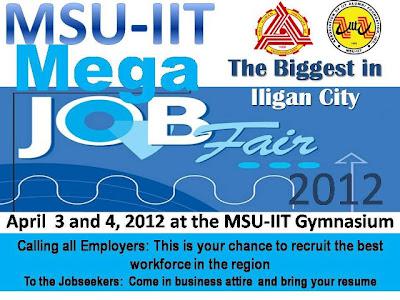 Jobless or just graduated?
Then, please join the BIGGEST JOB FAIR in Iligan City on April 3 and 4, 2012
8:00am to 5:00pm 
at the MSU-IIT Gymnasium, MSU-IIT Campus
For the Employers:
Please join and be one of the first to recruit highly competent workforce in the region. Please email your job ads to Ms. Luzvilla G. Sasam of the MSU-IIT Guidance and Counseling Office at email [email protected] and to Loiue Decatoria of the MSU-IIT Alumni Office at [email protected] for the MSU-IIT Career Portal
For the Jobseekers: 
Please wear corporate attire and please bring your resume with you.
This is also open to the public as part of MSU-IIT's community extension to Iligan City.
There are more than 50 employers from all over the country. This is organized and supported by the Department of Labor and Employment, POEA, the Association of IIT Alumni Foundation Inc.-PESO, the Alumni Relations and Placement Office, the Guidance and Counseling Center and the MSU-IIT Administration.
The Association of IIT Alumni Foundation Inc. (AIITAFI)
This is not a paid post.
&appId;
&appId;