Beleagured opera company GM meets with union, hints at 2012 schedule.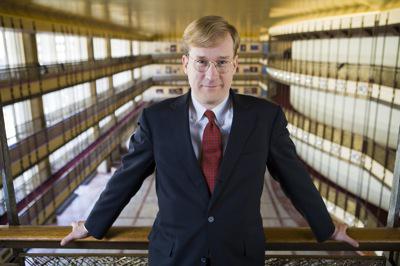 Better days: City Opera general manager George Steel, 
at the company's former Lincoln Center home.
Photo by René Perez
New York City Opera general manager George "The Man of" Steel met Kryptonite on Wednesday, in the form of angry unions who facing severe cutbacks at the now-homeless opera company.
An
article by Daniel J. Wakin in
Wednesday's
New York Times
discloses details from today's meeting between the New York City Opera and the members of Local 802 (representing the orchestra) AGMA, (the American Guild of Musical Artists) that represents singers and choristers.
City Opera has been in a state of flux since late April, when the company announced its intention to vacate its longtime home at the former New York State Theater. According to a report on
Parterre Box
, the  two unions, speaking as a unified front, offered a vote of "no confidence" in Mr. Steel's administration. Local 802 had previously voted unanimously against the company's decision to leave its Lincoln Center home.
The
Parterre
report also stated that members of both unions are worried that the company's untimely exit strategy is nothing more than a move to break both unions, whose contracts with the opera company expired this spring.
 The financially strapped opera company has decided to present a movable feast of operas at various venues around New York, and a few scattered concerts. However, today's meeting confirmed that upcoming City Opera performances will not be held in The Bronx, Staten Island,
or
Queens.
There was no mention of the New Jersey town of North Bergen, sometimes referred to as the "sixth borough."
The meeting revealed a few nuggets about the company's hush-hush 2011-2012 schedule. Here's our best guess as to what's coming....
October 2011: 
A "
bel canto
opera in concert, with four to six soloists and no chorus."
OK. That means it's either Rossini, Bellini or Donizetti. It can't be
Barber
,
Cenerentola
,
Lucia
,
Elisir
,
Don Pasquale
,
Norma
or
I Puritani
.
My guess: Rossini's
La Scala di Seta
, ("The Silken Ladder.") They'll probably market it as "The real La Scala" or some such idiocy.
February 2012:
A piece of "standard repertory" from the 19th century, with a 57-piece orchestra and a chorus of 27.
My guess: it could be anything! Beethoven's
Fidelio! 
Verdi? Maybe
Luisa Miller?
Maybe
Macbeth:
the Met's doing next April and Mr. Steel might try to go toe-to-toe with Peter Gelb. Let's get really ambitious.
Die Freischütz
!
Die Fliegende Holländer!
Me, I'd love to see them do rare Verdi like
I Lombardi
,
I Masnadieri
or
Aroldo
but they probably won't do anything that interesting.
Also for February:
 "A 21st century opera with a similar orchestra and no chorus."
This is Rufus Wainwright's French-language opera
Prima Donna
, which the City Opera swiped from the Met in the last intelligent action before the company's descent into irrelevance, homelessness, and obscurity. Let's hope it doesn't, y'know...stink.
March 2012:
"A work of 18th century standard repertory (Mozart?)" Four performances.
This is the rumored new production of
Così fan tutte,
an opera the Met revived last year.
Our best guess: in a cross-platform marketing coup, the opera will be performed at various Così® restaurants around Manhattan. This will allow easy access to refreshments, comfortable seating, and free WiFi, permitting live-blogging of the performance by critics.
May 2012:
A baroque opera. Probably Handel.
Y'know, this is actually a good idea. Starting with a 1997 staging of Handel's
Xerxes
(with Lorraine Hunt and David Daniels) the City Opera did a lot to popularize and stimulate interest in baroque operas in New York. Handel wrote 42 operas, defining the genre in England of the 18th century. Performing a straight Handel opera is a
much
better idea than the Met's plan to mount a pastiche this year (
The Enchanted Island
). I for one am looking forward to this.
Summer 2012:
A "repertory staple" from the 19th century.
In another corporate tie-in, this opera (we have no idea what composer, or even if it will be in German, French or English) could be performed at the
Staples
at the corner of W. 35th St. and Eighth Avenue. The orchestra could be in the pen department upstairs, and the audience on folding chairs down by the copy machines. But that's far in the future.
In a statement following the meeting, Alan S. Gordon, the director of the  AGMA" said:
"The way you want City Opera to function would destroy the lives of a hundred performers. In that form, City Opera doesn't deserve to exist, and if you can't run City Opera as the people's opera, then someone who can should take over."
I couldn't agree more.