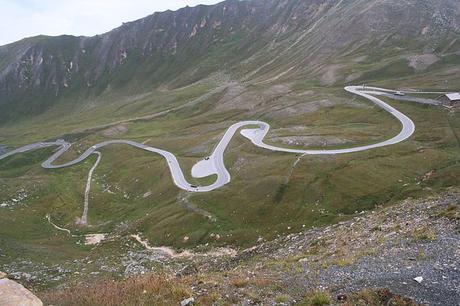 Grossglockner High Alpine Road (Photo credit: Wikipedia)
A drive through Austria will not be pleasant only because many roads but also landscapes of incredible beauty. The most beautiful roads in Austria may be subject to a four-wheel holidays with stops at scenic locations.
The most beautiful roads in Austria: Grossglockner-Hochalpenstrasse No wonder this alpine route of 48 kilometers is called "Heaven Cyclists" and the Motorbike, being a smaller scale Trasfăgărăşan. Winding roads will lead you to Kaiser Franz Josefs Höhe Visitor Center, a place where you can make a stop so you can enjoy a panoramic primvelişte highest mountain in Austria, the Grossglockner (3,798 meters), and the great glacier Pasterze.
The most beautiful roads in Austria: Südsteirischen Weinstraße One of the most beautiful roads in Austria is considered and Südsteirischen Weinstraße, known as the Wine Road. Famous wine region, this long journey of 25 kilometers is the equivalent of a trip through the largest wine region of Styria. Weinstraße (Wine Street) is a narrow street which guards the most beautiful vineyards in Austria, and Ratsch, Glanz, Langegg, Schlossberg and Eichberg-Trautenburg, austria.info notes.
The most beautiful roads in Austria: Burgenland wine road Another way to go in Austria go through Burgenland, another paradise for wine lovers. Burgenland is the most important wine region of Austria, Mittelburgenland wine roads, Südburgenland, Neusiedl and the Neusiedler See-Hügelland totaling nearly 15,000 acres of vineyards.
Burgenland Center, named called Weinstraße im Mittelburgenland, stretching between Ödenburger Gebirge, Buckliger Welt and Günser Bergen, here is representative famous red wine Blaufränkisch. This wine gave the name Blaufränkischland region. Those who want to better know the history of this wine, but to enjoy its flavor and can walk on Rotweinpfad (Red Wine Path) among centuries-old vineyards.
The most beautiful roads in Austria: the road cheese in Bregenzerwald
Because a good wine goes well with a quality cheese, gourmet tourists can enjoy not only an extraordinary journey, but also quality dairy products. Bregenzerwald is endowed with many beautiful roads, but Käsestraße street is entirely dedicated to the production, marketing and savor cheeses, where you can see cheese production units, traditional households, pensions and cheese shops.