Opera company seeks to bar reporters from contract talks.
by 
Paul J. Pelkonen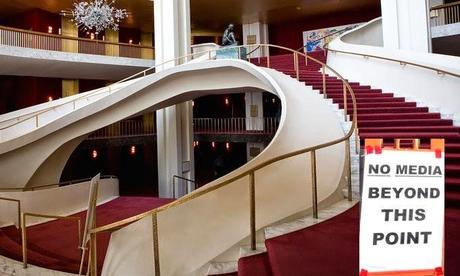 The empty stairs of the Metropolitan Opera lobby make an eloquent statement.
Photo by Jonathan Tichler © 2013 The Metropolitan Opera.
Sign added by the author.
The impending negotiations between the
Metropolitan Opera
and the heads of its various unions is scheduled to start May 5, five days before the close of the company's current season. However, if Metropolitan Opera general manager Peter Gelb has his way, the local New York press (including the
New York Times
and the
Wall Street Journal
will not be allowed to attend the sensitive talks.
In an exchange of e-mails leaked to
Superconductor
earlier today, it appears that the Met has contacted the National Labor Relations Board and filed a charge against the
American Guild of Musical Artists
, the union that represents singers, dancers and members of the Met Chorus. That charge was included in today's e-mail.
Briefly, it states that the Met objects "to the presence of reporters and has informed AGMA that having reporters present would stifle the atmosphere of free and open discussion that is needed for good-faith collective bargaining."
AGMA executive director Alan Gordon stated that the charge was "spurious and unsophisticated." In a statement to Mr. Gelb he added: "You must be kidding. If this is the best you've got you're wasting a fortune of the Met's limited money."
In a letter to Peter Gelb, Mr. Gordon added: "Your attempt to slash the compensation and benefits of artists by up to 40% is truly mind-boggling. The Met is arguably the nation's premier arts institution. Threatening to close its doors is national news, and should be covered without hindrance or fear.  The Met should be open and transparent about its motives, its finances, its wasted endowment and its intentions."
In the leaked exchange of letters, Mr. Gordon contends that the Met has repeatedly threatened his union with a lockout if their demands are not met.
In addition to AGMA, Mr. Gelb is entering negotiations with
Local 802
, representing the orchestra and Local 1, representing the Met's stage and technical crew. A lockout of any of those three unions could have disastrous consequences, not only to the upcoming 2014-15 season but to the Met itself, which relies on subscriptions and donations for most of its revenue.
Although
Superconductor
is not among those publications cited in the charge above, this story will continue to receive coverage as it develops.