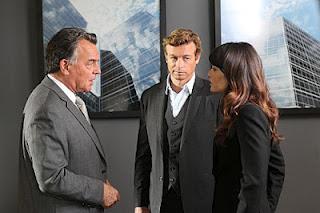 Original Air Date: 10 May 2012
Storyline: 
While Patrick contemplates whether to give up trying to find Red John, his unorthodox methods of getting confessions out of murder suspects may have finally crossed the line.
Trivia: 
The episode title, "Red Rover, Red Rover," comprises a double allusion: to a children's game and to a novel by James Fenimore Cooper. Patrick Jane's quest to apprehend and punish Red John runs through every season's episodes and links them, much as the Mississippi River runs through Mark Twain's Huckleberry Finn and links the episodic chapters; that quest provides both structure and the central story arc of The Mentalist. To Jane, the quest for vengeance/justice is deadly serious; to Red John, it is merely a game - hence the title: children chant, "Red rover, red rover, let ... come over," inviting a member of the opposite team to challenge them. Similarly, Red John continually invites Jane to challenge him, but Jane keeps losing, even when he seems to win. In this episode, Jane acknowledges the game by telling Lisbon that the only way to stop it is for Jane to "stop playing." In Cooper's novel The Red Rover: a Tale, the "rover" is a pirate - amoral, vicious, thieving, riving. Red John is, above all else, a river, a plunderer who steals life itself, leaving a bloody trail of victims, living and dead.
Best Quote:

Lisbon

: Why did you burn your Red John files?




Jane

: Because he's right. It's time to give up.




Wainwright

: Seriously?




Lisbon

: What do you mean?




Jane

: Well, nothing's working. Nothing. It's just a game, and he keeps winning. The only way for me to stop him is if I stop playing.




Lisbon

: Meaning what?




Jane

: Meaning I put it behind me. I move on.




Lisbon

: That's a big change, Jane.




Jane

: Well, change is good. Isn't it?




Lisbon

: So... Are you leaving the CBI?




Jane

: No, of course not. What would I do for amusement?