Everything about Marina Tsvetaeva, one of Russia's most celebrated poets, is complicated; even the day she was born in 1892, on 26 September Old Calendar corresponding to 08 October New Calendar, is confusing. Her life, her loves, her family and her writing reflected the confusing times in which she lived.
A first-hand witness to the Bolshevik revolution, she was no Communist and hated the deceit and confusion spawned by the Soviet system. Her young husband, Sergei Efron, fought on the side of the White Army during the civil war that followed.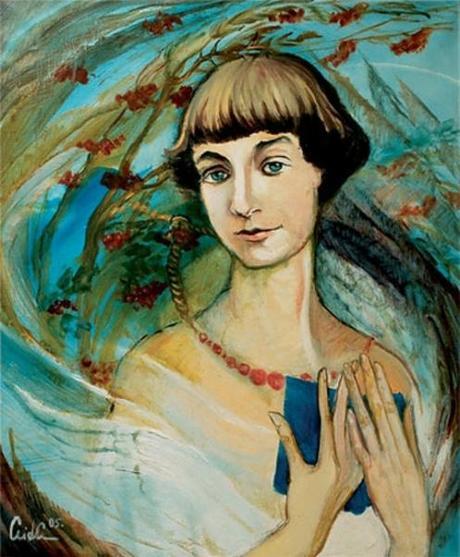 Artist: Aida Lisenkova-Hanemaayer
As to her deep connection to her writing, Tsvetaeva expressed that "every verse was a child of love" and it showed.
Every verse is a child of love, A destitute bastard slip,
A firstling – the winds above – Left by the road asleep.
Heart has a gulf, and a bridge, Heart has a bless, and a grief.
Who is his father? A liege?
Maybe a liege, or a thief.
Not widely known outside Russia is that the Bolshevik revolution ushered in a long five year famine in Russia and one of her daughters, Irina, died of starvation in 1919. She fled to Europe for several years and received her formal education at the Sorbonne (University of Paris) and the Charles University in Prague. She was the mother of three children; Alina, Ariadna, and Georgy.
Her father, Ivan Vladimirovich Tsvetaev, was the founder of the Pushkin Museum of Fine Arts and her allegiance to Russia was strong but she hated Communism with an even stronger passion.
O, tears that in eyes freeze!
The cry of love and pain!
My Chekhia's in tears!
In blood is all my Spain!
O, mountain of black,
You shaded all the world!
It's time to return back
My ticket to the God.
Yes, I refuse to be
In Bedlam of non-men.
Yes, I refuse to see
How wolves of squares do slain.
Yes, I refuse to wail
With field sharks of all ranks.
Yes, I refuse to sail
Down the stream of backs.
My ears I need more not,
My eyes I needn't to use,
To all your crazy world
One answer – 'I refuse.'
After returning to Russia her husband Sergei and daughter Ariadna were arrested in 1941 and Efron was executed on charges of espionage although unbeknownst to Marina he had been recruited by the NKVD. Marina Tsvetaeva committed suicide later that same year.
In Moscow visit her home, the Marina Tsvetaeva Museum and Cultural Centre at 6, Borisoglebsky Lane. For hours, telephone the museum at 495-695-35-43 or 495-697-53-69.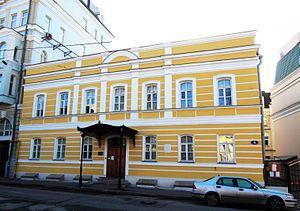 English: House-Museum of Marina Tsvetaeva. Moscow, Borisoglebsky Lane, 6. Русский: Дом-музей Марины Цветаевой. Москва, Борисоглебский переулок, 6 (Photo credit: Wikipedia)
Click this link for our highly recommended site to learn more about the life and writings of Marina Tsvetaeva.