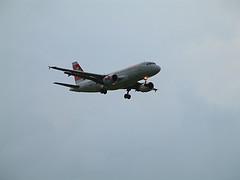 Image by Adnan Yahya via Flickr
With a heavy travel schedule it's been interesting to me how many things come up and how many things seem to fade away – there are ample choices in life and additional ones while traveling.
To be happy regardless of delays
To be open when others seem closed
To be accommodating when it's not your schedule
To be grateful for common courtesies
When I have the opportunity to travel – and it is an opportunity – my mindset is one of wonder – after all, plane travel allows me and others to recline in a seat while flying through the air, which is a miracle for certain.
I can live in this wonder – where I see everyone and everything as a marvel – like moving walkways and moving stairs – wow – or I can take it as ordinary, and miss the experience.
I can be irritated that the plane is delayed, or I can look around and notice the languages and accents, the expressions and relationships.
Like almost everything in life – it's a choice, my choice in how to think, feel, experience and accept.
I'm off again in the morning very early and I can be put out I have to arise before 4 am or I can be excited – who will I meet, what will I see, what will I smell, touch and feel?
Remember you create your day by the way you think. Make it magnificent!
Blessings, Shawna