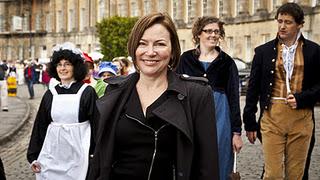 Professor Amanda Vickery in Bath
I was so happy I could see this show! The Many Lovers of Miss Jane Austen is a 60-minute programme, broadcast on BBC 2 on December 23rd. In it,   Professor Amanda Vickery, one of the leading chroniclers of Georgian England,  wonders why on earth millions of us are still reading Jane Austen period romances or how  her "genteel fiction" has become a 21st century global phenomenon. Professor Vickery , both as a historian and as an unashamed fan, is fascinated by the story of how an anonymous, minor novelist in her own lifetime, became celebrated today as our very best-loved writer.
This TV show was not the classic documentary dedicated to a National literary treasure, only celebrating and quoting from a writer  as popular as Jane Austen. It was really interesting and focused on Jane's fame through the centuries   entertaining and  informing at the same time.
Professor Amanda Vickery's  search for the reasons of Austen's global popularity starts quite far from Chawton, Hampshire or England. It begins in Fort Worth, Texas, USA where Jane Austen Society of North America  held their annual convention (watch a clip from the programme), the biggest International celebration for an author whose fame ranks second only to Shakespeare. On this occasion, Professor Vickery could show the audience examples of the rampant commercialization of the brand Jane Austen, the astounding phenomenon we know so well here at My Jane Austen Book Club. As Professor Vickery recognises in Texas, it seems possible that…" Jane Austen the commercial brand dances hand in hand with the appreciation of Jane Austen the serious novelist. And it's this partnership that gives  Austen a unique position in the world of literature".
Another example of how treasurable everything belonging to Jane Austen has become nowadays is the sale at Sotheby's in London of the manuscript of the fragment of  "The Watsons". It was exciting to see the auction in Professor Vickery's (very surprised ) eyes and to see her so excited at reading some lines from that same manuscript before it went sold to  the Bodleian Library in Oxford  for a stunning £850,000: an amazing achievement for a woman who struggled in genteel poverty. This demonstrates Jane Austen's academic status today is just as potent as her commercial brand.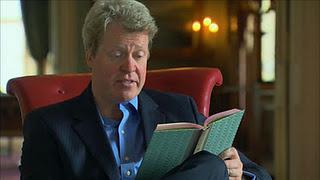 Earl Spencer reading Sense and Sensibility
To understand this huge success Professor Vickery then passes to analyze how Jane Austen was read in the different epochs, from her own age up to these days. Who was reading her and why?
The very first people to read Jane Austen were her family, of course. But then, when at last Austen managed to have her first novel, Sense and Sensibility, printed and distributed  (October 1811) who were the 750 people who bought it? Certainly young noble ladies who could fully appreciate Austen's understatements about her discriminated, bound role in a male-oriented society but also a wider, less refined public thanks to the popular circulating libraries of the time.  Respect to the standards of her own age - for a woman writing -  and respect to the very brief period in which she published her first 4 novels, she may well be considered quite successful.
After 3 years from her death, however, she had fallen out of fashion and out of  print. The main culprit for the neglect her work fell into, is Romanticism and the publishing of passionate novels like those by the Brontes.  Professor Vickery discusses then Charlotte Bronte's dislike for Austen's work ("…  the passions are perfectly unknown to her")  with Lucasta Miller, a Bronte expert and defends Jane Austen's from the accuses of being … shallow, superficial, prim and in denial of true human nature.
Anyway, by the middle of the 19th century, Austen was back in print and read -  as well as her more modern colleagues, Gaskell, Eliot, Thackeray, Dickens – thanks to a new Victorian invention: trains and railways creative a captive new audience for books, cheap yellowback editions of  novels were sold in WH bookshops at the stations. Jane Austen's titles had just fallen out of copyright and that's the reason why they were included in the low-priced popular yellow back series of books. It was the debut of Austen to a mass audience. In 1870, Austen's relationship with her Victorian readers changed thanks to the authorised account of her life made by her nephew, James Edward Austen – Leigh.
The tour  to the places of  Austen myth  goes on, from Chawton to Bath, where the annual Jane Austen Festival is held in September. There, Professor Vickery and Katie Halsey, author of "The History of Reading",  discuss who the Janeites were when they started as a sophisticated and eye – brow clique of academics and aesthetes. And they insist on the fact that Janeites were men highly appreciating Jane Austen's work, men like Winston Churchill reading her novels during the war or Rudyard Kipling soon after his own only son's death, or even soldiers in the terror of the trench warfare (watch a clip about Austen in Trenches from the programme). It seems impossibile but face to face with death each moment of their horrifying monotonous lives in the trenches, soldiers could be taken away and consoled by Jane Austen's words.
After WWI, humanities and the study of literature got to have a new prestige in the academic world of universities, they seemed essential for the future of mankind. This is when Jane Austen started being studied and appreciated in a new serious way by literary scholars  like the Leavis in Cambridge and immensely loved by a new mass audience that came to her work through the TV and film adaptations.
Austen has been reinvented and ultimately popularised  and her fame is alive thanks to a huge International  community of extremely diverse individuals -  scholars, fans and readers - joined  by their love for Jane Austen and a strong sense of sisterhood. Because, yes, they still are especially women.
The secret of her popularity,  then? The combination,  as a writer,  of academic prestige and popular devotion.
Official page of the programme
If you live in the UK, you can watch this programme on iPlayer