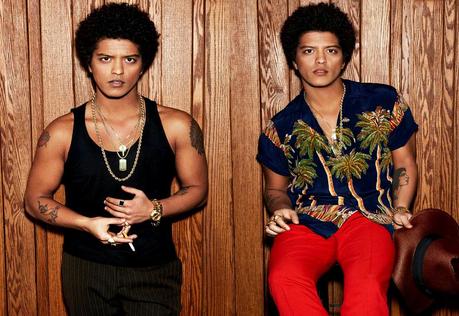 Its been a huge year for Bruno Mars so far and it's only January! Last Sunday he accepted a Grammy Award for the Best Pop Vocal Album for Unorthodox Jukebox, this Sunday he will be playing to millions of people during Superbowl's Half-time show. (Go Broncos!) To date he has had 2 platinum albums and a total of 18 Grammy nominations, and he hasn't even turned 30 yet! (He'll be 29 this year.) Secrecy seems to surround his Superbowl appearance, no information has leaked about possible songs or surprise guests. (Or at least I haven't seen any- if you have any info- do tell!) Red Hot Chilli Peppers were announced earlier as appearing alongside Bruno at the half-time show. That alone tells me it'll be one rocking show!
If you look at the list of some recent Superbowl Half-Time performers, there are some heavy hitting names there, like Madonna, Beyoncé and The Who, all of whom have had much longer careers than Bruno Mars before bagging one of the biggest gigs in showbiz. According to Billboard Magazine Cover Story (December 2013) it was Bruno's powerful live shows that caught the attention of Superbowl Half-Time producers. "There's nothing contrived about Bruno. He's a genuine person who's extremely passionate but also likes to be silly and cracks. And that's what sucks people into this special kind of energy. It harkens back to Earth Wind & Fire and Michael Jackson when people came to a show and got a show."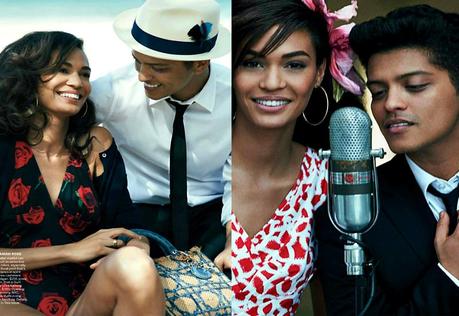 How much I love Bruno Mars is quite evident from the gushing way I have recently written about him but in addition to him being one of my all time favorite songwriters, he is also one seriously stylish man! He can be very retro or really ultra on-trend all at the same time. I would call his style vintage modern. He almost looks like a matinée idol from the 50s. He would not be out-of-place in a cast of Rebel Without A Cause (the famous James Dean teenage angst movie) or leading The Sharks in West Side Story (musical about rival gangs in New York in the 1950s.) Come to think of it, I would not be surprised if he would get into movies in the future like Justin Timberlake has.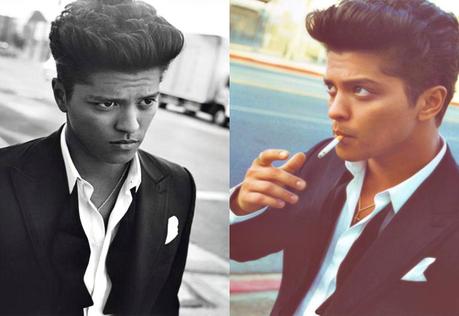 My favorite look of his is the 70s inspired fedora hat cool cat look he sports in "Locked out Of Heaven" and the leisure suit glam of "Treasure". Not a lot of people could pull off such authentic 1970s chic in 2014. But with Bruno wearing it, it all looks very current.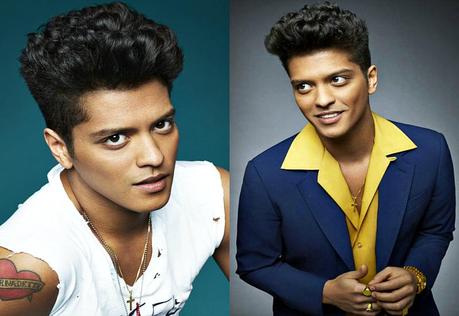 The rest of 2014 will be just as busy. After his Superbowl Half-time gig, Bruno will resume his world tour. In February he'll be in Australia and New Zealand, followed by Asia, Latin America and North America in the summer. And then somewhere in between he will start writing his new album.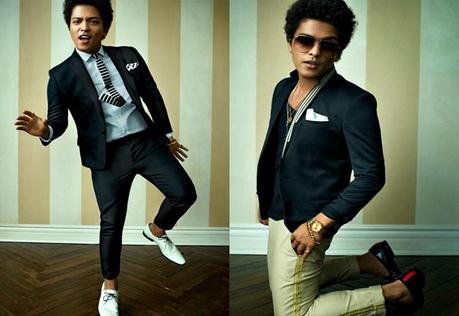 MORE ON THE WEB:
Rolling Stone Magazine has ranked Superbowl Half-Time shows
Images: GQ, Forbes, Billboard, Bruno Mars.com, Vogue.