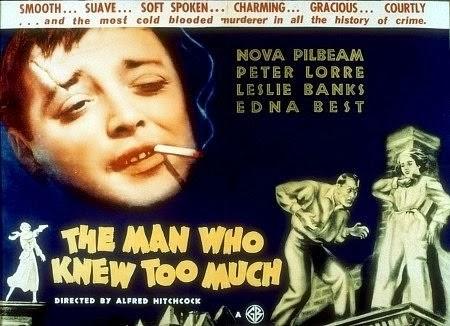 The Man Who Knew Too Much is a classic Hitchcock movie that is a real suspense quicky with the 75-minutes running time promising to keep you on tenterhooks.
A young couple, played by Leslie Banks and Edna Best, vacationing in a hill-station with their daughter (Nova Pilbeam) meet a French-spy Louis Bernard (

Pierre Fresnay)

, who assumingly knows too much about the assassination of a diplomat. Louis gets killed at a party and leaves an important message with the couple, asking them to stay shut about it. The cohorts of assassinators, who know that the couple has the message, kidnap the couple's daughter, and thus commences the trademark twists and turns of a Hitchcockian film.
Leslie Banks goes on a search for his daughter leading him to finally decoding the message given by the French-spy and an important event that is about to take place. The climactic scene at Royal Albert Hall is a show-stopper, where Edna Best's efforts lead to the final twist in the tale. The music piece played in the Royal Albert Hall is terrific, making the scene grand, as the movie approaches its end.
The film has a typical hero-villain setting, where the German actor Peter Norris, as the villain, takes it away with his charming English, infused with a German accent, and his notorious expressions to kill for. Leslie Banks as the hero carries himself with confidence however worse the situation. Edna Best as the worried mother gives a somewhat average performance and I even found her to be a little clumsy in some scenes.
The story supersedes the acting glitches which you may choose to ignore, given that it's a 1934 movie. This is definitely not one of Hitchcock's best works, the reason why he himself remade it in 1956.
The Man Who Knew Too Much is a treat for suspense lovers and a pain for people who look for acting finesse in their movies. Nevertheless, I liked the story as it proved to be a simple suspense thriller.
Rating 2.5/5
Hey, I am Neha, the newest member of Ticker Talks Film. My love for films, books, and writing got me here. You can follow me on Twitter at Seltsamefrau.