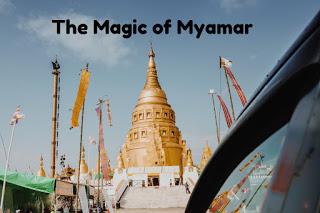 The landscape in Myanmar offers spectacular spots to get away from the tourist trail and get out and about in nature. From short walks and treks, kayaking, horseback riding and cycling adventures. 
Myanmar is biologically diverse with many large national parks and wetlands that are home to rare endangered animals. Activities have been inspected for the ethical treatment and protection of animals and their commitment to sustainability. 
With the aim of supporting rural and remote villages, Myanmar is embracing the concept of community based tourism. While still in its early stages, the focus is on authentic experiences and meaningful experiences interactions  between tourists and locals alike. 
Buddhism is ever present and a way of life for Myanmar people. Rites and rituals that have been performed for centuries have been kept mostly unchanged. The practice of meditation has long been associated with physical and mental well-being and is a staple in the lives of Myanmar people. Hear the teachings of Buddha on a meditation retreat and learn how to still the mind and control the breath to achieve mindfulness. 
Kayaking 
Paddle you way by kayak or ride the white water rapids. From the floating villages of Inle Lake to the glacial rivers in Kachin State, or down south to the Irrawaddy Delta, Myanmar has some great rivers and lakes to explore. 
Trekking 
It's all about the journey! Explore rural villages, diverse scenery and stunning views. The best time to trek is in the cooler months from November to March. Spend a few days trekking to villages in the remote mountain region around Kyaing Tong. The varying terrains make it ideal for adventure lovers with average level of fitness. Meet different ethnic minorities such as Akha, Lisu and Ann, each with their own distinctive customs and culture. Visit a 300 year old monastery that seems lost in time and ponder the ancient solitary Kyayin-bu tree steeped in folklore. 
Venture far beyond the lake to the less traveled area of Loikaw. It's an epic three hour boat full of spectacular scenery. Stretch your legs at Sagar a crumbling cluster of stupas from the 16th century and try a tipple of the local moonshine. Meet the Kayan people, also known as the ' long neck' tribe. The Kayan woman wrap heavy brass coils around their necks as a sign of beauty. Learn more about their fascinating culture and customs over a cup of tea and chat. 
Tamarind Village - The Village takes its name from the magnificent grove of Tamarind trees and is home to 120 households. Stay overnight in a 'long house' and get a peek into the daily life and rural activities. In the evening hear the folk stories told over diner by local people which have been passed down through generations. 
Horseback Riding 
Saddle up for a ride through the Shan Hills. Trot along the village tracks passing by patchwork fields and see farmers tending their crops, or, canter through the temples of Bagan. 
Glamping with dolphins 
Join the search for the rare and elusive Irrawaddy dolphin found in the river north of Mandalay. Learn how to throw the circular net and watch the unique way that the fishermen communicate with the dolphins to help catch fish. Hear folktales over dinner with a  local family and retire for the night in style in tented accommodation. 
Bird watching 
Whether  you are an amateur or professional, Myanmar is a bird watch paradise. The various wetlands and national parks are home to more than 1000 record species, including water and migratory birds. 
Turtle and Tortoise Conservation 
Myanmar is leading the way in conservation and breeding programs to rebuild dwindling turtle and tortoise populations lost to encroachment on their habitats or poached for the illegal wildlife traffic. Visit a sanctuary to see the hatchlings and lear about release programs will help support a worthy cause. 
Elephant encounter 
A wonderful hands-on experience where you will spend the day getting up close to the majestic beasts of the forest. Learn how retired logging elephants are being cared for and help out with the daily chores of feeding and bathing these magnificent animals and see local conservation project at work. 
Wine tours 
Shan State is the wine growing region of Myanmar where the cool temperate climate and fertile soil is perfect for cultivating grapes, producing a variety of wines, such as Sauvignon Blanc, Pinot and Temperillos. The vines have been grown from cuttings taken from some of Europe's best regions. Wander the vineyards and learn about the history of winemaking in Myanmar and enjoy a wine tasting lunch. 
Coffee tours 
Robusta coffee was first introduced near Mandalay by missionaries in 1885, and some 45 years later saw the first strains of Arabica to arrive. Take a walk in the plantation and learn about the growing cycle and harvest of cherries which produces some of the finest Arabica beans in Southeast Asia. Then follow your nose to the coffee roaster and experience a professional coffee tasting knowing as 'cupping'. 
Street food tour
Eat like the locals on a walking street food tour. Some of the best food can be found at breakfast like traditional  mohinga soup and warm flat breads, washed down with sweet milky tea. In the evening smell the barbecue in the air, as skewered meats are grilled over charcoal fires.
Art Gallery Tours 
Stifled for decades by heavy handed censorship, the art scene in Myanmar is becoming widely appreciated by collectors and connoisseurs alike. With galleries popping up throughout Yangon showcasing Burmese and ethnic art in all forms and mediums. From sculpture to installation art, paintings and performance pieces, the art scene is buzzing. 
Hand- loomed textiles are part of the cultural heritage and can be found throughout the country. Each region has a unique pattern and meaning that is woven into the fabric and can be found in the designs and styles of national dress. The most sought after come from Chin State. While silk and cotton are most commonly weaved, lotus silk can be found at Inle Lake. 
E-visa  is now available through the official government website and is the easiest and most common way to obtain a visa. More the 100 nationalities can apply directly online and pay by credit card, with processing taking 3 business days. 
The official language of Myanmar is Burmese and in the tourist areas English is becoming more widely spoken. Buddhism is the predominant religion with about 87% of the population practicing, with Christian, Muslim, Hindu and tribal beliefs making up the remainder. When visiting temples and sacred sites, make sure your knees and shoulders are covered, and remove your shoes, otherwise you may be denied entry. Things don't always go to plan, so be prepared with a smile when the internet is slow, there is no hot water, or the power is out.