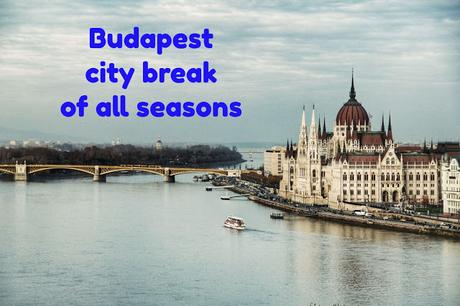 Budapest mixes fascinating history with a brilliant contemporary artistic style, charm to fall in love with and a gentle way of life. City breakers that are sensitive to high-class cultural settings and delightful gastronomy, are all astonished by the beauty of this fabulous destination.
Budapest has a very special atmosphere because of the ambiance of various historical periods. There is so much to see in it's District V, around every corner you will find a beautiful building or historic site. The newly renovated Parliament House on the Danube bank has 691 rooms, with a 96-meter-tall dome on the top. The Hungarian coronation symbols are on display here.
Closer to Deak Square lies St.Stephen's Basilica - the largest Christian church in Budapest with a majestic dome and a lookout tower providing a 360-degree panoramic view of the city. Just a few steps away is Andrassy Avenue, one of Europe's most magnificent promenades, home to the famous Opera House. The nearby
Liszt Academy of Music
is one of the world's finest academies of performing arts that you can visit in pre-arranged tours for individuals.
If you are pleasantly exhausted, do not hesitate to take a journey on the quaint Millennium Underground Railway, which is Continental Europe's oldest metro line. At the Underground Railway Museum in the underpass of Deak Ferenc Square, you will be taken back over a century in time - walking between historic electric subway cars.
Budapest is the city where the uplifting cultural experience is superbly combined with the blissful indulgence of spas. The city is known for its historical thermal baths and over 100 natural hot springs.  Each medicinal bath has its own unique qualities in terms of architecture, number of pools and amenities.  Most baths are open all year around, the Budapest Card gives you free access to Lukacs Thermal Bath and Swimming Pool, making Budapest a city break for all seasons.
Taking a boat ride is a great way to enjoy the beautiful panorama of of Budapest by day and night. Daytime cruises often stop-off on Margaret Island, which is a perfect space to enjoy a picnic and escape the hustle and bustle of city life. You can enjoy breathtaking sunsets with  candlelit dinners on the deck of Danube sightseeing boats.
Budapest has a whole range of excellent museums and exhibitions like the permanent exhibitions of the Hungarian National Gallery, the Museum of Fine Arts at Heroes Square, and the
Budapest History Museum
.  The Buda Castle or the Goldberger Textile Industry Collection are equally interesting to visit anytime of the year that you might choose to go on this city break of all seasons. The 21st century genres of art are hosted by Ludwig Museum and Robert Capa Contemporary Photography Centre.
The vibrant streets of the former Jewish Quarter offer a wide range of premium category bistros and wine bars. Budapest is also the city of terraces and coffee houses. Sitting on the panoramic Danube Promenade, you can marvel at the brilliant view of the UNESCO World Heritage sites while enjoying a cup of coffee. It's worth having a trip to Budafok where you get to visit the Torley Exhibition and Visitor's Centre as the hub of Hungarian sparkling wine culture. Don't forget to sip some sour cherry Palinka at the Palinka Museum Shop Bar.
Budapest is a mild and peaceful meeting point of religions. Europe's largest synagogue, with a seating capacity for 3000 people,  a venue for uplifting concerts and art events. On the Buda side, on the Rozsadomb you will discover the world's northernmost Muslim pilgrimage site, Gul Baba's Tomb. Budapest's inner city Parish Church offers delightful organ concerts, while strolling in the Castle District, you can enjoy the best 360 degrees Budapest panorama from the bell tower of the medieval Church of Mary Magdalene.
Budapest offers several family bonding experiences and attractions. Take your children on a caving adventure in one of Budapest's Caves and labyrinths. Budapest Zoo is an excellent pastime for visitors whose kids love baby animals and 3D-movies. One of Europe's largest indoor water parks, the AquaWorld offers unforgettable entertainment  for adrenaline junkies of all ages. If you are in the look for an indoor amusement park equipped with ninja and parkour area for active youngsters, Superfly Extreme Tramploine would make a great choice.
Budapest has been an internationally preferred location by filmmakers for many years. With its charming streets and buildings reminiscent of various periods of ages, making Budapest a great filming location. Several iconic Budapest landmarks - including the Liberty Bridge and the Parliament - appeared in some world famous movies.
The most popular sport event is the Budapest Marathon Festival attracting tens of thousands of visitors to Budapest at the end of September. Most sport events are hosted by Papp Laszlo Budapest Sports Arena or the the greatest aquatic center of Hungary, Danube Arena.
This city break of all seasons event calendar is crammed with festivals throughout the year. The three week long Budapest Spring Festival kicks off the spring season each year. In the summer, head of to the peaceful oasis of Margaret Island where you can enjoy performances of one of the biggest multi-genre music festival in Europe : the Budapest Summer Festival. In the autumn, the
Cafe Budapest Contemporary Arts Festival
attract a wide audience. The Budapest Advent and Christmas Fair is famous for its enchanting musical, culinary and artisanal repertoire.
Designated as a pedestrian zone, Vaci Street features a large number of fashionables shops, restaurants and cafes. Neighbouring streets like Fashion Street, also offer a great shopping experience. Andrassy Avenue has some of glamorous shops and upscale boutiques. Central Market Hall is the oldest, largest and most characteristic indoor market in Budapest.
There are many different ways to explore this city break of all seasons. The fastest way to access Castle District is to take a ride by Buda Castle Funicular from the Chain Bridge. The Zugliget Chairlift offers the broadest panoramic view of the city. By a three-wheeler TukTuk you can discover hidden corners that nobody else can reach while the River Danube offers a wide range of sightseeing boats.  Spend a relaxing and fascinating hour on the River Danube that runs through the middle of city, cruising on the fleet of full-panorama boats, covered in winter and open in summer.